10 Best Email Systems for Receipts and Transactional Emails for 2021
When a customer comes to your website and buys from your store, what happens after that? Sure, you package up the product and send it on its way (or have the automated digital download message go out) but what about working to bring those customers back?
Do you expect the customers to come back on their own? Or do you have a strategy in place to retain your existing customers and encourage return business?
If not, now's the time to make one – and one of the best places to start is by looking at your transactional emails and receipts.
One of the glories of eCommerce is the automated receipt system. Not only do most eCommerce platforms like Shopify and Bigcommerce have built-in receipts, but you can often amplify their effectiveness by opting for a more advanced email system for receipts and transactional emails.
We're talking about sending out upsells and related products with the receipts, along with prompting abandoned cart customers to come back to the store. Coupons and discounts are often used throughout this process, and you can configure the emails to go out automatically.
Quite a few eCommerce receipt and transactional email systems exist, but we want to find the ones that integrate with several platforms. Keep reading and we'll reveal what we think are the best email systems for receipts and transactional emails in 2021.
CM Commerce is a complete email marketing solution for eCommerce platforms. It's a powerful software tool with a broad feature set that includes intelligent data-driven marketing automation, an extensive library of advanced email flows, and powerful list segmentation tools.
It also has a feature that allows you to send receipts that drive more profitable customer action. You can use CM Commerce to design, segment, and send different kinds of receipts to different types of customers. You can use your receipts to upsell and cross-sell related products that your customers were love.
To design your receipts, make use of CM Commerce's beautifully-designed receipt templates and customize them with your own calls to action.
How Much Does it Cost?
You can get the CM Commerce starter plan for as little as $9/month, just note that you'll be limited to 5,000 emails to 500 people. Unlimited plans start at $29/month.
Which Ecommerce Programs Does it Work With?
Shopify
WooCommerce
BigCommerce
PrestaShop
Remarkety is probably one of the biggest competitors to CM Commerce. It offers dynamic personalization and branding for all eCommerce receipts. Not only that, but it also provides instant marketing recommendations so you don't have to think as much, and its email performance tracking is one of the best in the business.
Transactional emails replace whatever you currently have on your platform, with options for order confirmations, updates, status changes, and more. You can entice your customers back with the help of abandoned cart emails, while also using welcome emails and inactive customer reactivation.
How Much Does it Cost?
Remarkety starts at $25 per month for 500 contacts and unlimited email sends. They have three other plans, which go all of the way up to $800 per month for 100,000 contacts.
Which Ecommerce Programs Does it Work For?
Shopify
WooCommerce
Magento
Bigcommerce
OpenCart
PrestaShop
VirtueMart
Consistent Cart is one of the most popular abandoned cart email apps for Shopify. It has affordable pricing, beautiful templates, unlimited popups, and abandoned cart emails. Every single cart that checks out or abandons on your website is shown in a sleek dashboard. Not to mention, you can send out push notifications to get more people back to your store.
How Much Does it Cost?
The app has a Basic plan that starts at $0. The Professional plan goes for $4.99 per month, and that includes all of the main features.
Which Ecommerce Programs Does it Work For?
You have to signup for MailChimp for this to work, but if that's your email marketing software, you're going to enjoy the eCommerce tools they have packed in.
MailChimp lets you send out your traditional email newsletters, but you can also sync your products to send out product features. Connecting your store only takes a minute. After that, it allows you to configure a complete abandoned cart system, and it also has everything from product recommendations to demographic predictions.
If you've ever used MailChimp you know how smooth the email sending is. Not to mention, the reports through MailChimp are some of the easiest to understand.
How Much Does it Cost?
The first 2,000 subscribers are completely free with MailChimp. After that, it all depends on the number of subscribers, but it does start at $10 per month for slightly above that 2,000 mark. You could end up spending thousands of dollars if you send out tons of emails.
Which Ecommerce Programs Does it Work For?
Shopify
Bigcommerce
WooCommerce
Magento
PrestaShop
Technically any eCommerce site should work fine with MailChimp
The Recart eCommerce receipt system strives to help you sell more throughout the course of the year. You gain access to abandoned cart emails and push notifications. They even have a feature coming soon that sends out text messages for abandoned carts.
One of the coolest features is called cross-device cart rebuilding, which tries to juggle the carts being created when users go to your shop on different devices. Therefore, customers can pick up where they left off, whether it was on their phone, computer, or tablet.
How Much Does it Cost?
Recart begins at $29 per month for up to $1,000 in extra sales it brings in. That's pretty cool considering they don't take your money for sales that you would have otherwise made before installing the app. After that they have various other plans, going up to around $299 per month for up to $20,000 in additional sales.
Which Ecommerce Programs Does it Work For?
Shopify
WooCommerce
Bigcommerce
A big part of the transactional email process involves sharing shipment tracking. Most customers can't imagine shopping online without receiving a nice email prompting them about all shipping updates. In short, they want to see every stop the package makes until it hits their doorstep. AfterShip handles this for you with analytics, notifications, a tracking button, and a page for people to visit and see their shipments.
The main part of it is sending out notifications, so your users open up the email when purchasing a product and click through to check on their status updates.
How Much Does it Cost?
AfterShip has a free plan for up to 100 shipments per month. There's also a Premium plan that starts at $10 per month for over 100 shipments per month.
Which Ecommerce Programs Does it Work For?
Magento
Shopify
WooCommerce
CS-Cart
Bigcommerce
PrestaShop
eBay
Many more
Omnisend features automated emails, bulk emails, and signup forms for eCommerce. With inexpensive plans, it's nice to see that the developers offer everything from abandoned carts to welcome emails and reactivation to order follow-ups. You'll also find some other handy tools for birthday emails and configuring beautiful forms. It's kind of like MailChimp, but they've obviously focused more on eCommerce as a whole.
How Much Does it Cost?
It offers a free plan for sending up to 2,000 emails per day. After that, it starts at $16 per month and goes up depending on the number of subscribers.
Which Ecommerce Programs Does it Work For?
Shopify
Bigcommerce
WooCommerce
PrestaShop
Magento
It has a solid API to integrate with most eCommerce platforms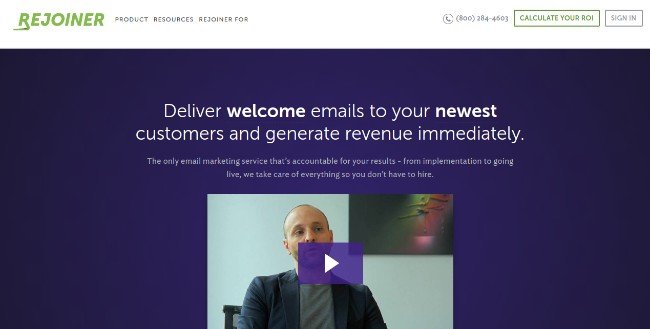 Rejoiner is one of the lesser-known transactional email tools, but it has everything you need packed into one powerful suite. The main problem is that they don't seem to have preset plans for thinking about your budget in advance. However, the abandoned cart emails are easy to configure, and they craft the email copy for your brand, so you can focus on other things.
This is more of a partnership you create with Rejoiner, seeing as how they give you a person to speak with and make your emails look amazing. Cart regeneration is seamless, and the product suggestions come in handy when trying to figure out how to get more revenue through your store.
How Much Does it Cost?
You have to contact them to get custom rates. Nothing is published on their website.
Which Ecommerce Programs Does it Work For?
Magento
WooCommerce
SparkPay
Shopify
nopCommerce
Volusion
CommerceV3
Klaviyo integrates with your eCommerce platform in one click, using templates to design your emails and interesting campaigns for abandoned carts, welcome messaging, and win-back campaigns. The autoresponders come in handy, but the main reason most people go with Klaviyo is for the advanced segmentation.
How Much Does it Cost?
It has a free plan for up to 250 contacts. After that, you'll pay around $25 per month. This can go up to more than $1,000 per month depending on your company.
Which Ecommerce Programs Does it Work For?
Shopify
Magento
WooCommerce
Bigcommerce
CV3
Volusion
SpreeCommerce
OpenCart
Many more
ActivateCampaign is the leading email marketing system when it comes to automation. They've really set the bar with their comprehensive suite of email and CRM automation tools, which includes cutting-edge features like advanced machine learning, dynamic CRM capabilities, detailed tracking & analytics, and more.
They also have a bunch of Ecommerce-specific automation tools like automated abandoned cart emails to reduce your cart abandonment rates, automated win-back campaigns to help you to reignite the interest of previous customers, 'product block' tools which let you upload products directly from your store into your email campaigns, and more.
You can segment your list based on repeat purchases, dollars spent, and average order values to automatically spend special offers to only the customers you really want to target with your messaging.
And finally, you can track and manage your order fulfillment automatically using the ActiveCampaign CRM. You can create deal records, move your shipments around, and set new tasks behind the scenes.
It has a bit of a learning curve but if you're willing to put in the effort, it's definitely one of the most powerful email systems on the market.
How Much Does it Cost?
The ActiveCampaign Lite plan is currently available for $9/month (paid annually). Active Campaign Plus starts at $49/month. Professional and Enterprise versions are also available, depending on your needs.
Which Ecommerce Programs Does it Work With?
Shopify
BigCommerce
WooCommerce
Plus many more top eCommerce platforms
Which is the best eCommerce email system for transactional emails & receipts?
All of the above eCommerce email systems are great options to look into, the only question that remains is which one is the best?
The answer: it depends.
Factors like what your marketing goals are, what your budget is, and what eCommerce platform you're using all need to be factored in. That being said, here's what I'd recommend.
Best eCommerce email marketing system for beginners
We think Mailchimp is the best eCommerce email marketing system for beginners and smaller eCommerce stores. It's super user friendly, easy to integrate with your eCommerce platform, and has a permanently free option so you don't have to invest money into it right off the bat if your budget is tight.
Best email marketing platform for experienced teams
If you're running a larger ecommerce operation and have an experienced marketing and sales team behind you, go for ActiveCampaign. It's a great, all-in-one email marketing platform that includes advanced features, tools, and analytics, as well as plenty of eCommerce email tools specifically designed to help you maximize your sales.
Best email system for Shopify users
If you're a Shopify user, I'd recommend Consistent Cart. It integrates nicely with stores built on Shopify and is particularly effective at reducing cart abandonment through cart recovery emails.
Best eCommerce email system for sharing shipment tracking
If your goal is to improve the customer experience, and you want to offer your customers easy shipment tracking updates via email, go for the Aftership app. It's one of the few email systems that's designed specifically to handle shipping communications.
If you have any questions about the best email systems for eCommerce transactional emails and receipts in 2021, let us know in the comments below.