20 Best WooCommerce Extensions for 2021 (Ultimate Guide)
Looking for the best WooCommerce extensions in 2021?
You're in the right place.
As the top eCommerce plugin on the WordPress market, WooCommerce often needs no introduction. However, for those who aren't familiar, it's rather simple.
WooCommerce turns any WordPress website into an online store. That's it.
You can create product pages, choose a theme, generate a beautiful shopping cart, and even sell digital products. What's more, is that WooCommerce is open source, so you don't have to pay a dime and lots of developers are constantly contributing to the plugin.
As a result, developers come out with additional WooCommerce extensions, add-ons, and plugins, strengthening the platform and offering more features for marketing, payments, shipping, store management, and much more.
Seeing as how the world of WordPress and WooCommerce can get a little cluttered, we want to walk you through some of the best WooCommerce extensions and plugins for 2021 so that your search isn't all that tedious.
Keep reading to learn about the best of the best, and feel free to talk about some of your own favorites in the comments section after the article.
Best WooCommerce Subscription Extensions
Let's kick things off by taking a look at two great extensions that allow you to offer subscriptions and set up recurring payment options in your WooCommerce store.
Price: Starting at $199
As you'll start to notice, many of the extensions for WooCommerce are actually developed and sold by the WooCommerce development community. This means you can find them all on the WooCommerce website. However, there are also plenty of other options available from third-party vendors.
The WooCommerce Subscriptions extension is a popular one from WooCommerce, with the ability to configure multiple billing cycles and bring in recurring revenue. For example, you may have a video-on-demand website with training videos for gardeners or guides for learning WordPress. In this case, the extension lets you accept automatic payments, display the products like you regularly would in WooCommerce, and give subscribers the option to manage their own plans and profiles.
Pros:
Introduce subscriptions for products/services
Automatic rebilling on failed payments
Automated renewal notifications and emails
Detailed reports
Supports free trials and sign-up fees
Supports variable subscriptions and customizable billing schedules
Cons:
High price tag
Light on reporting tools
Price: Free (Premium version available)
If you're a cash-strapped startup with a limited budget to spend on extensions, this free alternative to WooCommerce subscriptions might be just what you're looking for. The free version of Yith WooCommerce Subscriptions is probably the best free WooCommerce subscription plugin on the market.
It allows you to set up simple daily or monthly subscription plans and supports automatic payments for both virtual and physical products without spending a penny. However, it's technically a freemium service as the premium versions are required if you want to unlock more advanced features.
Upgrading to the premium version of Yith WooCommerce subscriptions will allow you to include credit card payment options, set up subscription-based product variations, offer free trials, allow customers to 'pause' their subscriptions, and more.
Pros:
Free version available
Product variations supported (premium version)
Free trials supported (paid version)
Robust feature set
Cons:
Doesn't support all payment gateways
Best WooCommerce Social Media Extensions
Next, let's take a look at some WooCommerce social media extensions. The plugins below will help you to market your WooCommerce store products across different social channels.
Price: Free
Facebook for WooCommerce extension is a rather new addition to the WooCommerce arsenal, offering the ability to generate Facebook ads and find more people who might be interested in your products. It works by syncing with your current product selection, making it much easier to produce those ads, instead of uploading new product images and links every time you need to post a Facebook ad.
Along with the Facebook ad tool, and the fact that this is a free extension, the Facebook for WooCommerce solution helps you create your very own Facebook page with items in the shop for people to browse and purchase. Once again, this eliminates the need to insert new images and product details, since it's already there on your website. What's more is that it offers mobile-friendly shopping, merchandising, and remarketing options.
Pros:
Syncs your WooCommerce products to your Facebook store
Facebook pixel integration for retargeting
Design and launch ad campaigns directly on WooCommerce
Integrates with Facebook Messenger for customer communication
Cons:
Updating is a hassle
Some users report difficulty synchronizing product catalog
Struggles with product variations (exports product variations as separate products
Price: $79.00 / year
Instagram is a great place to beautifully showcase your products to your customers, and the WooCommerce Instagram extension makes that easy. It allows you to create an immersive Instagram storefront where people can explore your products.
You can use the extension to create shoppable posts on Instagram: just upload your product catalog, create your posts and Stories, and tag your products in them. Your followers can then click the posts to go straight from your posts to your store.
Another great feature of WooCommerce Instagram is the product hashtag feature, which enables you to generate tons of user-generated content and quickly fill your product pages full of powerful social proof.
All you have to do is set up custom product hashtags. Your customers can then tag their images with this hashtag and they'll automatically appear on your product pages.
Pros:
Upload your product catalog to Instagram
Create shoppable posts
Create multiple catalogs and segment them for different demographics
Generate social proof for your product pages through product hashtags
Cons:
A little pricey (free alternatives available)
Best WooCommerce Checkout Extensions
The extensions below will help to simplify and beautify your WooCommerce checkout process.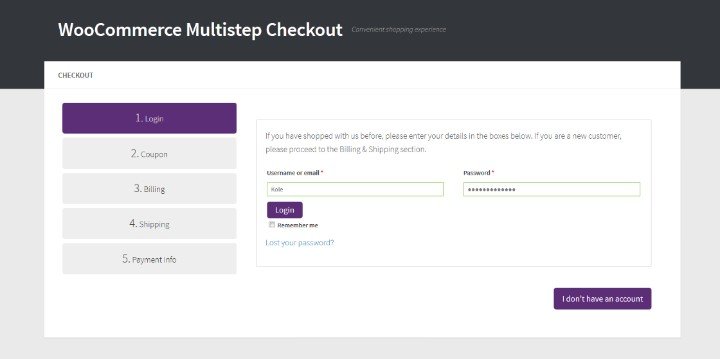 Price: $19
Consider the WooCommerce Multistep Checkout Wizard if you're thinking about cleaning up the way your current checkout and shopping cart looks to the user. Sometimes your users don't realize exactly when the checkout process is going to end. But if they see whatever steps are left in the process, they are more likely to continue. Therefore, the WooCommerce Multistep Checkout Wizard plugin creates a beautiful interface that reveals the steps they have left.
You can change the colors and positions of the steps, turning the checkout into a more branded interface. Not only that, but it lets you show off everything from billing to coupons to shipping and payment info. Seeing as how many stores lose customers in the checkout area, this plugin is one of the essential tools you can implement to get rid of all of those pesky abandoned carts.
Pros:
Improve conversion rates
Responsive layout
Fully customizable
Extensible through plugins
Cons:
A couple of minor glitches on certain themes
Price: $29
If you'd rather condense the checkout process into a single page, check out this one-page checkout plugin. It helps you to create a super-streamlined shopping experience for your customers.
You can use it to set up a complete one-click checkout process so that your customers can skip the part where they add the product to their cart and proceed directly to payment.
Bonus tip: To make your checkout process even quicker and easier for your customers, consider adding a social login option using a tool like WooCommerce Social Login. Tools like this allow customers to connect an account via social media, skipping the entire account creation process. They don't have to bother filling out forms and can get straight to buying.
Pros:
One-click checkout
Display the checkout button on the shop page
Users can select or add new shipping addresses on the product page
Affordable
Price: Starting at $49
The Checkout Field Editor is somewhat similar to the Product Add-ons extension, but it's more about offering more options during the checkout process. Checkboxes, date pickers, text, and select fields are available for you to display on the frontend. For example, you might want to offer custom shipping dates for your customers.
This is an interesting practice that removes the need for them to think about how many days out they are going to get their product. Therefore, they would simply select a date or type it in depending on the type of field. It's a basic extra step that you can add to any checkout of your choice.
Pros:
Add, edit, and remove WooCommerce checkout page fields
Rearrange all fields and sections easily via drag-and-drop
Display sections conditionally
Developer friendly
Cons:
Best WooCommerce Product Add-On Extensions
Here are 2 great product add-on extensions that make it easy to add product variations and personalization options to your product pages.
Price: Starting at $49
Customers like the idea of customization, but you don't get that much support for additional product add-ons through the default WooCommerce platform. Therefore, the Product Add-ons extension allows for everything from radio buttons to input boxes. For instance, you might provide options for custom engraving where the customer punches in the line of text they want in the engraving.
The add-ons are limitless, seeing as how they even have tools for file upload buttons and custom price inputs. A developer would be able to create an entire service-based eCommerce site just because of this tool. The clients would buy the products and upload whatever files they have for logos, designs, or instructions.
Pros:
Add product personalization options
Supports flat, percentage-based, and quantity-based fees
Add dropdown options or checkboxes
Supports customer text inputs (great for personalized t-shirts and cards)
Compatible with WooCommerce Subscriptions and Bookings
Cons:
Doesn't support adding radio button or defaults to checkboxes
Limited options to remove visual elements like subtotaling
Limited flexibility
Price: Free (premium version available)
If the extension above is out of your budget, try this free alternative from Yith instead. The Yith WooCommerce Product Add-Ons extension lets you set up variations to give your customers more flexible customization options.
For example, you can add in text fields where your users can input text that they'd like to be engraved on your products, or set up checkboxes and radio buttons with different options to choose from.
You can also assign fixed prices to the different variations so that the price displayed to the customer automatically increases/decreases depending on which option they choose.
Pros:
Create groups of options
Supports checkboxes, radio buttons, and text fields
Set dependency between variations
Assign fixed prices to different variations
Cons:
Limited features on the free version.
Best WooCommerce Order Export Extensions
Here are 2 great WooCommerce extensions that allow you to export data to your external systems.
Price: Starting at $79
This one is rather simple, but it empowers shop owners to take control of their store's information and even pass around details to other stakeholders. The process is basic, using a quick button to export either order or customer lists. This way the webmaster can see an entire list of all of the customers with their specific details like contact information.
You can also use this for orders, which is particularly useful for a handful of reasons. One instance where you might want to use this plugin is when you're searching for a fraudulent charge or maybe you'd like to ask your employees questions about recent orders. The extension has a wide range of features, but one of my favorites is the automatic exports, where it sends the export to FTP or email.
Pros:
Easily export data from WooCommerce to external systems
Bulk exports on demand
Automated exports
Create your own custom formats
Runs asynchronously in the background
Cons:
High learning curve
Fairly expensive (free alternatives available)
Price: Free
The Advanced Order Export plugin is a free alternative to the above. Like the Order/Customer CSV Export plugin, it allows you to easily export WooCommerce order data in formats like XLS, XML, CSV, and JSON. You can use the tool to export any custom field or terms for orders and products.
Not only that, but it also allows you to export in bulk, rename labels, reorder columns, apply powerful filters, and more.
Pros:
Export order data, customer details, product attributes, and coupon details
Supports multiple formats
Bulk exports
Analyze your order data and update your accounting system
Great support
Best WooCommerce Extensions for Product Bundles
Product bundling is a powerful marketing strategy, but it's something that WooCommerce doesn't support right out of the box. Fortunately, there are some awesome WooCommerce extensions that fix that problem and allow you to sell product bundles in your online store. Here are 2 of our favorites.
Price: Starting at $49
Product bundles are known to boost the number of sales you can make while improving your revenue with each of those sales. Basically, a bundle packages together multiple products, often giving the customer a discount when they opt for the bundle instead of individual items. This sells more items for you and your customer is happier since they saved a little money.
Subscription, variable and simple products are all supported through the Product Bundles extension, and you can sell anything from physical to digital products. Everything is customizable with this extension. For example, it allows for quantity changes and optional items for the customers.
Pros:
Easy, flexible product bundling
Personalized bundles
Bulk discount packages
Create assembled products
Add 'Frequently Bought Together' recommendations to any product page
Cons:
Does not support WPML directly
No free trial
Price: $49.00
Chained Products is another product bundling extension that has a very specific use case: it's perfect for 'chaining' products together.
For example, let's say you want to offer your customers a free gift when they purchase a product.
You can use this extension to set up automated product bundling so that when your customer adds the main product to the cart, the linked products are added automatically along with it.
Naturally, this is great for 'buy one, get X'-type promotional offers or any other instance in which you want to bundle products together.
Pros:
Easily chain together multiple products
Gift products x and y when they purchase product z
Individual inventory management
Great support
Best WooCommerce Extensions for Amazon Affiliate Websites
Is your website part of the Amazon Affiliate program? If so, make sure you check out the two extensions below.
Price: $49
Since the Amazon Affiliate program is one of the most popular referral programs out there, it makes sense that the WooCommerce Amazon Affiliates plugin for WooCommerce is also one of the most downloaded plugins in relation to WooCommerce.
If you've ever used Amazon for gaining affiliate revenue, you know how tedious it can get. Luckily, this plugin eases the pain with a Chrome extension and full dashboard, letting you quickly grab products and drop them into your store.
The developers have included a tool that verifies whether or not a product is available for certain locations. They also have auto-import features, options for bringing in quick images, bulk product imports, and a beautiful area to see all of your stats. Along with custom themes and pricing variations, you can't go wrong with this plugin as an affiliate marketer.
Pros:
Video tutorials and extensive documentation
Amazon associates earning reports
Amazon product synchronization
Speed optimization
WZone Lite (trial version) available
Cons:
Doesn't recognize when products are unavailable
No price rules for dropshipping tax
Price: free (paid version available)
The only problem with the WooCommerce Amazon Affiliates plugin is the price tag. If you're starting up a brand new affiliate blog and you're just testing the waters, you might not want to fork out on expensive plugins right off the bat.
In that case, try the free version of the Amazon Auto Links extension instead. It takes the hassle out of manually finding the right affiliate links to insert into your posts by automatically pulling relevant products from Amazon and displaying affiliate links along with your posts.
Pros:
Supports all Amazon Associate locales
Auto-insert links in your posts
Automatically converts all Amazon links to your associate links
Create custom buttons for better CTR
Free version available
Cons:
Some complaints about support
The free version is very limited
Best WooCommerce Shipping Extensions
These 2 plugins can help you to create and display different shipping options for your customers, and add delivery tracking information to your orders to improve the customer experience.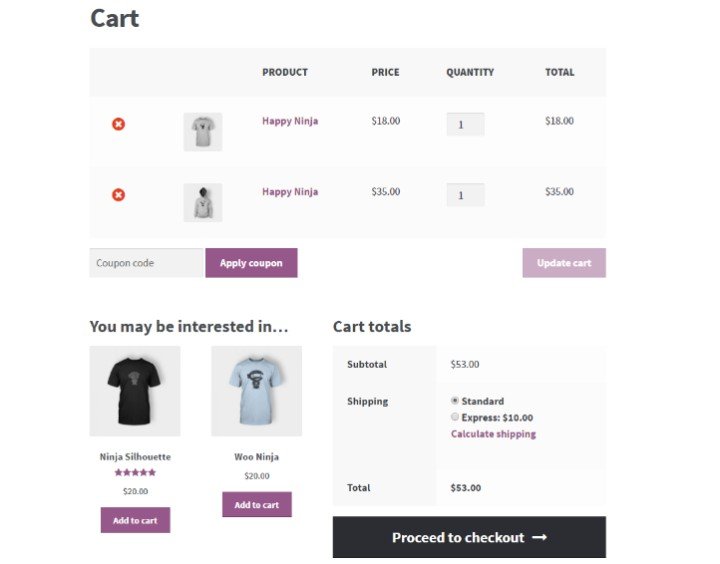 Price: $25
Shipping is yet another difficult part of running a store, but the Table Rate Shipping plugin helps you out by delivering different shipping options based on certain conditions and pricing structures. The shipping titles and descriptions are nicely displayed for your customer, but you have full control over the complex tools in the backend.
Some of the conditions you can play around with include dates, products, shipping classes, weight, dimensions, and more.
Pros:
Expansive settings page
Setup multiple shipping methods and options
Create flexible, complex pricing models
Works with any theme
Cons:
Price: Starting at $49
It's common practice to have shipping notifications running through your online store. Your customers want to see when they can expect to receive their products, so it's a good idea to have emails sent to them explaining when the shipment is expected to arrive.
WooCommerce offers the Shipment Tracking extension, which shows shipment tracking information on the frontend of your website after an order, as well as in an email that gets sent out to the customer. Custom tracking links are supported, but most of the large, reputable shipping companies like UPS, USPS, and FedEx are all automatically generated.
Pros:
Displays shipment tracking information on order tracking page and order view page
Improves customer service
Custom tracking links supported
Cons:
Price: Free
The WooCommerce Shipping extension can save you time and money on your shipping costs. It allows you to print your own shipping labels from right there in your dashboard so that you can skip the line at the post office and simply drop off your pre-labeled packages.
According to the creators, the extension can save you up to 90% on USPS label rates, and 67% on DHL label rates. And best of all – it's free!
Pros:
Completely free (no hidden costs)
Display accurate USPS shipping rates at checkout
Discounted labels available for USPS & DHL
Built into WooCommerce dashboard
Cons:
Only suitable for carriers in the US
Best WooCommerce Extensions for Product Customization
If you're looking for an extension that lets you offer your customers a way to customize their products, take a look at these WooCommerce product customization extensions.
Price: $49
Although this plugin only applies to online customization stores, the Fancy Product Designer plugin is really cool and a quick way to install and activate a complete merchandise customization system. The tool can be embedded right into your WooCommerce website, providing all sorts of fields and buttons for colors, text, sizes, and more.
The plugin supports everything from t-shirts to mugs and pens to mouse pads. Basically, the Fancy Product Designer plugin has all of the tools for launching a full customization website. Oh yeah, and it integrates with your checkout system.
Pros:
Extensive, flexible product customization options
Intuitive 'layer' system
Supports image uploads across multiple sources and formats
Advanced color picker tool
Text and image transformations
Set flexible prices
Cons:
Could be more user friendly
Fairly expensive
Price: Free (paid versions start at $2.99/month)
Last but not least, we have the Zakeke Interactive Product Designer for WooCommerce extension.
This is one of the most affordable product customization plugins on the market and is a great budget-friendly alternative to the Fancy Product Designer extension.
It lets you set up advanced customization options so that your customers can personalize their products and see exactly how they'll look in real-time previews before purchasing. Your customers know exactly what they're getting before they hit the buy button, meaning happier customers, fewer returns, and better ratings.
Text customization, pre-uploaded image catalogs, customer uploads, and color/size/style variations are all supported.
You can take advantage of their free trial to try it out and, when you're ready, upgrade to one of their low-cost plans for as little as $2.99/month.
Pros:
Supports both percentage and fixed-rate charges for each customization
Real-time 3D product previews & AR
Great price-to-performance ratio
Easy to use
Excellent support
Cons:
Their starter pack (lowest-priced plan) doesn't include a lot of advanced features
What Are the Best WooCommerce Plugins and Add-ons For You?
Many of these WooCommerce plugins and add-ons are must-haves for every online store. For example, I like the Facebook for WooCommerce option, along with WooCommerce Multistep Checkout Wizard and the Order/Customer CSV Export plugin.
Some other plugins are more useful for niche sites, such as WooCommerce Subscriptions and Fancy Product Designer.
I hope you enjoyed this post. If you did, you may want to see our guide on How to set up an eCommerce Store with WooCommerce and our roundup of the best WooCommerce themes.
Regardless, go through this list of the best WooCommerce plugins and add-ons and let us know which are your favorites in the comments below.