17 Free WooCommerce Themes For WordPress for 2021
A Squatty Potty. A club for dollar razors. A box that comes to your home filled with curated clothes. All of these businesses and ideas started with the help of a beautifully designed eCommerce website.
That's the only way to go about getting the word out about your product, and the best method to do so is with a solid WordPress theme.
Seeing as how WooCommerce is by far the top eCommerce plugin for integrating with WordPress and launching your online store, it seems suitable that the market is filled with themes just for the WooCommerce plugin.
Not only that, but many startups are pressed for cash, so developers have worked hard to create stunning free WooCommerce themes for WordPress that you can download with the click of a button.
The best part? Many of these themes are ripe for upgrading, so if your business scales up fast where you need more flexibility or better branding, you can always swap out one of the free WooCommerce themes for a premium one.
We've compiled a list of 17 of the most stunning, SEO-friendly, and overall best free WooCommerce themes for WordPress in 2021 so that you don't have to. 
Keep reading to learn more about your best options, and feel free to bookmark this page if you're planning on starting more WooCommerce shops in the future.
First off, let's talk about OceanWP. This is one of the fastest-growing WordPress themes out there for eCommerce developers, and it's easy to see why.
It's a free multipurpose theme that boasts market-leading WooCommerce integration. Many essential eCommerce features are built directly into the OceanWP theme itself so you don't need to add-on a bunch of plugins in order to maximize your conversions.
I'm talking about features like native cart pop-ups, an always-visible floating add-to-cart bar, quick-view product displays, and more.
It also integrates well with page builders like Elementor and Beaver builder. There are over a dozen OceanWP demos that you can download for free, but others require you to purchase a premium plan, which starts at $27.
Oh, and did I mention it's also Reddit approved.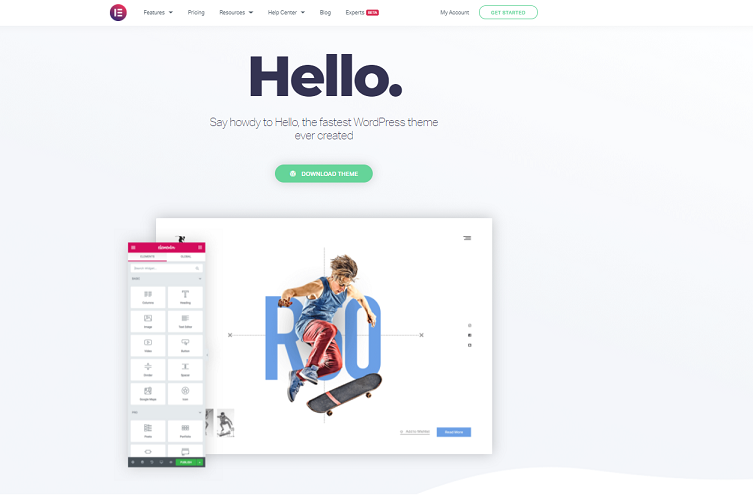 If you plan on using Elementor WooCommerce Builder to create your WooCommerce storefront, there's no better theme to use alongside it than Elementor's own Hello theme.
The Hello theme gives you a solid, clean, no-thrills, super-lightweight foundation that you can then build on using the WooCommerce modules and widgets in the Elementor Theme Builder to create a beautiful, high-converting shop and product pages.
Because it's lighter than most themes, it loads your landing pages rapidly, improving both your site SEO and CRO, and it won't conflict with your other plugins.
Woostify is another free, lightweight WooCommerce theme that's laser-targeted to eCommerce sites. Unlike many other free themes on this list, Woostify isn't an all-purpose theme that just happens to be compatible with WooCommerce – it's designed specifically for WooCommerce sites.
As such, it comes with an eCommerce-focused feature set including built-in product variation swatches, product quick-view descriptions, buy now buttons, built-in size charts, product search, Ajax add-to-cart, and more.
Woostify is a freemium theme that comes with both free & pro Woostify demos. To access the pro demos and features, you can sign up starting from $49/year. Alternatively,
Alright, you caught me. I'll own up to it – I guess this isn't technically a free theme. It's actually a premium WordPress theme, but hear me out.
Divi offers a 30-day, no-questions-asked money-back guarantee, which means you could technically try it out for free for 30 days and if you don't like it, you don't have to pay for it. Plus, there's also a free demo you can try out here.
The reason it had to make the list anyway despite really being a premium theme is simple: it's awesome.
Divi is literally the most popular WordPress theme in the world, and it's easy to see why. It takes the process of designing your online store to the next level with an incredibly-advanced frontend visual website builder that lets you drag and drop elements to build beautiful pages with ease.
Not only that, but it's perfect for WooCommerce stores for several reasons. Firstly, it's fully WooCommerce compatible. Secondly, it offers specific WooCommerce integrations that make it the perfect complementary theme.
For example, you can use custom WooCommerce modules like 'Woo Add to Cart', 'Woo Price', 'Woo Related Products' and more to create, customize, and control individual WooCommerce elements and place them where you want them across your website and product pages
Divi Premium is available for $89/year, use our exclusive Elegant Themes coupon to get 20% OFF.
Overlay is a fantastic, fully-responsive, free WooCommerce theme that looks great on any device. It features deep WooCommerce integration that makes it super-easy to customize and personalize your product pages, eCommerce storefront, checkout pages, and even the shopping cart.
You can download the basic version for free. Alternatively, upgrade to Overlay Pro for just $25 to unlock a bunch of extra powerful features.
Fashion Diva (a child theme of the Blossom Fashion theme) is a completely free WordPress theme. It's perfect for WooCommerce stores selling clothes, jewelry, or any type of fashion accessory.
It has a distinctly feminine, fashionable design and a visually-appealing layout that looks great on any screen size.
It's SEO-friendly and fully WooCommerce compatible. It's also optimized for Scheme markups which could help you to get your products featured in those all-important Google snippets. The built-in social platform widgets help you cross-promote your store on social media.
Flash is a free, flexible, multipurpose WordPress theme. It's as great for WooCommerce stores as it is for blogs and business websites.
All Flash themes are professionally-coded, beautifully designed, and fully compatible with WooCommerce. It offers several layout options for WooCommerce pages. Flash also includes a cart icon in the menu, loads rapidly, and is well-optimized for search.
It also offers excellent integration with other tools and is compatible with all the most popular page builders including Elementor, Beaver Builder, SiteOrigin, and Gutenberg.
Flash is a freemium theme, so you can start out with the free version and upgrade later to Flash Pro if you want to unlock more features.
Neve is a lightning-fast, fully-customizable, and totally-free WooCommerce theme that's simple, clean, and effective.
It looks great and integrates nicely with Gutenberg, Elementor, SiteOrigin, Divi Builder, and all your other favorite page builders. It's undoubtedly one of the fastest themes on the market. Expect top results on Google PageSpeed Insights and a loading time of less than 1 second.
And as we all know, eCommerce stores that load faster convert better.
As the name suggests, ShoppingCart is a theme built specifically for eCommerce stores. It's not a multipurpose theme and, as such, the feature set is particularly well-suited for online shops.
It's WooCommerce-compatible and includes several widgets built to extend the functionality of your eCommerce store. The front page features multiple sections, the navigation and social menus are well-designed, and everything is easily customizable.
Zigcy Lite is an incredible free WooCommerce theme that looks and feels like a premium theme. It's a 'customizer-based' theme. In other words, you can extensively customize the theme and preview the layout live as you build it.
It's specifically built to be as compatible with WooCommerce as possible, with deep WooCommerce integration, a product and content search function, a beautiful CTA section, one-click demo import, lead capture/conversion elements, and more. It's also fully compatible with Elementor.
Many companies consider the WooShop Lite WordPress theme when looking for a free WooCommerce theme with shortcodes. These shortcodes make items like buttons and columns, all without having for you to touch any source code.
In addition, the responsive design is essential for people to buy from your store on mobile devices. The background customizations work nicely, while the multi-level dropdown menu is something that you generally only receive in premium themes. Along with a blog page and unbranded theme options, you can't go wrong with the WooShop Lite theme.
A premium version of WooShop is also available starting at $59
It makes sense that WooThemes makes some of the best WooCommerce solutions out there, and this one is no exception. It's intuitive and flexible with one of the highest performing interfaces on this list.
The whole point of the StoreFront WordPress theme is to remain clean and lean, so no shortcodes, sliders, or page builders are included with the package. You'll still get responsiveness, a basic homepage template, and quite a bit more, but this one is truly for those who want a simple site.
The AccessPress Store theme delivers a quality customizer for changing colors, fonts, and images. The beautiful product page outlines details for each product, along with images, descriptions, and pricing.
A powerful slider grabs attention and sends people to certain landing pages and promotional listings, while the several images on the homepage can be used as banners.
The EightStore Lite theme provides color, imagery, and style since it's packed with banners for promotions, a slider, and beautiful menus. Building an online store is fairly easy, considering you have access to YouTube integration, a product slider, and an advanced wishlist. The promo ticker serves as one of our favorite features because you can constantly keep your customer updated about what's new and on sale.
The bbPress compatibility is impressive, and the fully responsive design keeps your typography and imagery in check while people are searching your site on the go.
As you can see from the Make theme image above, social media buttons come along with the download. It's one of the more flexible solutions, and the coloring is on par with most premium themes.
The page layout designs are all managed through the WordPress customizer, where you can add anything from page sliders to banners. The theme developers made a partnership with Adobe Typekit, so the typography is solid, while the Google Fonts are not too shabby either.
The Virtue WordPress theme has an extremely versatile responsive design, with translation ready files and stunning sliders for the ultimate presentation.
Custom fonts are there for beginners and advanced users to meet their brand expectations. The custom CSS module is always around if you'd like to get really creative with your design. Virtue's sliders support high-resolution images, and the shop resides on a completely different page. Don't fret though, because all of your featured products remain in a slider on the homepage.
The Shophistic Lite presents beauty and elegance into the free WooCommerce theme market. All of your products are visible right on the homepage. This makes the page look similar to a portfolio or Pinterest. Change around your logos, colors, and fonts on the dashboard, and use the CSS animations to stand out from the crowd. Along with translation files and a responsive layout, the Shophistic Lite WordPress theme is no slouch.
Conclusion
All of the best free WooCommerce themes for 2021 are lightweight, responsive, and product-friendly. When we put together this list that's what we were looking out for. Obviously, a beautiful design is important as well, so we tried our hardest to locate only the best for this list.
If you have any questions about which of the free WooCommerce themes you should choose from, feel free to ask us in the comments section below.