Dropified vs Oberlo: 2 Top Dropshipping Tools Go Head-to-Head
eCommerce is a gigantic industry, more so during the global pandemic we're in. As such, there is always a good reason to jump on the bandwagon. However, if you have a great eCommerce idea but limited physical space, dropshipping could be for you. This Dropified vs Oberlo review looks to compare two leading platforms.
It's not spoiler to suggest that both Dropified and Oberlo are going to be more than capable of helping you start a dropshipping business. However, if you have specific requirements, you'll want to look closer at our comparison.
Before we get onto comparing Dropified vs Oberlo, let's talk about what dropshipping is, along with its pros and cons.
An Introduction to Dropshipping
'Dropshipping' has become a burgeoning market that's more lucrative year-on-year. For the uninitiated, it's an eCommerce industry with one unique element: None of the stock is stored by you (i.e. the dropshipper).
In other words, an online store sells products that are sourced from a wholesaler, manufacturer, or fulfillment house elsewhere. It's this end of the chain responsible for shipping the product to the customer.
Essentially, you're able to run a retail business without ever touching a piece of stock. As such, there are plenty of benefits to dropshipping:
You can cut down on warehouse and storage costs, and potentially pass those savings on to customers.
There are no employee overheads to consider – a dropshipping business could be a one-person operation.
You're able to tailor your funnel and overall business model to suit, while still leaving stock in the hands of a supplier.
However, because you're not hands-on with regard to stock, you also have little control over quality, inventory management, or the shipping process.
Because of the clear benefits and dangerous drawbacks, a number of solutions have popped up to help wannabe dropshippers get into business. Next, let's take a look at the two we're going to feature: Dropified vs Oberlo.
A Quick Look at Dropified and Oberlo
Really, Dropified and Oberlo are 'chalk and cheese' when it comes to dropshipping platforms. First, Dropified is an app that connects your eCommerce store to its services.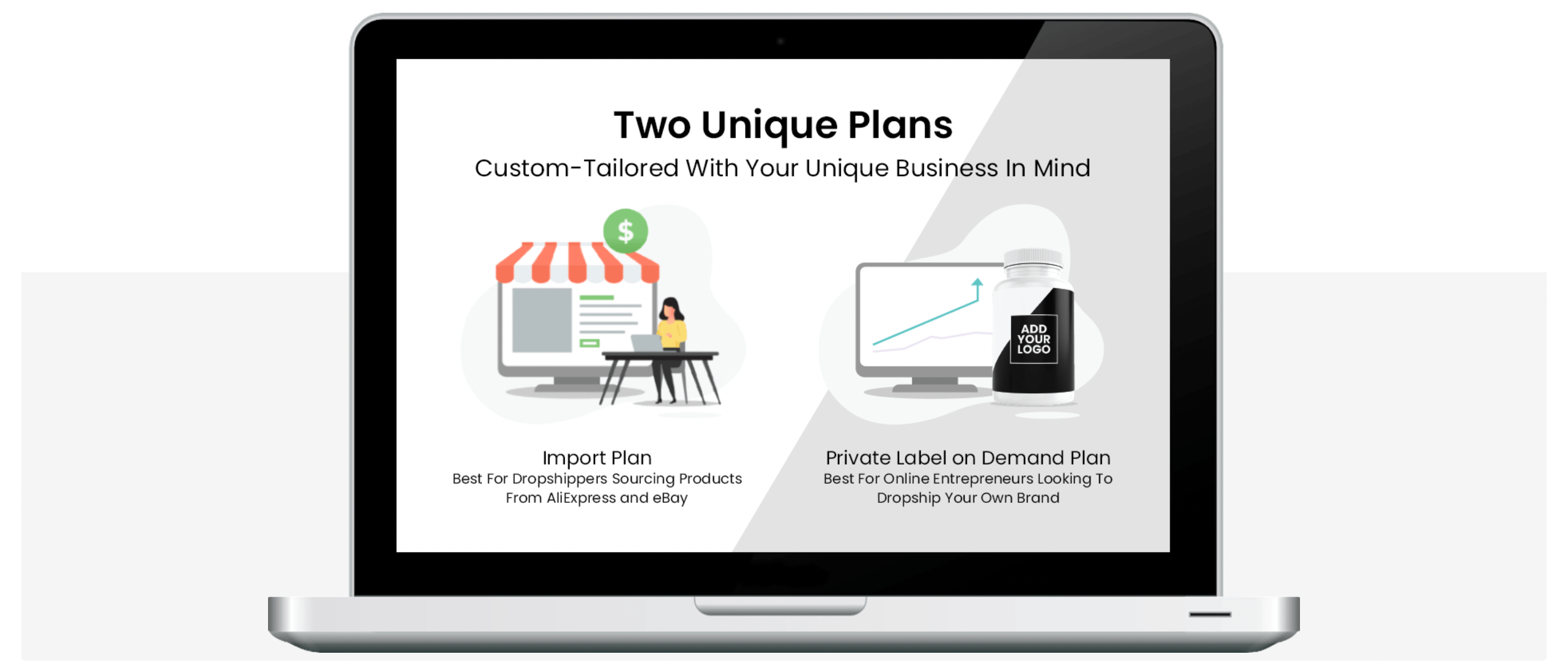 You're able to import and manage your dropshipped products from a variety of vendors such as eBay and AliExpress. What's more, there are higher tiers that let you create your own brand, and sell it with ease.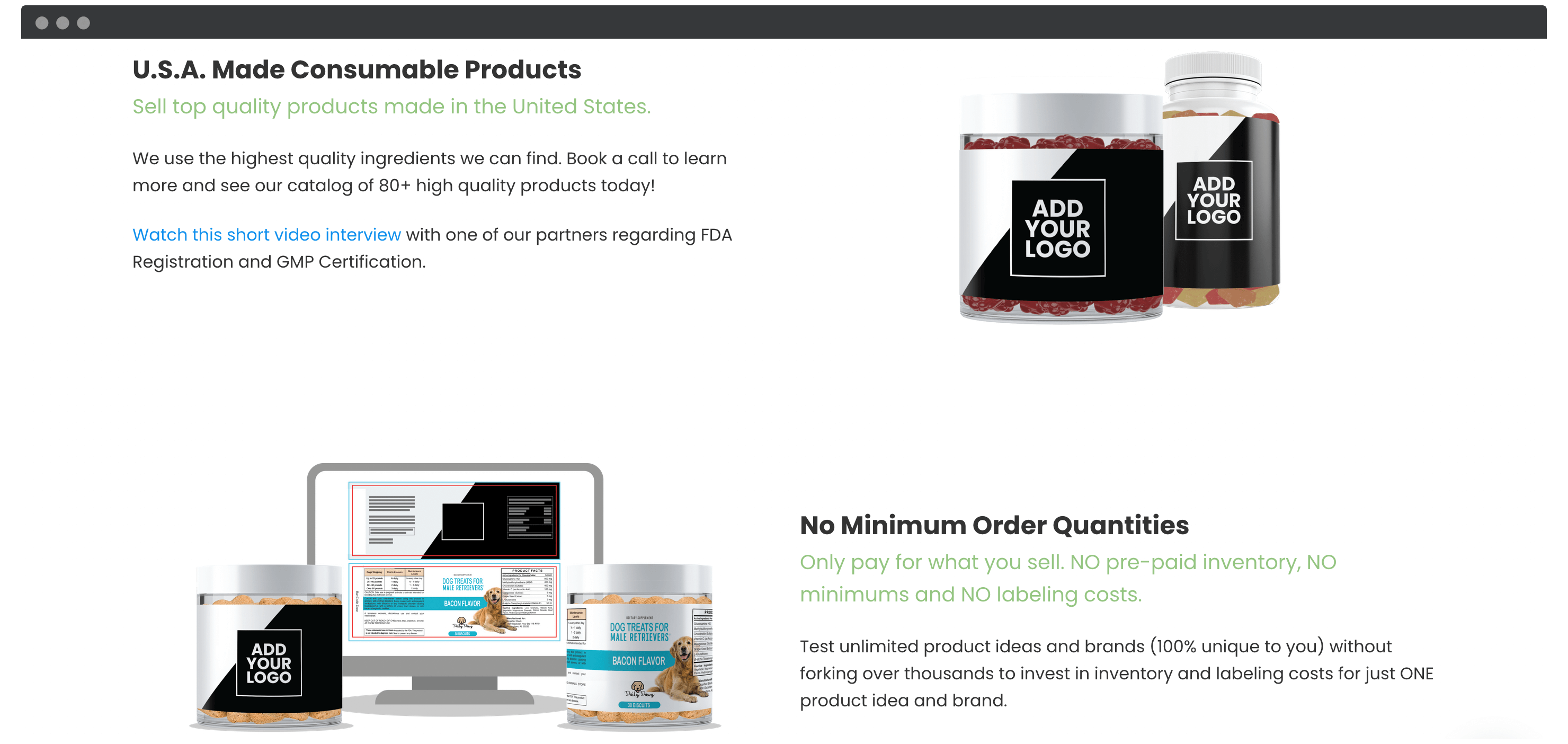 As for Oberlo, its focus is more on learning the skills you need to become a successful dropshipper.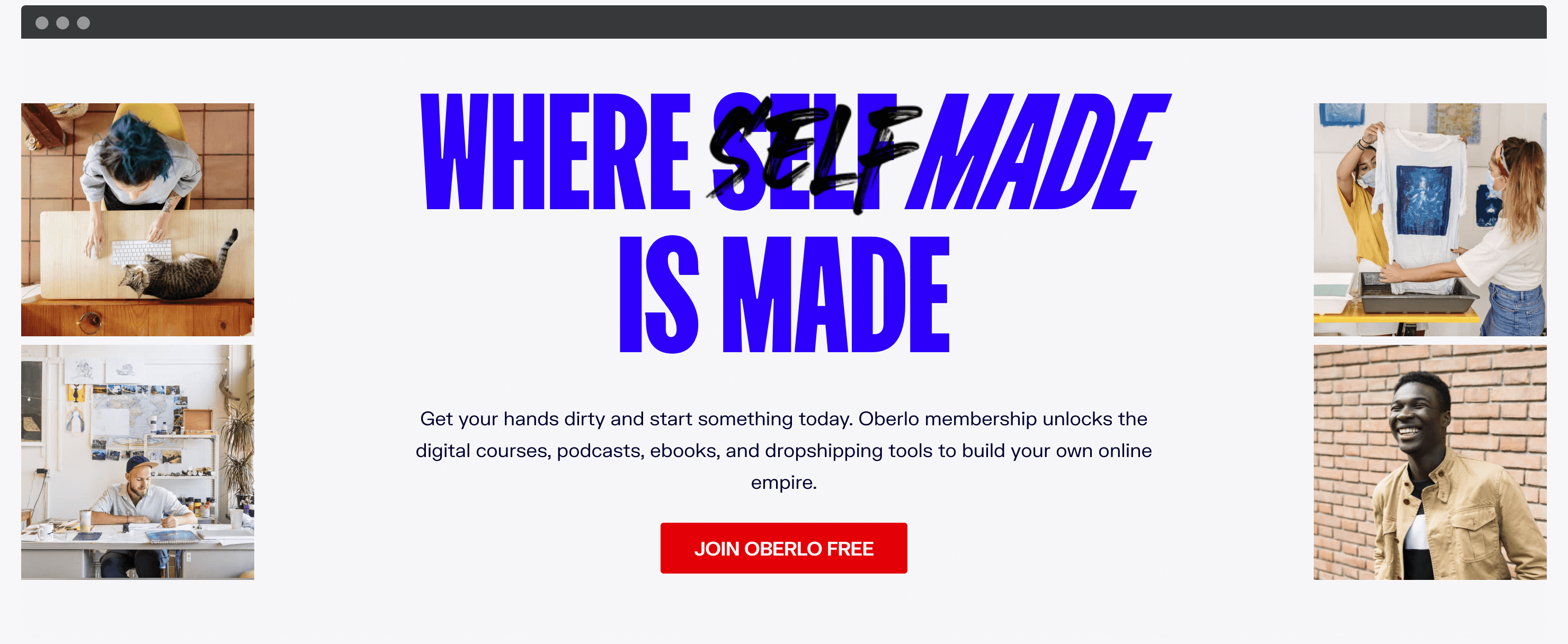 The home page is full of inspiring case studies, helpful articles, and learning materials to help get you up and running. It's positioned as an educational platform, rather than a rapid-setup income generator: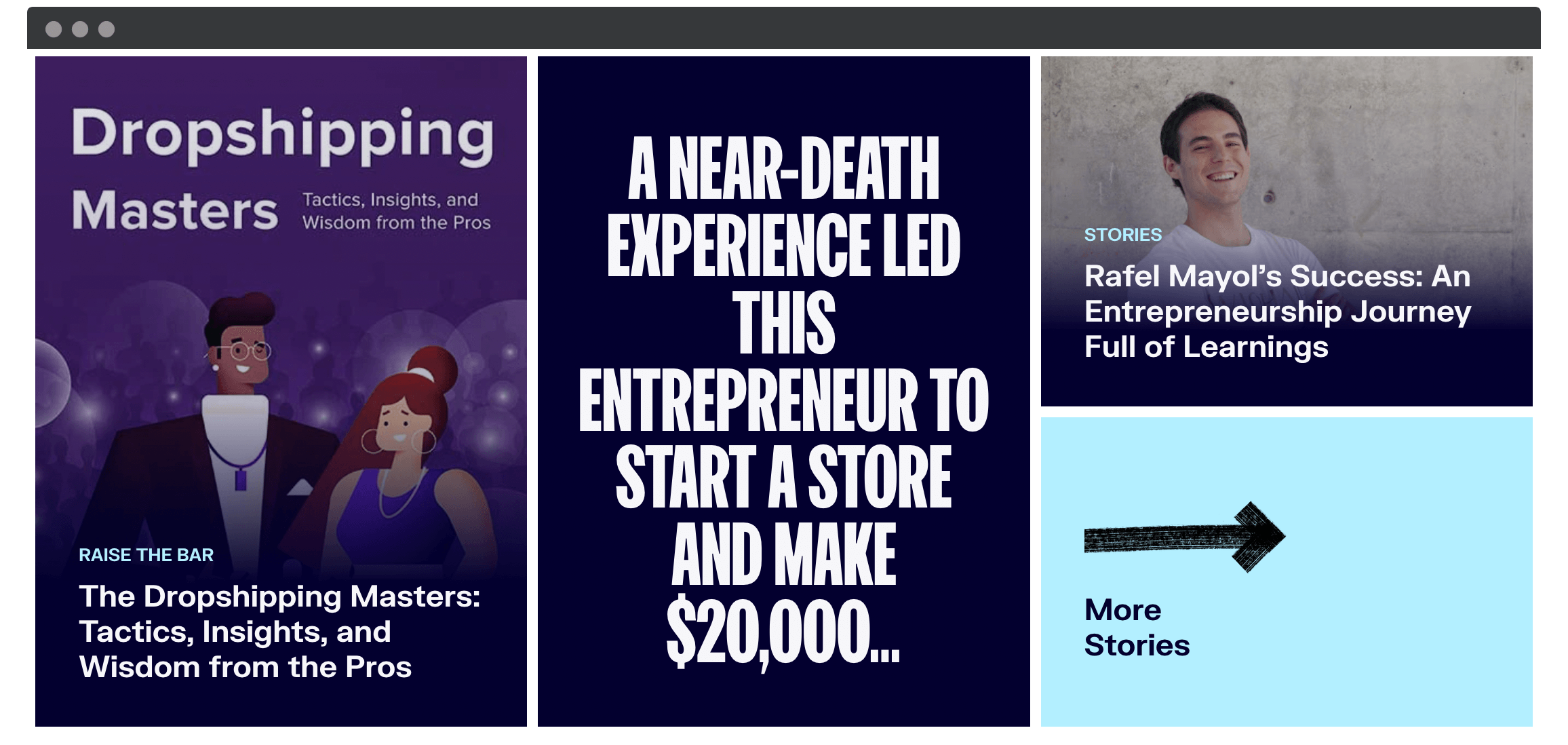 Overall, both platforms look to achieve different aims. However, there is plenty of cross-over with both solutions, and you are still going to need the same functionality in whatever option you choose.
What to Look For When Comparing Dropified vs Oberlo
Once you decide that dropshipping is something you're interested in, you'll want to compare solutions. However, the features and functionality you need might not be clear at first glance.
In our opinion, any dropshipping tool worth its salt will have the following built into the platform:
Robust customization tools, to help you match your brand to your product line, and vice versa.
A flexible checkout process that includes guest checkouts, multiple payment gateways, and more to help the customer make a smooth purchase.
User-friendly methods to find, add, and ship products to customers.
A way to implement and maintain customer-friendly shipping rates.
When looking at the comparisons in the next few sections, you'll want to keep these in mind. While we'll look at a number of factors here, your own requirements are going to be the primary concern.
Comparing Dropified vs Oberlo
Of course, many would-be dropshippers are going to weigh up a number of solutions before narrowing the choice down to one. Let's take a look at how Dropified vs Oberlo compares, starting with the included features.
Features
If you were to go simply by the marketing pages, Oberlo doesn't have any features to speak of, while Dropified is swamped with them. The reality is that the platforms are nearer than it seems.
It's true that Oberlo is more pared down with regards to functionality and features than Dropified. However, Oberlo has arguably a more streamlined, 'get started now' vibe.
For example, Oberlo lets you set up or connect a store, find and import your products, and handle orders from a dedicated dashboard. It's slimline, and offers all that you need to start selling right now.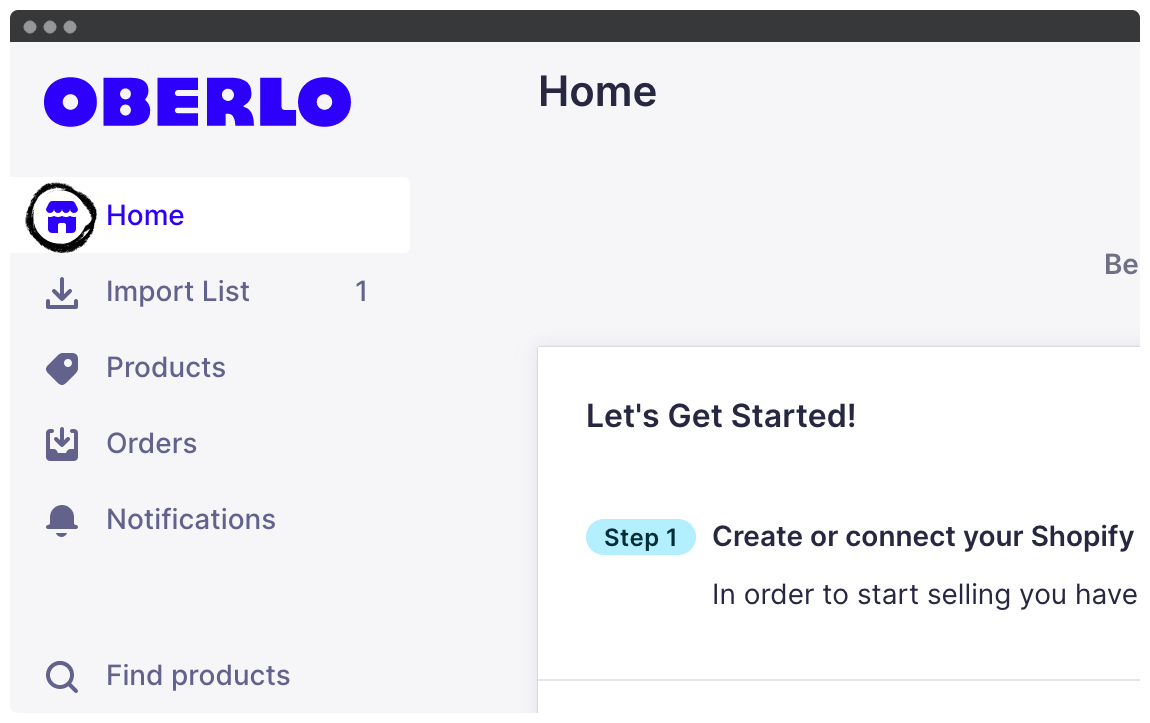 In contrast, Dropified is drowning in features, so much so that you're taken through two upsell pages for add-ons when signing up (more of which later).
However, for hands-on users who want to tailor every aspect of their store, Dropified's customization options will be welcome. The Settings page contains a bunch of sections relating to importing products, AliExpress-specific fixes, and more: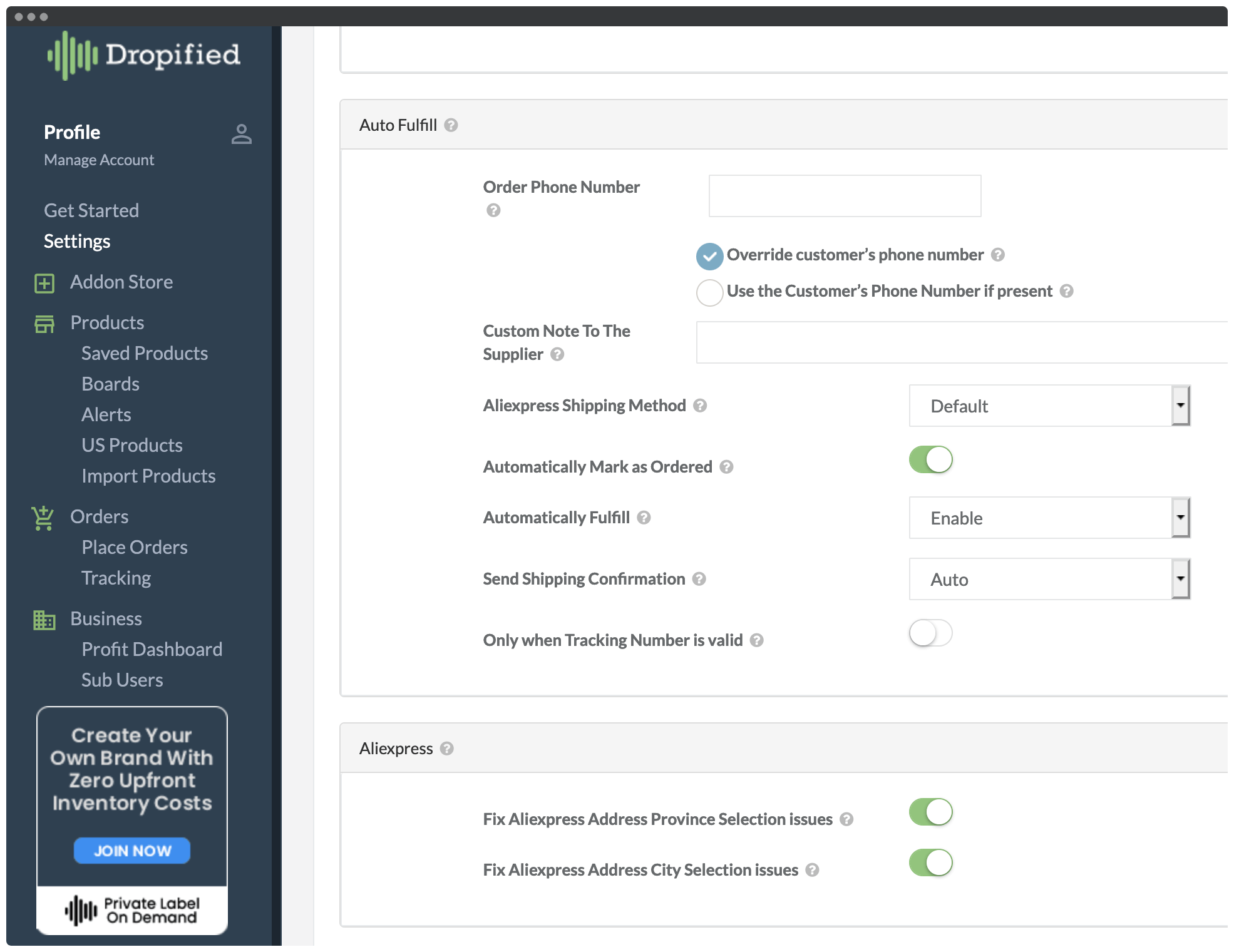 What's more, Dropified offers a clever auto-fulfillment option that takes the whole process out of your hands. This is great if you're more interested in the attractive 'top-of-the-funnel' aspects of running a business.
In addition there are a number of add-ons for Dropified that provide extra features. You're able to implement order auditing, Facebook and Google Ads feed integration, product and pricing alerts, and much more – all for an additional cost per month:

Overall, Dropified wins with regard to customization options, although Oberlo is arguably going to get you selling quicker. We predict that Dropified's features will let you scale over the long-term. However, you may hit a ceiling with Oberlo that restricts your growth later.
User Experience (UX)
On first impressions, Dropified didn't make the grade. Signing up includes a 14-day free trial that required entering your credit card details. Once you clicked to continue, you were then taken through two screens that screamed "You're in the sales funnel!":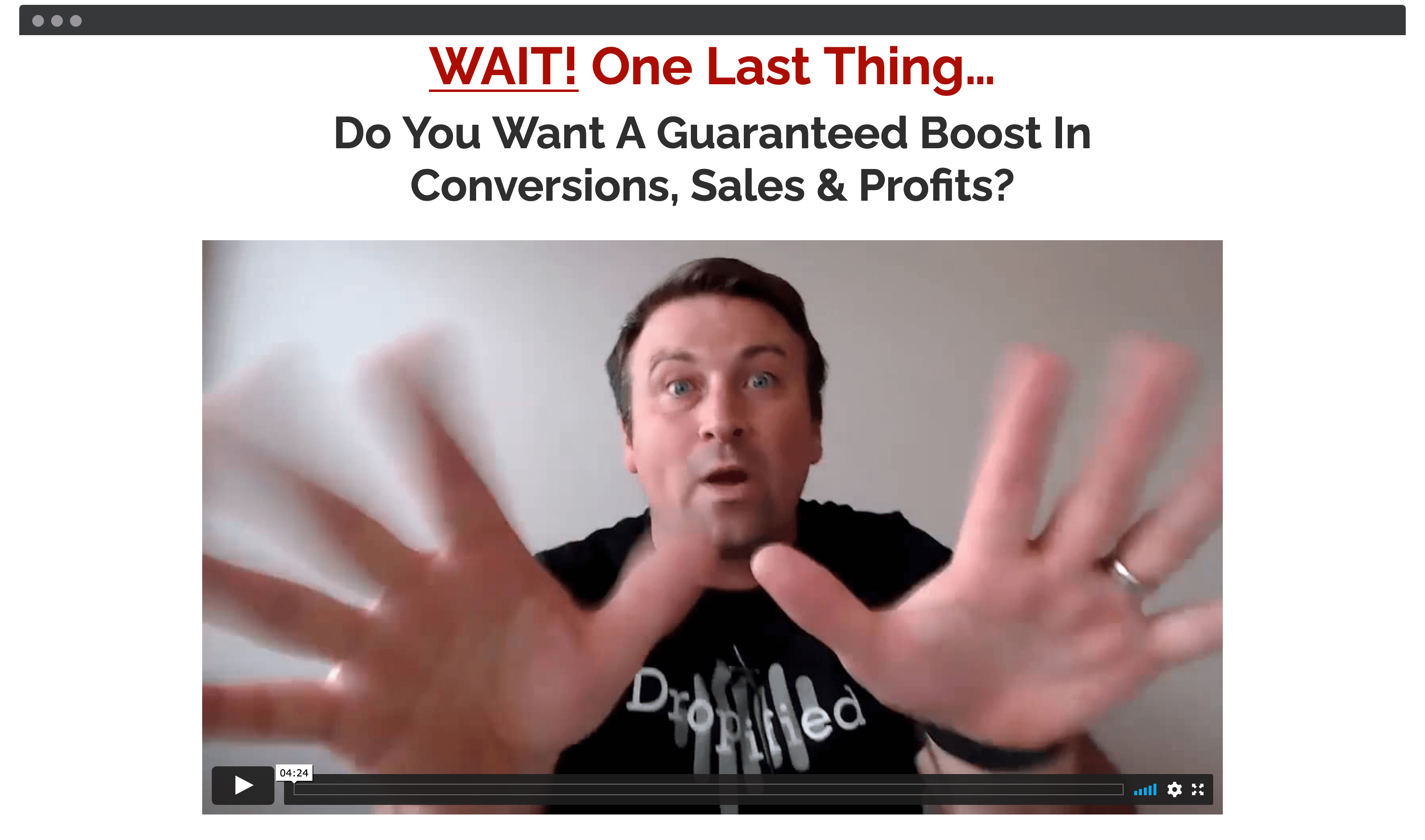 However, once you get to the main dashboard, it's very pretty and slick: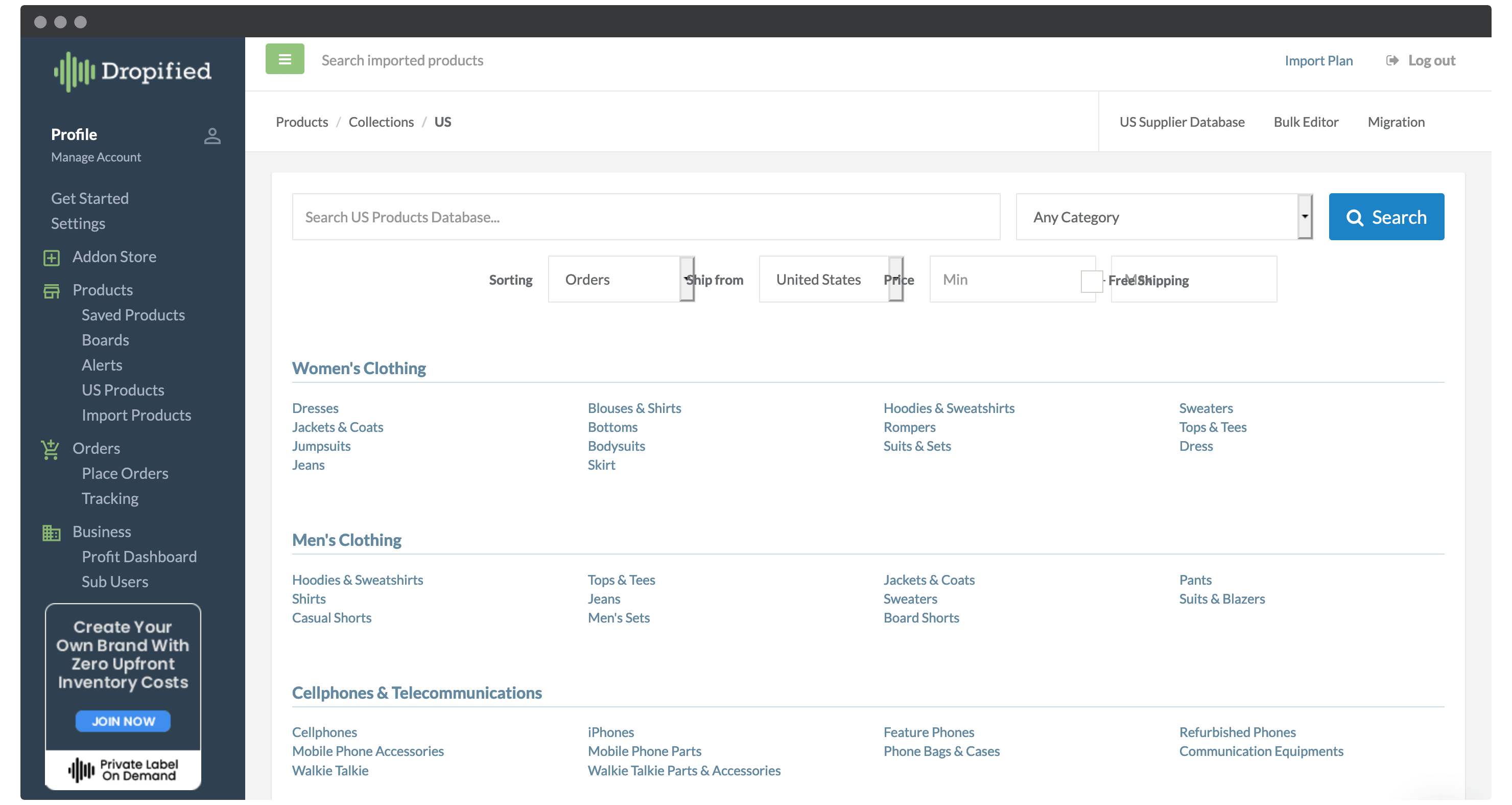 In our opinion, there's a little too much vying for your attention. Between a live chat window, stepped goals, plan upsells, and the main menu, it's got the potential to be overwhelming.
However, while adding a store is straightforward, choosing products isn't if you're not using the Chrome extension. In fact, it doesn't seem possible to choose any products at all without it:

In contrast, Oberlo is a breeze to use. Once you've signed up – it takes seconds and doesn't require your bank details – you're given three links for Inspiration, Tools, and Your Store that sums up Oberlo's philosophy:

The Oberlo dashboard is simple to navigate, and looks clean. Each step has handy checkboxes to help you tick off the setup to-do list:
Choosing products is just as smooth. You explore the marketplace – in this case AliExpress – and click through on any interesting item for more details: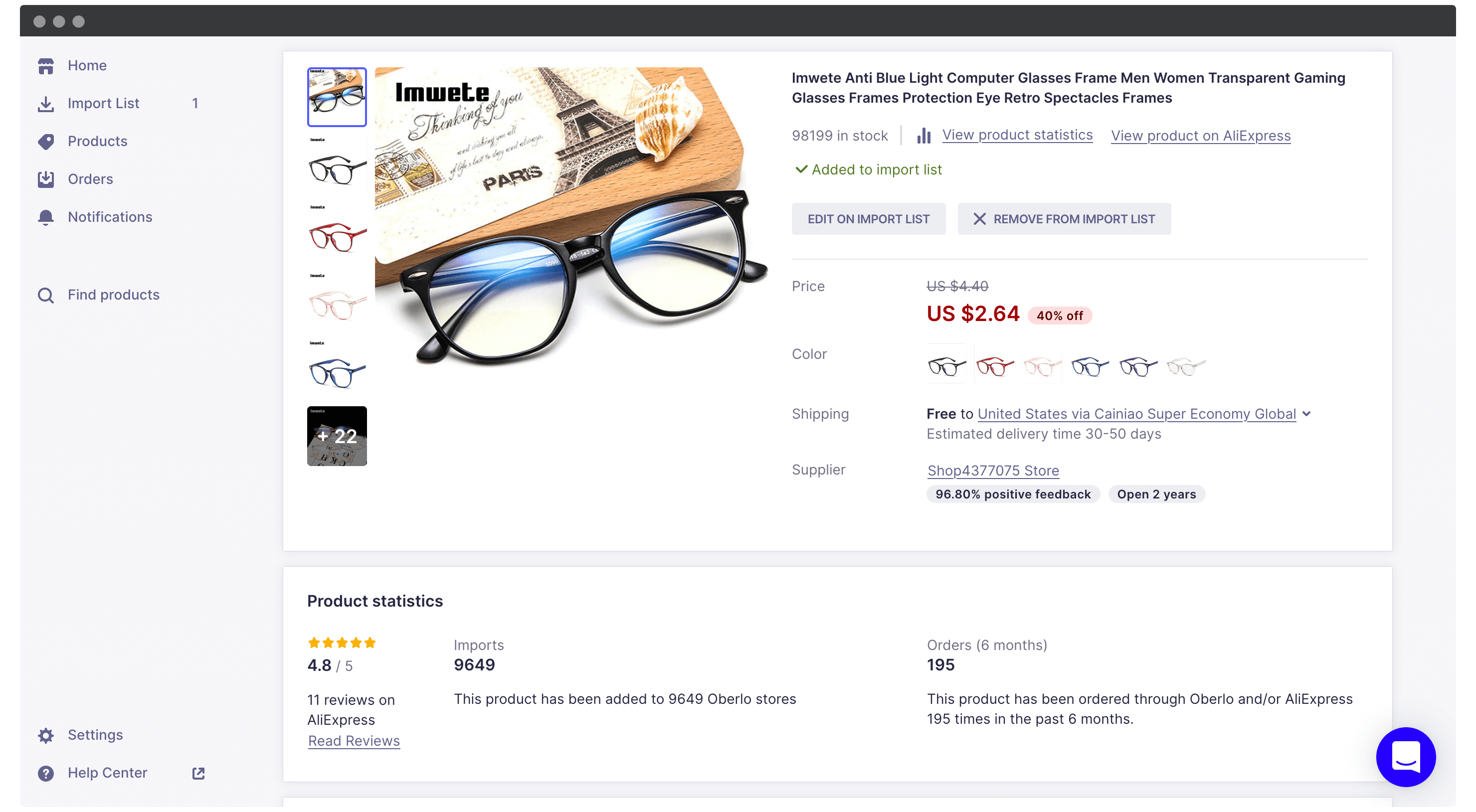 You add items to an Import List, and clicking Edit On Import List gives you options to customize your product and connect it to your store: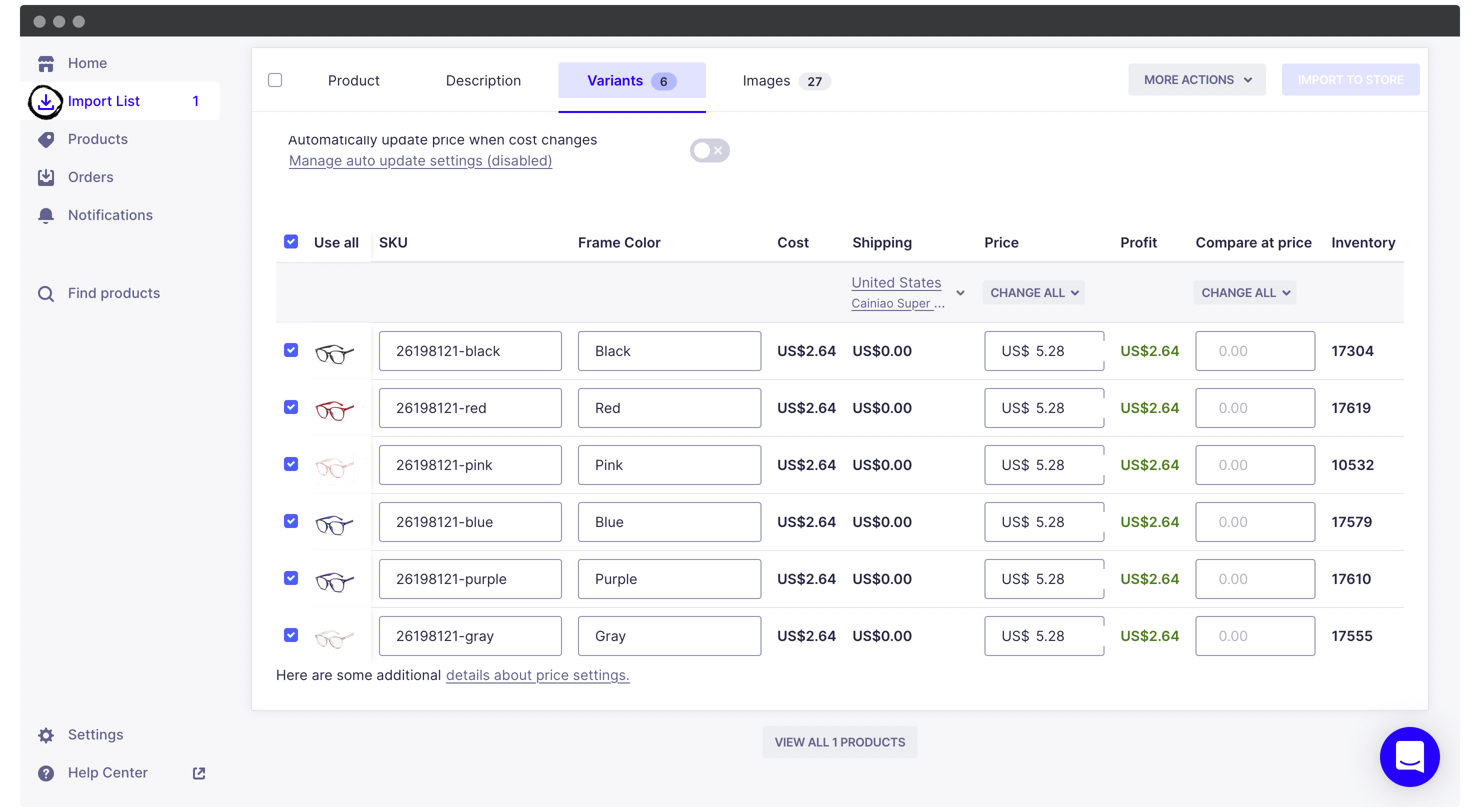 Overall, Oberlo is a clear winner here. Dropified is too convoluted and overwhelming for all but the most hands-on user. It's ironic, given the presentation of Dropified's pricing.
Pricing
Finally, pricing is going to be one of the key concerns for any dropshipping business. Of course, you'll want to keep your overheads low and your profits high. As such, the pricing battle between Dropified vs Oberlo is competitive.
First, there's a marked difference between how Dropified and Oberlo promote their prices. The former is straightforward, in that there's a clear pricing page in the main header. However, Oberlo tucks its pricing page away in the footer:

This is strange, because Oberlo has arguably the better prices on paper. Let's break down both platforms.
Dropified
Dropified only offers premium tiers starting at $14 per month with an annual subscription. No price includes the cost of the store itself. What's more, the lowest tier takes a whopping 8 percent of your product price.
This tier – called Import – is great for those sourcing marketplace products from eBay and others in the US. You're also able to auto-fulfill orders with one-click, and there are plenty of easy-to-use features that makes the process hands-off.
However, higher tiers have a different focus. The Premium Label On Demand tier is $85 per month paid annually, and essentially lets you build a brand – albeit for 3 percent of your product cost. On paper, it's immediate and almost too good to be true. You're able to choose a range of focused products, with the promise of "no risk".
At $250 per month, Dropified Black is the premium tier that is for serious large-scale dropshippers. There are no transaction fees, you get a toll-free telephone number, and a healthy number of add-ons to help your store succeed.
Oberlo
In comparison, Oberlo's free tier includes little more than a set of e-books and guides to turn you into a top dropshipper. The Grad tier ($7.90 per month) keeps the dropshipping functionality to a minimum, but includes "unlimited courses" and more access to statistics and trends.
Finally, the top tier is $29.90 per month, and includes shipment tracking, and affiliate program, and more. However, the feature set is 'anemic' compared to Dropified all-around, and feels more suited to those dipping their feet into the water, rather than diving in head-first.
Dropified vs Oberlo: Alternatives to Both Tools
Because dropshipping is such big business, you'll find a plethora of alternative platforms to choose from. Spocket is arguably the nearest alternative to both Dropified and Oberlo: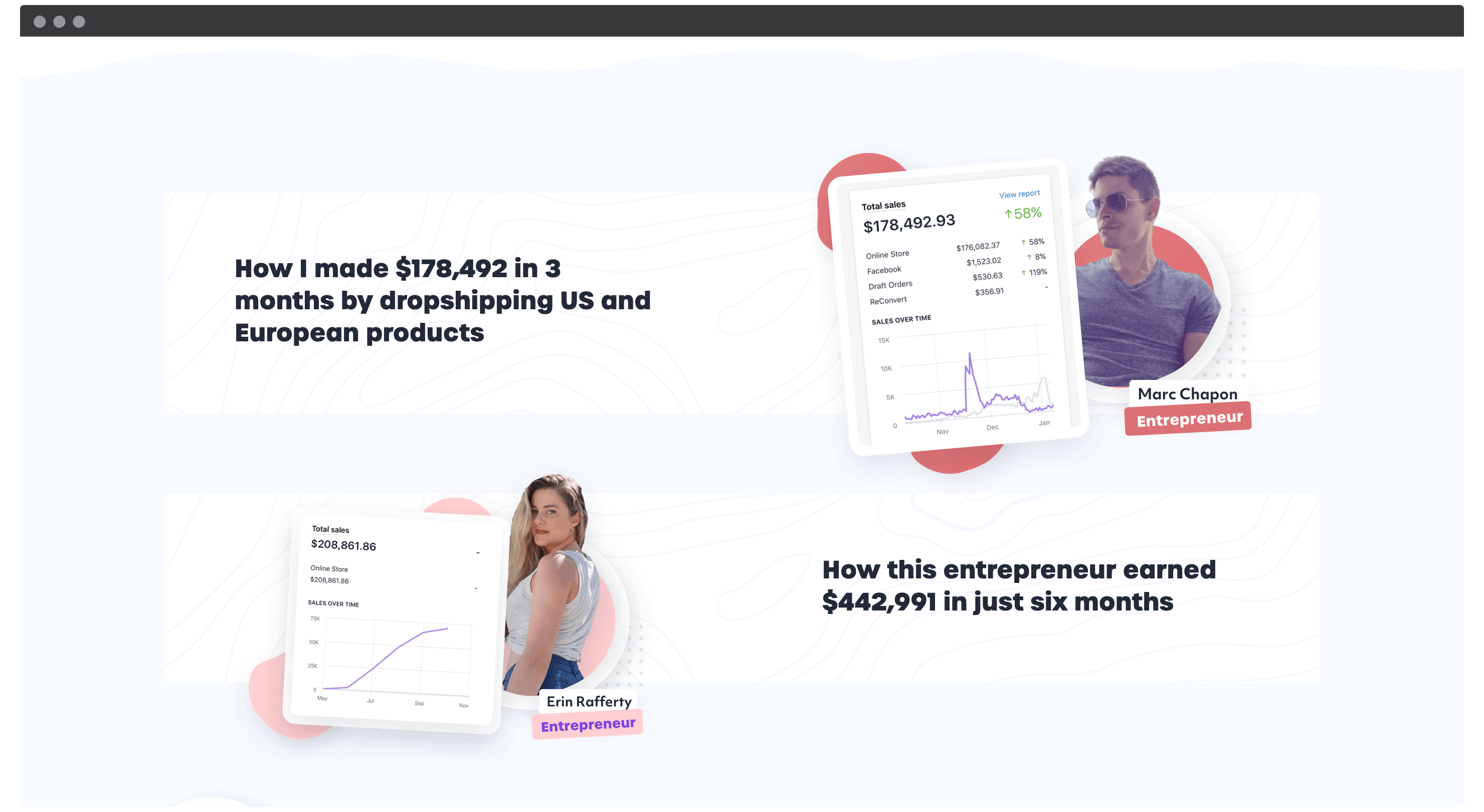 While we haven't tested it extensively, it looks slick and has comparable pricing to Oberlo. There are integrations with all the major stores, and handy tags to show you the profit you'll make from different items: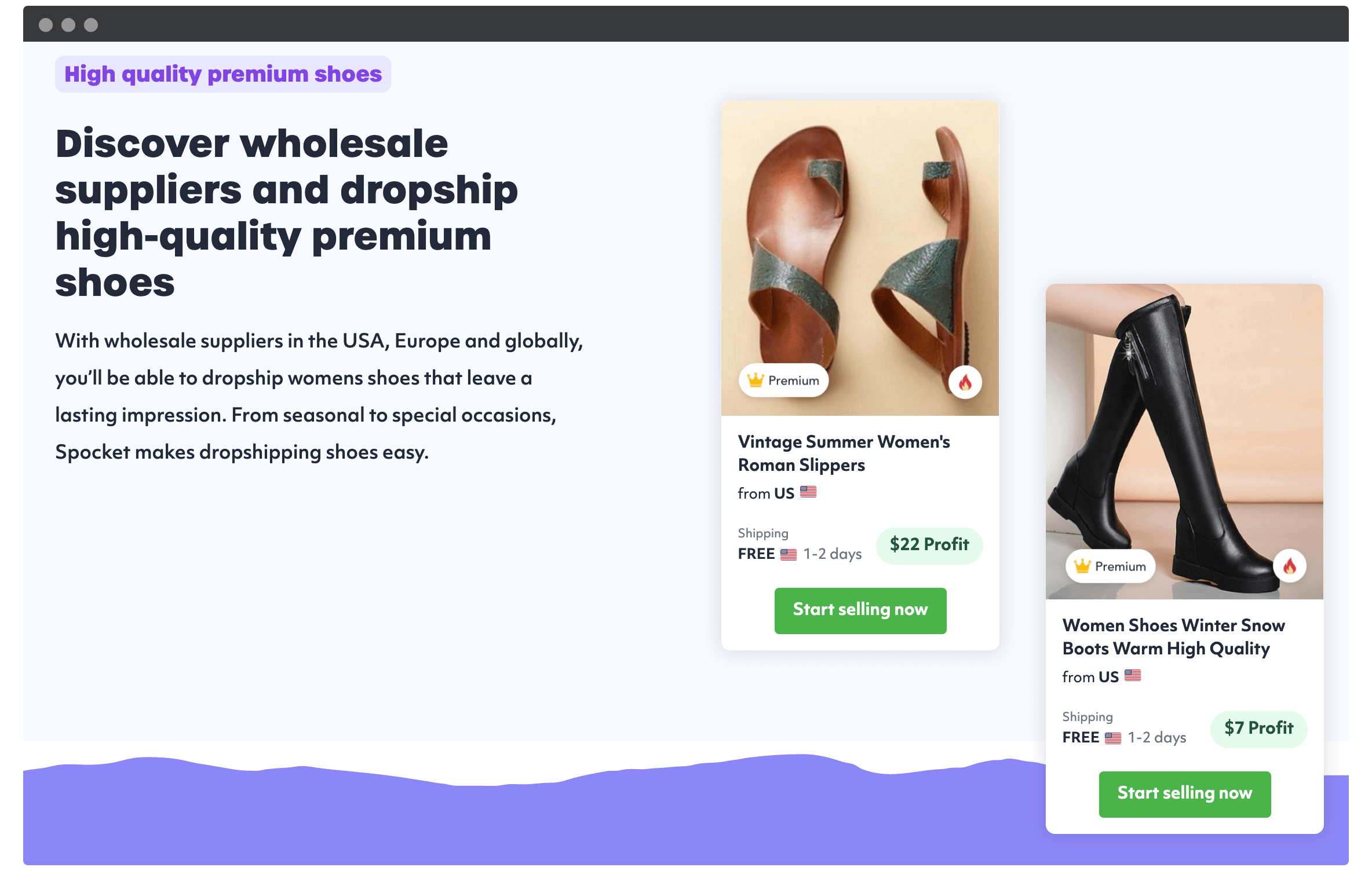 Modalyst is another platform that has less store integrations, but a take on dropshipping that's similar to Oberlo. Again, the visuals are pretty, and Modalyst feels nice to use and work within. However, the pricing is much steeper than Oberlo – it's closer to Dropified, but doesn't offer nearly as many features.
We'd say that Dropified is a unique dropshipping solution given the feature set. However, your main decision is whether it offers you what you need to get a business up and running.
Dropified vs Oberlo: Which Dropshipping Solution You Should Choose
In a nutshell, Dropified and Oberlo are appealing to two different groups of people. This is clear in the way the pricing tiers are structured.
Still, Oberlo seems to primarily want to turn people into self-starting, passionate dropshippers. In contrast, Dropified is looking to capture those with a healthy budget and a general interest in setting up in this industry.
If we had to sum it up, Dropified is all about quick returns, and making money. On the other hand, Oberlo is about learning the industry hands-on. Which platform you prefer will depend on your goals.
Wrapping Up
On paper, dropshipping is practically the ideal eCommerce business. You get to deal directly with the customer, and a fulfillment house handles the stock and shipping logistics. What's more, dedicated dropshipping platforms help you negate the negatives and keep the income rolling in.
This post has looked at Dropified vs Oberlo, specifically at which one is best for you. In our opinion, if you're looking to scale almost immediately and pull big numbers, Dropified will likely fit the bill. However, Oberlo is geared towards lower-scale dropshipping businesses that may want to learn the ropes and join a community.
Has our Dropified vs Oberlo comparion helped you to choose between them, or are you still on the fence? Share your thoughts in the comments section below!