10 Great Teespring Alternatives (With Pros & Cons) – 2023
Thinking about starting your own print-on-demand business? If so, you're going to need the right tools for the job. The first step is to sign up for a print-on-demand service that you can use to create and sell your products.
One of the most popular print-on-demand sites is Teespring. Although it has a lot to offer, it's not the right platform for everyone. If you feel that Teespring doesn't meet your needs, don't worry! There are a ton of other options to choose from.
In this article, we'll be comparing 10 great Teespring alternatives to help you make the right choice for your business. We'll provide an overview of each service, the pros and cons of using them, and what type of businesses they're suited to.
What is Teespring?
Teespring is one of the largest and most well-known print-on-demand services. You can use the site to design and sell custom merchandise, including t-shirts, mugs, and more.
Once you've created your designs and listed them on the website, Teespring handles the rest. Whenever you make a sale, Teespring prints the item for you and fulfills the shipment. You just take the profits. This makes it a really easy, low-maintenance way to run an online business.
Although Teespring is a legit site with a lot of pros, there are also some cons to using the service.
Firstly, selling your items in Teespring isn't that easy due to the way the storefront is set up. Products are categorized by type, rather than by design or brand, so it's not easy for users to browse different products specifically made by you.
Plus, Teespring doesn't offer much in terms of customization options. You only have a very limited number of styling options to choose from. Therefore, if you want more flexibility in designing your online store, it's probably not the right choice for you.
And finally, there is also a minimum payment threshold, which means you won't get paid until your balance exceeds $100.
If these drawbacks are a deal-breaker for you, fear not! There are plenty of alternatives to Teespring to choose from. And on that note, let's jump into the list.
Top 10 Teespring alternatives reviewed
Here are our reviews of the best print-on-demand platforms like Teespring.
Best for creators that care about sustainability
Our overall favorite alternative to Teespring is Teemill. Like Teespring, Teemill makes it easy to create and sell T-shirts online, as well as tote bags, art prints, and other merch.
Here's why we think it's so great. First off, Teemill is one of the most environmentally conscious print-on-demand services out there. If you're running a green business, you'll be pleased to know that Teemill includes sustainability as standard.
They recycle old t-shirts to create new ones, use organic materials in their products and plastic-free packaging, and use renewable sources of energy across their supply chain. All this makes it a great choice for creators that care about sustainability.
Teemill also stands out when it comes to shipping. They print and ship orders seconds after your products have been purchased. In fact, 99% of Teemill orders are shipped the next working day – and they ship internationally too!
This is great news if express delivery is important to you, or if you were disappointed by Teespring's delivery times.
Teemill also offers plenty of customization options so you can match your online store to your brand. And if you don't have time to make your own designs, you can just add your slogan to one of the thousands of free design templates on offer instead.
All e-commerce stores built with Teemill also include a blog, so you can create blog content as part of your content marketing efforts. This can help you to drive traffic to your store and land more sales.
It's totally free to get started with Teemill. There are no setup costs and no minimum orders, so trying it out is pretty much risk-free.
Pros
Sustainable business model
Mobile-friendly store
Highly customizable
World-class printing quality
1000 free designs
Fast worldwide shipping
Cons
Only a limited number of products are supported
A monthly subscription (Teemill Pro) is required to access all designs and photography
No integration with existing website
Best all-in-one eCommerce POD solution
Sellfy is another all-in-one eCommerce solution that provides all the features you need to sell print-on-demand merchandise and offers a free plan for selling POD products.
It offers a very diverse product line, including both physical and digital products. It's super easy to get started with – you can build a mobile-friendly store and list your merch for sale in under ten minutes! Alternatively, you can integrate your Sellfy store in your existing website, or embed "buy now" buttons for your products"
Another great thing about Sellfy is that it allows you to white-label your products with your own brand. It also offers instant payouts, so you don't have to wait around for weeks to get paid once you start making sales.
Sellfy offers a free and paid solution. Paid plans start at $29/month.
Click here for our 20% OFF Sellfy coupon
Pros
Instant withdrawals
Large product range
White-label supported
Easy to use
Website integration supported
Advanced tax and VAT settings
Marketing and analytics tools included
Cons
No free version is available
You have to handle your own marketing
Limited customization options
Best for YouTubers, musicians, and influencers
Spreadshop is a print-on-demand service aimed at creators and influencers that are looking to produce merchandise for their community.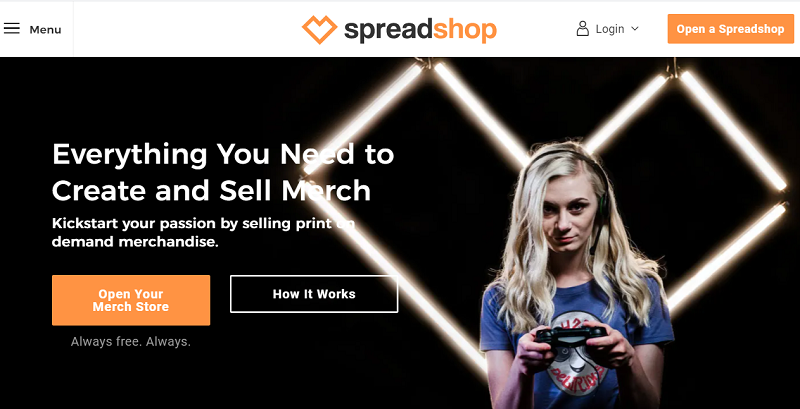 SpreadShop has no sign-up fees, which makes it a popular choice for creators working with a tight budget. Merchandise is often an afterthought for busy creators, but with SpreadShop, it's easy to create professional merchandise mockups that you can use to market your products.
SpreadShop makes it super simple for creators to share their designs across social media thanks to their social media sharing buttons. Sellers can find all the support they need on SpreadShop's dedicated blog, so it makes the process of getting merchandise sales up and running extremely easy. You can even access professional design support for an additional cost.
However, although SpreadShop is a hassle-free option for merchandise creation, this ease of access comes at a cost. Spreadshot keeps up to 40% of the base cost of all products sold, which reduces profits for sellers. In addition to this, the service is mostly marketed towards US users and international sellers can only receive payouts via PayPal.
Pros
Professional design help is available
Sharing is made easy thanks to social media integrations
It's easy to create product mockups
Over 100 products are available
Cons
High base costs
High shipping costs
Not the best choice for non-US sellers
Best for artists and creatives
Redbubble is probably the most well-known print-on-demand marketplace of all the options on this list. It's another fantastic Teespring alternative that's been around since way back in 2006. They cater mainly to independent artists around the world.
The main advantage Redbubble has over Teespring is an existing audience. Because Redbubble is so well-known, it gets a ton of organic traffic, which means more visibility for your products. If you're struggling to make sales on Teespring, you might have more luck on Redbubble.
Redbubble also makes the whole setup process a lot easier. All you have to do is open up a shop on the platform and start selling your designs. There are no hoops to jump through and you can get up and running in minutes.
Pros
Existing audience base
Less marketing required
Worldwide shipping
Google Shopping ads
Flexible pricing
Cons
Very competitive platform
Some users report others 'stealing' their designs
Small profit margins
Best for designers, makers, and associates.
Next up, let's talk about Zazzle. Zazzle is an online print-on-demand marketplace similar to Teespring.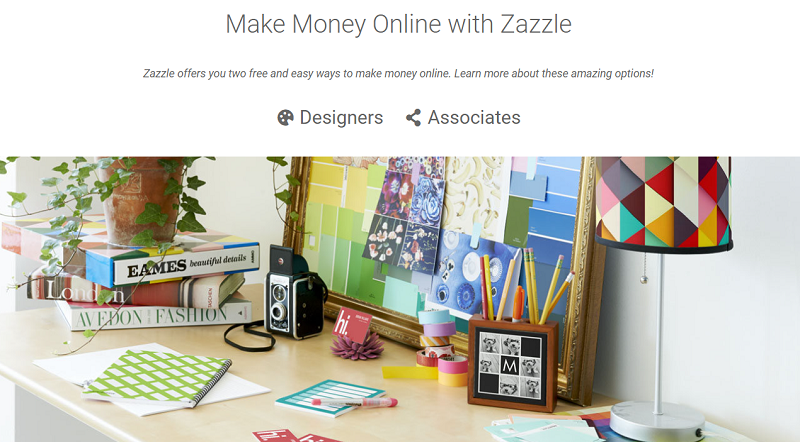 It was founded in 2005, so it's another older, well-established platform with a large existing audience. According to Zazzle, the platform boasts nearly 32 million customers every month.
There are three ways to sign up for Zazzle:
Become a designer. Designers create original designs for products and list them for sale on the Zazzle website. You take a percentage of every sale.
Sign up as a Zazzle Maker. Makers take custom orders from Zazzle marketplace customers and design products to their specifications using the Make Engines
Be an Associate. Associates don't create designs themselves. They just promote Zazzle products. If a customer buys a product through your referral link, you earn money.
Zazzle comes with built-in SEO, social, referral, and email marketing to make it easier to sell your products. You can build your own personalized storefront, profile, and customizable product page.
It also has one of the largest product ranges I've seen in the print-on-demand world. Customizable stationery (like wedding invites) seem to be particularly popular and profitable.
All that being said, there are some drawbacks too. For example, the Zazzle interface seems a little outdated compared to other platforms, and users report that they may zero account your account if you don't make any sales or publish products for a long time (15 months).
Pros
Various ways for creators to make money on the platform
Large customer base
Huge product range
Built-in marketing
Customizable product page and storefront
Cons
Outdated interface
May limit/dock your account if you don't make enough sales
Best for nonprofit organizations and apparel fundraisers.
Bonfire is a relatively new print-on-demand service and creator marketplace. They started out back in 2012 as a fundraising company and have since branched out.
You can sign up for Bonfire to sell your own custom-designed merch online either for profit or for a good cause. It's totally free and easy to set up. To start selling online with Bonfire, simply upload your artwork (or create a design using Bonfire's design tool and free graphics) and promote it via social media or any other marketing channel.
Once you start making sales, Bonfire will take care of everything else for you. They print and send the orders out for you and provide a fast payout of 100% of your campaign profits. You can also enable fundraising features to allow customers to leave tips and donations during the checkout process.
If you want to make it even easier for your customers to shop your products, you can bring them all together in one place by creating a free online Bonfire store. It only takes a few minutes to set up and you can customize the theme, colors, and header image to match your brand.
Overall, it's definitely one of the best Teespring alternatives out there.
Pros
Fundraising features
Worldwide shipping
Intuitive design tool
No fees to startup
Rapid payouts
Cons
Minimum sale requirement
No white-label
Limited product line
Best for serious artists who want to sell art pieces (not T-shirts)
Society6 is another one of the best Teespring alternatives available. They provide a marketplace that artists can use to showcase and sell their original designs on a huge range of products. Their extensive product line includes wall art, furniture, home decor, apparel, bags, stationery, phone cases, and more.
Society-6 has a thriving art-focused community and customer base. Their customers are interested in real art pieces, so it's not the best place to sell pop culture merch. However, if you want to branch out from just selling T-shirts, it's a great choice.
You can earn by selling products through your own artist shop or by becoming a curator. Artists take home 10% of every sale they make. You can also set your own markups on prints, and join their affiliate program to earn 10% on each sale you refer. All payments are made through PayPal.
Society6 drives a lot of traffic to its marketplace through its social media presence. However, you might have to do some marketing yourself too if you want to drive sales. Aside from providing creators with access to a marketplace to sell their wares, Society6 also gives you access to educational materials, trend reports, creative feedback, and more.
Pros
Huge product line
Great for selling wall art and furniture
No startup fee
Great customer service
Several ways to earn
Cons
PayPal payments only
The user interface could be improved
Not as well known as some other marketplaces
Slow shipping
Best for selling apparel
Next up, we have Merch by Amazon. As you probably guessed by the name, Merch by Amazon is Amazon's own print-on-demand service.
Once you sign up, you can sell your designs as Amazon products on the world-renowned Amazon marketplace. The great thing about selling on Amazon is that you get to list your designs on the most popular shopping website in the world.
The Amazon marketplace gets over 3.6 billion monthly visitors – no other print-on-demand marketplace can come close to that kind of reach.
Of course, it isn't perfect. The Amazon marketplace is a very competitive space, so it can be hard to get your product designs noticed. Most sales go to the products that rank at the top of the results page for a given search, so it's important to optimize your listings well for SEO.
Another downside of selling through Merch by Amazon is that the product range is very limited. It's mostly just for apparel and phone accessories.
It's free to sign up for Merch by Amazon but it can take a week or so for your account to be approved.
Pros
Huge monthly traffic
Well-known marketplace and trusted brand name
No startup fees
Great customer support
Royalties are only taken from shirt sales
Rapid worldwide shipping options
Cons
Very competitive market
Takes a while for your account to be approved
Limited product range
Best for artists and photographers that need fast shipping times
Fine Art America is a mix between an online marketplace and an eCommerce platform. It's very similar to other print-on-demand websites like Teespring, with the added bonus of also providing access to a bunch of marketing and sales tools to help you run your business.
There are a lot of different products that you can sell on Fine Art America including original art prints, home decor items, bags, mats, phone accessories, apparel, and stationery. A lot of their customers are looking for original art designs. Therefore, it's a good option if you're a serious artist interested in getting noticed, rather than just making a quick buck by selling t-shirts.
Another great thing about Fine Art America is the shipping times. They have manufacturing centers in various countries around the world. This enables them to manufacture orders at the nearest location to minimize shipping times and costs.
Pros
Fast worldwide shipping
Large product line
Marketing and sales tools
No startup fees
Cons
Oversaturated marketplace
High base pricing on certain products
Slow profit transfer process
Best for selling pop culture t-shirt designs
TeePublic is another super-popular POD site owned by RedBubble. As the name suggests, they're mostly known for their T-shirts and have a limited product line. However, if you only want to sell t-shirts, it's a great choice.
Like Redbubble, they get a lot of organic traffic, which makes it easier to make sales. Their interface is also very intuitive, and uploading your designs is quick and easy.
You can list your designs for sale and also take custom orders from customers that hire you. Just be aware that most existing sellers on the platform are well-established designers, so it can be pretty competitive.
Pros
Affiliate program
Worldwide shipping
Custom order support
Relatively fast profit transfer
No startup fees
Easy-to-use interface
Cons
Limited product range
No white-label
Low fixed royalties
How to choose the right Teespring alternative for your needs
As you can see, there are a ton of Teespring alternatives out there to choose from. When comparing your options, here are some things you'll want to think about:
Which type of POD service are you looking for? Would you like to create your own store from scratch to sell your products? Or would you prefer to list them on an online marketplace?
What products do you want to print your designs on? Some Teespring alternatives only offer a limited range of products, like just T-shirts and other clothing items, whereas others will also offer mugs, accessories, art prints, and more.
How long are you prepared to wait for shipping? If offering express delivery is important to you, make sure to choose a service that offers next-day shipping. Many POD websites take days or even weeks to print and ship products.
What kind of quality are you looking for? Certain Teespring alternatives offer better merch quality than others.
Who are your target buyers? Some platforms are better suited to certain demographics than others.
How much are you willing to spend? Some Teespring alternatives allow you to get started for free, whereas others require you to purchase a paid subscription plan.
The verdict: Best Teespring alternative
Still not sure which platform to choose? You can't go wrong with any of the Teespring alternatives on this list. However, if you're looking for specific recommendations, here's what we'd recommend:
Teemill – Best for conscious creators that care about sustainability
Merch by Amazon – Best choice if you're selling apparel and comfortable with SEO
Redbubble – Best marketplace choice for artists and creatives that don't want to do their own marketing
We hope you found this roundup helpful. Good luck!