40+ Beautiful Examples of WooCommerce Websites (2021 Edition)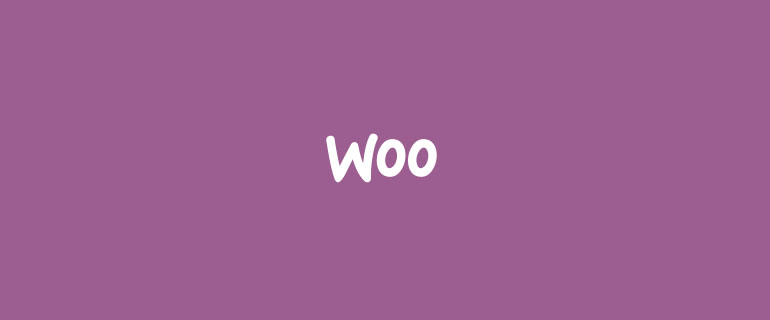 Since WooCommerce powers over 30% of all online stores, it makes sense to look at a little inspiration from the millions out there.
Getting setup with WooCommerce is no problem at all, but some designers, whether beginner or advanced, run into trouble when it comes to placing products, designing the checkout, and constructing a beautiful layout for customers to feel comfortable with.
The goal of this article is to give you a collection of diverse examples of sites using WooCommerce. In turn, we hope that you'll not only be able to see that just about any eCommerce layout is possible, but maybe you'll stumble upon one that you'd like to make your site look similar to.
In terms of the websites listed below, most of them are responsive, and they all offer insights into how you can sell anything from one product to thousands. A few of the WooCommerce websites are built for selling digital products, while others are pumping out sales and shipping physical items all over the world.
So, keep reading to gain motivation with your own eCommerce endeavors, and feel free to bookmark this page for coming back and looking for more insight.
Let's kick things off by taking a look at the Davis Instruments website, which comes up as one of the more popular WooCommerce sites, according to the Alexa ranking on BuiltWith.
The company has multiple product lines for weather monitoring, vehicle monitoring, and marine and outdoor recreation.
When you scroll down, you'll notice the categories organized in beautiful full-width modules, with pictures and descriptions. Clicking on the 'Learn More' buttons show subcategories, physical product solutions, and comparison charts to guide the purchase process.
Beauty website Sodashi is another stunning storefront powered by WooCommerce. Their homepage introduces visitors to their key products and brand story in a natural order with smooth scrolling transitions. They use a natural color palette and soft pastels to reflect their all-natural beauty brand image.
Interactive forms on the 'Find My Skin Care' page, accessible via the navigation bar, are used to great effect. The multi-page form makes it easy for customers to answer some simple questions about their skin type before directing them to a personalized product page based on their responses.
This kind of personalization adds value to the website by helping customers to find the perfect products for their needs. They can also enter their email address to be sent their own personalized skincare ritual via email. This provides a neat incentive that helps Sodashi to grow their mailing list.
The Shop Catalog is the eCommerce sister site to the ever-popular youth culture blog the Thought Catalog. Powered by WooCommerce, their digital storefront is simple, clean, and effective.
The homepage features stunning, large images of their products, which include apparel, books, and home goods that make it easy for visitors to instantly find inspiration for their next purchase.
It's easy to navigate and intuitive for a seamless user experience, all the way from the site entrance to checkout.
Dineamic is an Aussie meal delivery service offering delicious, nutritious food designed by real chefs. Their website is built using WooCommerce and a custom-developed WordPress theme. It's the perfect example of a high-converting digital storefront.
Their mouth-watering meals take center stage and are immediately visible in the full-width image carousel on the homepage. They also make great use of WooCommerce's cart tab extension.
This ensures the shopping cart is always visible at the top of the screen, no matter where a customer is on their website. This helps optimize the site for conversions and leads to lower cart abandonment rates.
Here's another great-looking WooCommerce-powered website by an Australian company operating in the food & drink space. Zoya's Pantry is an online healthy and organic food store.
Their website is fantastically well branded, with the brand colors of mint green and dark purple used throughout. They make great use of interactive page elements and white space to ensure the layout is clean, uncluttered, and easy to navigate.
Fashion brands, take note. This WooCommerce website from Little Giants, Giant Shorties is a prime example of how to showcase your fashion products the right way.
The slideshow on the homepage utilizes full-width, ultra-large, high-quality images of cute kids looking dope to immediately grab the user's attention and show off their unique sense of style.
The bright and bold color palette used across the website reflects their bright and bold brand image. Usability is on-point too with clearly-defined product categories for easy browsing and an always-visible shopping cart to reduce cart abandonment.
Protest is a Netherlands-based sportswear and outdoor clothing brand. Their website design is simple but effective, featuring large bold photography and clean text. They use the Futura font for a classic look that works well across different sizes.
The slide-in page transitions are an interesting touch. We also like how the product pages utilize simple checkmarks underneath their CTA to highlight shipping times on the buying page.
US-based indoor plant sellers Bloomscape used WooCommerce to build a beautiful site laser-targeted to their target audience.
The natural color scheme is on-brand and they've done a great job of creating a tailored buying experience using the Product Filters extension.
You can filter products by plant-care difficulty, pet-friendliness, size, light level, and various other filters to find the perfect plant for your needs
Simply Chocolate was voted one of the best websites of the year by Awwwards, and it's easy to see why. The all-natural chocolate company based in Copenhagen believes that good chocolate takes a 'hint of something new and a twist of humor', and the website design reflects this perfectly.
The web designers certainly did something new with their homepage layout. Take a look at the unusual navigation bar, which has been rotated 90 degrees and stacked vertically. Also note the unique block scrolling feature on the homepage, which does a great job of showcasing their gourmet chocolate creations.
We also like how they've incorporated an auto-play video underneath the header which shows their team in Africa visiting their cocoa farmers and their families. This appeals to conscious consumers and makes it clear that they're an ethical, responsible brand right off the bat.
Skinfinity is a premium cosmetics brand based in Croatia that sells cutting-edge, unique skincare products for all skin types. Their WooCommerce-powered website is tastefully designed and definitely gives off a 'premium' feel.
They use a color palette of blacks, whites, and rose-gold. This works well and creates an elegant, luxurious design that perfectly reflects their brand. Their site is easy to navigate and their product pages are simple and effective. The shopping cart is always visible in the navigation bar and the checkout process is quick and straightforward.
This comic-book-esque website from e-commerce platform Studio Job gets top marks for creativity. The aesthetic reflects Studio Job's unique DNA and beautifully showcases its 'high-end kitsch' art products.
The design elements used across the website reflect Studio Job's artistic flair. The homepage features an utterly-insane smorgasbord of images, videos, and animations. There's a very eclectic mix of visuals, and sometimes downright crude text. It really is a breath of fresh air compared to traditional website designs.
Studio Job also utilizes other quirky elements like custom cursors. The usual pointer is replaced by various different graphics depending on which page you're on. These cursor graphics include a hand raising the middle finger in a rude gesture, a shopping basket, and an eyeball.
R.E.D.D Superfood Energy Bars is a protein-bar eCommerce store that offers 'low sugar, plant-based nutrition for a new generation'.
Their website immediately puts the products in the spotlight with featured products displayed on the homepage.
Website navigation is a breeze thanks to the clean, minimalist layout that makes it super easy to find your way around. If you want to create something similar yourself, try out the WooCommerce ProShop theme.
Check out this WooCommerce-powered e-commerce site from Caesar's Ice Cream. They offer home-mage, high-quality ice cream flavors sourced from Peru.
The website features split navigation for easy browsing, with neatly organized blocks on the homepage that make it easy for users to learn everything they need to know about the company before they make a purchase.
Their flavors page is uncluttered, with no product filters necessary as there are only 6 options to choose from. Every flavor is listed on one page alongside a large image and a buy button that can't be missed.
Balancing Motions offer an online exercise program designed to help their customers to stay healthy and better manage neck and back pain.
Their e-commerce website offers online courses and is a great example of how small businesses only need a simple site to sell digital products online.
The blocking layout is clean and easy-to-follow, with clean, clear images and text. The main focal point is on the featured courses to maximize conversions.
Leaf is a brand that's making waves in the shaving industry. They sell all-metal razors that provide a plastic-free, environmentally-friendly way to shave. Their web design reflects this environmentally-conscious brand image with natural colors and imagery used throughout.
They use a slide-in pop-up widget to encourage website visitors to sign up for their mailing list in exchange for 5% off their first order. The pop-up is non-intrusive and doesn't obstruct your view of the page, improving the user experience.
The simple navigation bar is refreshingly uncluttered and makes it easy for visitors to quickly and clearly find their way to the most important web pages. There are only 4 tabs to choose from: 'shop', 'learn', 'account', and 'cart'.
The shop page is beautifully laid out. There are no messy filters to help customers sort through products as, with a very limited number of products to choose from, they're just not needed.
The All Blacks Shop is the official online retail store for the New Zealand national rugby union team. True to their team name, the web design features a very dark color palette with lots of black tones. In contrast, the bold white typography really jumps off the page.
Their header navigation, featured products, and well laid-out product pages make it easy for fans to quickly find what they're looking for. Each product page also pushes recommended products at the bottom of the page.
This stylish, sophisticated website from Swedish guitar company Strandberg Guitars is a great example to follow if you're in the music and sound industry. Their homepage is very visually striking with a rich dark color palette and lots of beautiful product images throughout. The header video that loads automatically immediately grabs the visitors attention and showcases their stunning guitars from all angles.
The streamlined product gallery makes it easy to sort their guitars based on the product line and type. The product page features in-depth descriptions, measurements, photos, and all the other information you need to make an informed buying decision. Providing detailed product pages is especially important in the musical instrument industry and buyers tend to be very specific about what they want.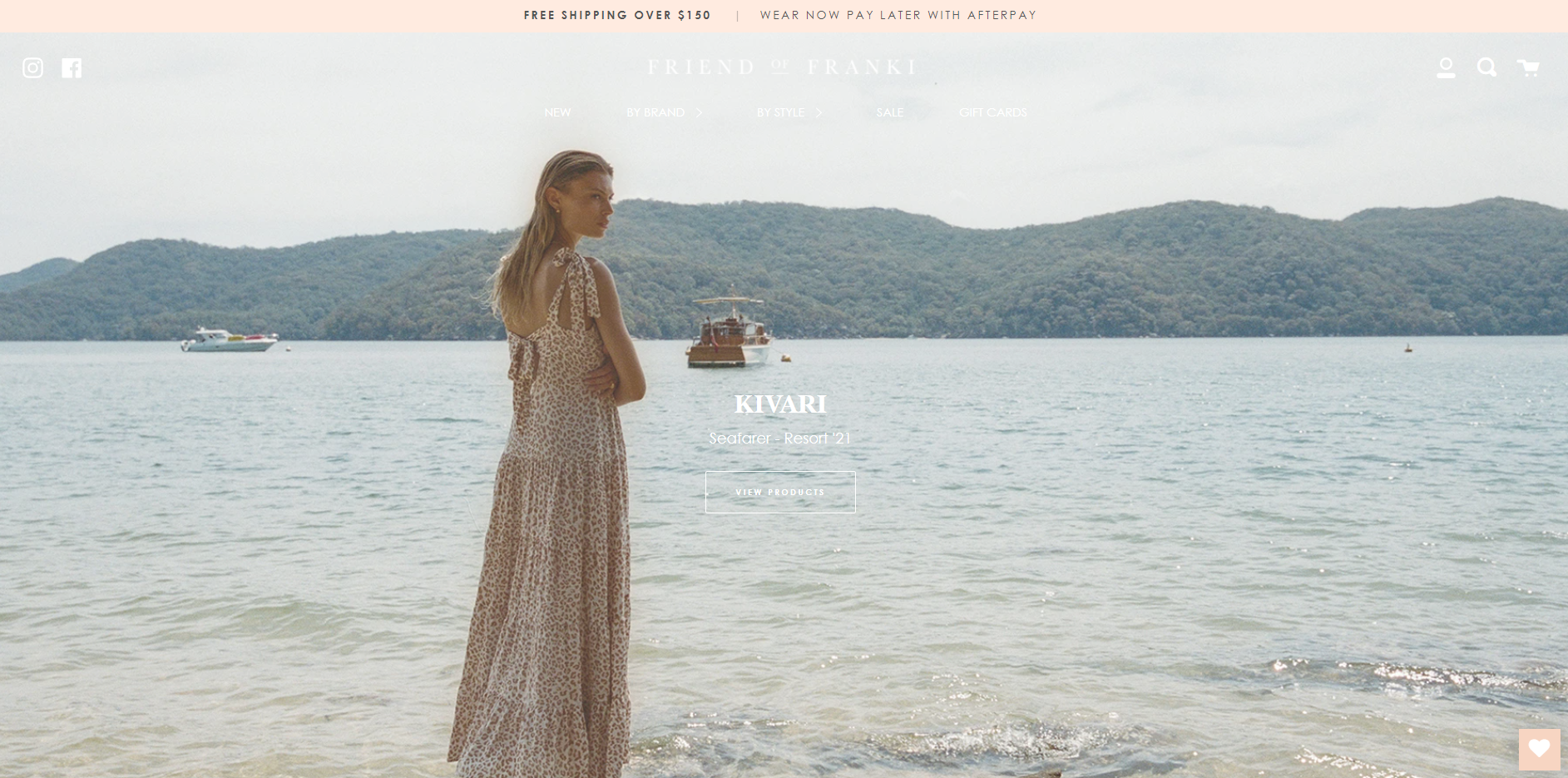 Friend of Franki is an online Australian women's fashion shop that features beautiful, bohemian clothes and accessories.
Their website is tastefully designed with a sunny bohemian aesthetic reminiscent of a beach holiday in Bali – or maybe somewhere in the south of France. Product images feature beautiful models shot in beautiful destinations. It's the kind of inspiring website that makes you want to jump on a plane and head to somewhere idyllic.
The UX design is on-point too. The header navigation gives you the option of shopping sale items or by style or brand. The header drop-down lets you navigate to the specific product category you're looking for.
Their full-width product gallery is laid out in a 3-by-3 grid with large images to show off the products in plenty of detail. Hovering your cursor over any image changes it to a different image that shows the product off from a different angle. As they have a limited product catalog, they can afford to give more space on each page of their gallery to product images and don't need to bother with a sidebar for filters.
The heart icon in the bottom right corner invites customers to add products to their wishlist, and the social icons in the top left make it easy for them to share their favorite products to their social media pages. Each product page lists related products just below the fold to maximize upsells.
This quirky WooCommerce website from Over Clothing is a breath of fresh air. Their bold font choices make the navigation elements stand out, with very large capitalized text that's impossible to miss.
There's a ton of white space and a minimalist design that just works. The fully responsive theme was created by their own in-house team, so they get full marks for originality.
If you plan on selling internationally through your WooCommerce store, check out this website from Aeryne. This luxury Swedish fashion brand has done everything right when it comes to building your website for an international market.
In the navigation bar at the top, a drop-down table that lets you change the currency is always visible. In addition to detailed product descriptions, sizing options, and product pictures, each product page also has a link at the top to 'find your size'.
Clicking the link brings a drop-down size conversion table that makes it easy to figure out what size you need based on the size you are in your local country.
The site design itself is stunning, and the checkout process is fast and straightforward. Customers have the option of paying by credit card or via PayPal. Offering PayPal as a payment gateway option is a great idea for less well-known brands as PayPal is a familiar brand name for customers, which helps to give them confidence that their payments are being handled securely.
The Biltong Factory has utilized a flexible theme and powerful WooCommerce extensions to create a modern, wonderfully-responsive eCommerce website that offers customers a flexible, personalized shopping experience. They sell unique dried meat snacks that can be personalized to your individual tastes.
The site is designed to neatly guide customers through the purchasing process. You start by selecting your chosen product, then on the product page, use the drop-down boxes to customize it by selecting the flavor, cut thickness, and moisture. Next, choose your order frequency (single purchase or recurring subscription), add it to your basket, and proceed to checkout. It's that easy.
Key information like nutritional information and information on how to store the products are listed below the fold for customers that want to know a little more before they make their purchase.
Bittersweet is another fashion retailer selling trendy and chic boho clothing. They built their WooCommerce store with the assistance of Robot Ninja, who helped them to set up a tailored three-step checkout system.
If you plan on using a similar checkout system, note that WooCommerce itself doesn't allow for multi-step checkouts, but certain themes and extensions will.
Another feature we liked about the Bittersweet website was their non-intrusive live chat feature. Live chat allows website visitors to quickly ask questions and find the answers that they need. It can help eCommerce owners maximize sales and minimize cart abandonment.
Double Bone is a WooCommerce store selling luxury jewelry. Their signature hipster-style luxury bracelets are showcased beautifully in their product gallery.
The dark and modern design contrasts with the gold and silver jewelry products so that they really pop off the page.
The shop is easy to navigate and the product pages include plenty of detailed information. There's even a review section on each product page to provide a little social proof.
Sometimes, the simplest website designs are the most effective. This simple and clean looking website from women's jacket brand Norrsken is a great example of that.
Their site looks exactly like you'd expect a fashion brand's website to look, with large product images, plenty of white space, neutral colors, a simple navigation bar, and a cart button in the menu.
It's simple and effective. A theme like the Minimal Shop theme will allow you to make something similarly clean with minimal effort.
Osana Bar is an all-natural mosquito repellent brand offering both single purchases and subscription plans.
They've made great use of the WooCommerce Subscriptions plugin to set up multiple subscription options as well as one-time purchases.
One neat feature that we like is their 'gift a subscription' option, which allows customers to buy a subscription plan for somebody else. Their homepage uses an interesting split-screen layout.
Driftaway Coffee is another great example of a subscription-based WooCommerce store. They sell personalized coffee subscriptions using the WooCommerce Subscriptions plugin.
Customers can order a free tasting kit to figure out what coffee they like. They can then build their own subscription box personalized to their tastes.
Disruptive Youth sells mainly female swimwear, summer outfits, and stylish beauty products for young adult women.
The cart is located in the menu for letting people know how much they are about to spend, but the true standout feature is with the header.
They grab attention with simple, yet beautiful photos, and they also seem to use the same model for each product, which could maybe help with their brand. Featured products are shown on the homepage, along with large grid images for the categories.
Pickle has vintage backpacks, watches, and other items listed on its site, using a large slider and a few product showcases on the homepage.
You'll notice that WooCommerce still gives you the basic WordPress functionality of footers and sidebars with this one since the site's footer is filled with links to customer service, disclaimers, and support.
Breadcrumbs are an integral part of the navigational system for Pickle, while the rating system is sure to improve customer click-throughs and purchases.
The Pineapple Supply Co. has a rather unique product: A bunch of different photos of pineapples. Their goal is to send good vibes to people around the world, and it seems as if they're doing a pretty solid job.
We like the website since it provides an example of how to sell digital items like photographs.
They have bundles throughout the site as well, showing just how simple it is to package together some of your digital and physical products.
The NC Fitness website brings us into the health and fitness category, with products for weightlifting and working out in general.
Notice that the products are categorized right from the navigational menu, and the cart is highlighted really well. What's more is that they have a wishlist, search bar, and tons of nice images scattered throughout the homepage.
Here's a site that sells coffee beans and coffee making equipment, revealing clean and simple product displays, along with a showcase on the homepage that looks more like a portfolio.
Social media buttons go along nicely with the branding, while the related products are just one of the many examples of marketing tools you have with WooCommerce.
While we're on the subject of coffee, here's another brilliant example of a WooCommerce coffee website from Blue Star Coffee Roasters.
In addition to offering a variety of delicious coffee blends in their shop, the website also takes advantage of WooCommerce's subscription extensions to offer shoppers a monthly subscription for shoppers that want recurring orders.
The overall look of the website is on-brand and professional, and the parallax scrolling background image on the homepage is a nice touch.
Pete & Pedro is all about hair products, and the sleek homepage reserves room for only the most important elements.
See testimonials right on the front page, and watch a video of the company's time on Shark Tank.
Translation tools are available towards the top of the site, and you'll see that plenty of videos are provided for the ultimate media interface.
Salt & Straw shows that you can pretty much send anything in the mail to customers. The ice cream box company provides beautiful imagery to start off the website, and they have plenty of call to action buttons for improving conversions. We like the Salt & Straw website because it reveals how easy it is to integrate WooCommerce with social media sites like Facebook and Instagram. Much of the homepage is filled with posts from the company's Instagram page.
This is the ELEVEN vélo eCommerce website, and it stands out to us because of the clean lines, lots of white space, and the almost portfolio-like layout.
The bike product categories are highlighted on the homepage, while a wide variety of widgets and modules are scattered throughout the footer.
For example, you can use items for newsletters, all without affecting the way your WooCommerce plugin works.
The Earthbound brand is all about providing beautiful, durable, and fun products for dogs. The homepage isn't much, but that's kinda the point. They direct you immediately to the store with a picture of a cool dog, and they have a solid call to action with a button.
What's cool about the website is that you must be a member in order to see the store. Therefore, if you'd like to restrict content on your WooCommerce store, that's absolutely possible.
Thermos Malaysia shows that even large brands can make WooCommerce work wonders for their shopping carts. The main reason we're highlighting this example is because of the blog layout.
The company puts lots of focus on the Pinterest-style blog, so you know that your SEO and marketing options are always in good hands when using the WordPress and WooCommerce combination.
Looking for video game materials and substances? I wasn't even sure what those were until I took a gander at the Game Textures website. It's basically a huge library of templates and modules that can be used in video games. This means that they are completely digital. Pricing is done through a monthly plan, so you can set up your own recurring billing system with WooCommerce as well.
Henry J Socks is a sock subscription service where a box is sent to the customer with a bunch of socks in it. The company reveals a wide range of email marketing capture modules. The sock selection page looks somewhat like a quiz or survey. The user scrolls through the product elements to customize their own box.
There's one primary element that stood out with this design: The duo image header. This allows for multiple call-to-action buttons, and it might even work better than a slider since customers aren't bombarded with a bunch of new images every five seconds.
Conclusion
Are you interested in getting set up with WooCommerce? If so, remember that you shouldn't feel limited with the plugin, since companies, big and small, have managed to make beautiful websites with WooCommerce.
If you have any questions or would like to suggest another nice WooCommerce example, drop a line in the comments section below.