Divi Builder Review (2021): An Insanely Fast and Intuitive Drag & Drop Plugin for WordPress
If you're looking for a new drag and drop builder for your website and you're considering Divi, you're in the right place. We've put together a comprehensive Divi builder review (updated for 2021) to tell you everything you need to know about this powerful theme and plugin.
Let me guess: you've tried every drag and drop page builder on the market and none of them live up to your expectations?
Unfortunately, we hear this quite a bit from developers, mainly because the infant page builder technology is still finding its way through the hectic marketplace.
I would argue that Visual Composer is the most popular, at least with ThemeForest themes. On the other hand, Beaver Builder provides an intuitive interface, but the standard plan doesn't give you any themes, and the pricing seems a little high.
But then we have the Divi Builder. Now with both a theme and plugin version, we're starting to see what developers have in mind when talking about a drag and drop solution that's both fast and useful for all types of designers.
We tried both the plugin and the theme out for ourselves to see if it lives up to the hype. Here's our review.
Killer Features from the Divi Builder Plugin
1. Powerful Items for Selling Online
Divi has gone from strength to strength with every new update, and the latest version includes tons of content modules designed to help improve the way your online store runs.
For example, one of the modules is named "Shop," allowing for beautiful product displays, buttons, and payment processing solutions.
Along with that, I assume most online shop owners could find places for the following modules:
Sliders
Videos
Testimonials
Contact forms
Pricing tables
Shops
Countdowns
Buttons
Galleries
Call to actions
Accordion
2. Even More Content Modules for Everything Else
You can access the Divi Builder through the Divi plugin which allows you to edit your posts and pages visually on the frontend so that you can actually see the changes you make exactly they'll look on your live website. This is a big improvement on the usual WordPress backend editor, which just gives you a bunch of blocks with names referring to their functions.
You can add new sections and rows to your pages by pressing the green and blue plus buttons, then add content modules inside those columns with the grey plus button. After you've added in your modules, you can customize the design and content of the different page elements with the settings button.
In total, there are over 40 different types of modules to choose from, covering everything you could possibly need for your eCommerce site. These modules include pricing tables, video sliders, testimonials, shop modules, and more
In addition to the more eCommerce-friendly items I talked about above, here are some others that could be used for just about any type of site:
Video
Fullwidth map
Toggle
Text
Tabs
Social media follow
Search
Post title
Sidebar
Image
Number counter
Gallery
Filterable portfolio
Email optin
Much more
3. Module Library with Copying and Pasting
Let's say you're a developer who loads a few modules into a page and now you're ready to save it. The only problem is that you'd also like to jump to a new page and utilize the exact same edited content modules somewhere else.
Right-clicking on a content module reveals various options for doing so. For example, copying and pasting an item is possible.
However, the most powerful of all the duplication features comes in the form of the Library. This is where you can see all of your saved modules and even export them to other client websites.
For example, you may have a clean email signup form that would take a while if starting from scratch on each site. There's no need to worry since the Library saves the modules and layouts you enjoy, and the import/export area transfers them to other places.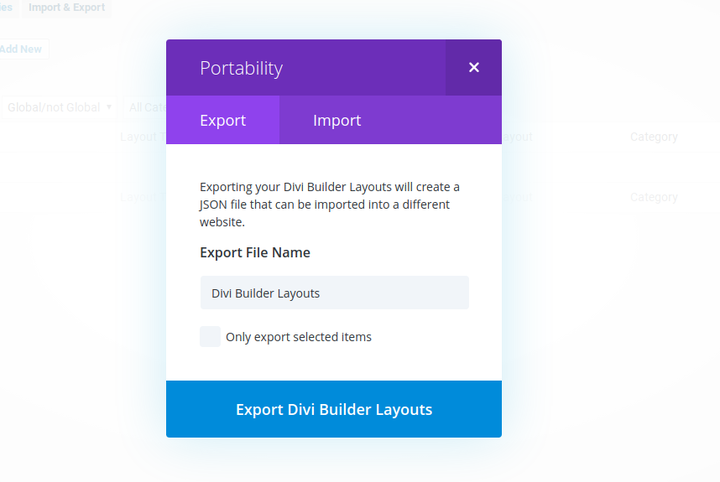 4. The Global Module Sync: My Favorite Feature
A duplicated content module doesn't remain the same from page to page or site to site. So if you copy and paste an email signup form from your homepage to a Contact page, making an edit to one of them only reflects that change on the one you chose.
But sometimes you'll want the change to be affected on a global scale; that is, across every single content module you previously copied. Therefore, you can mark some modules as "Global," so when you adjust the color on one signup form, it's modified on every signup form.
5. Layouts Without Limits
I know we hear this from all drag and drop builder developers, but it's generally true: You can make an unlimited number of layouts with Divi.
With three section types, 20 row types, and 46 content modules, Divi does a solid job of bringing versatility to your site. Possibilities include simple business information sites, landing pages, beautiful blog layouts, and eCommerce stores with hundreds of products.
6. Advanced Design Settings and Custom CSS
Although beginners have decent tools for developing a site with the Divi plugin, I'd argue that the advanced design settings and custom CSS items are far more impressive. With many themes, it's difficult to find the areas to punch in custom CSS, but each content module has its own popup.
For example, the Shop module brings up custom CSS boxes for things like price and old price. You can also get in there to adjust more site-wide settings like custom CSS, colors, and more.
Not into coding? The advanced design settings might be more your style. The screenshots below offer a taste of the advanced settings for the Shop module. Change icons, adjust their colors and scroll down to find dozens of other quick modification settings for your own branding and design goals.
Divi Builder Pros
The Shop content module is still one of the simplest to manage for an online store.
Accessing the Divi Builder in the WordPress editor only requires one click of the button.
All of the wonderful Divi content modules are still wrapped up into a nice little package.
Copying, pasting, and saving layouts is helpful for developers with multiple clients. Heck, Divi even lets you lock content elements so clients don't mess with them.
A Global Sync feature keeps designated content modules looking the same throughout pages and websites.
Click the Undo or Redo buttons as much as you want.
Divi Builder Plugin Cons
You still have to signup for a membership to access the Divi Builder plugin.
Shortcodes are left behind if you disable the Divi Builder plugin.
Accessing the Settings area for each website module still seems a little fidgety.
The Divi Builder Pricing
The Elegant Themes pricing model is a little different than your standard theme company. They don't sell individual themes or plugins, so you must signup for a membership to gain access to all of the library items.
However, the yearly plan only costs you $89 per year, which is close to the price of an individual theme elsewhere. We like it for developers or companies that plan on implementing multiple themes since you can select a yearly plan or pay a one-time fee for lifetime access.
Yearly plan – $89 per year for access to the Divi theme and plugin, plus Extra, Bloom & Monarch, as well as premium support, hundreds of website packs, and unlimited website usage.
Lifetime access – A $249 one time fee for lifetime access to all the features in the yearly plan.
Support from Elegant Themes
Although not much has changed in terms of Elegant Themes support over the past few years, I feel it's nice to look at the support offerings, especially if you're a new user considering Elegant Themes.
Each Elegant Themes member receives access to a member's area, with a full forum to talk with other users and some documentation for each of the themes, plugins, and, of course, the Divi Builder. You can submit general support questions if a solution doesn't show up in the knowledge base or forum.
It's also worth mentioning that the Elegant Themes blog provides some of the best WordPress content on the market. If you're looking to sharpen your WordPress, marketing, or web design skills, I recommend following the company on Facebook or Twitter to get updates from the blog.
Along with an FAQ and a place to submit a quick email, Elegant Themes treats its members right.
I Recommend the Divi Builder Plugin For…
Anyone who wants a neat solution to website design can benefit from Divi. The plugin alone is incredibly helpful for both beginners and professional developers alike, no matter what theme you're using. That said, if you like the Divi Page Builder, you might as well go the whole hog and install the Divi theme too.
Don't forget to use our ElegantThemes coupon to get 20% off.
Even if you don't want to use a theme from Elegant Themes, it's still worth installing the Divi Builder plugin. The Divi plugin integrates with all third-party themes, and the 46 content modules provide incredible building options compared to other drag and drop builders on the market.
If you have any additional questions about this Divi Builder Plugin review, drop a line in the comments below. Also, feel free to share your thoughts if you've played around with it in the past