6 Top Payment Gateways for eCommerce – Compared (2023)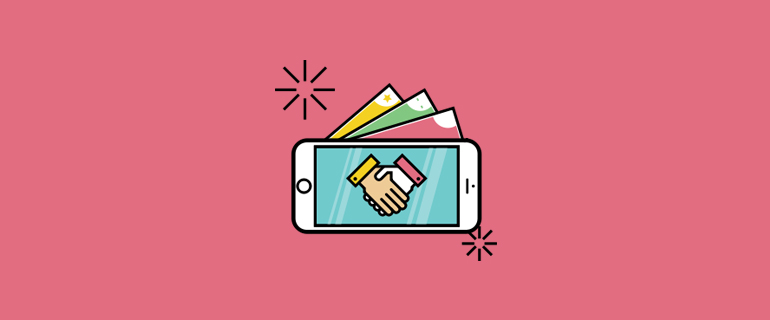 Thinking of starting an online business?
There's a stack of decisions to make.
Hosting. Domain. Content Management System (CMS). Shopping Cart.
All important decisions, right?
But what about the money?
Every business needs money coming in to be successful. If you're running an eCommerce store then you need a way of collecting money from your customers. And then getting it to your bank account.
How do you do that? Well, you'll need to choose and install a payment gateway.
What is a Payment Gateway?
A payment gateway is an online service that authorizes and processes payments for online businesses. It is the glue between the customer and the merchant.
When you dig a little deeper, you'll discover that there are two parts to completing an online transaction.
You need a payment gateway and a merchant account.
"To take credit or debit card payments via your website, you effectively need both a payment gateway (to accept the payment details and connect to the payment networks) and a merchant account (to receive the funds)." [Source]
Examples of payment gateways:

PayPal

, Stripe, WorldPay.

Examples of merchant account providers: First Data Merchant Services, WorldPay, UTP.
Some service providers like PayPal and Stripe, combine the two services. These are cheaper and quicker to set up for small businesses.
On the other hand, larger businesses may find it less expensive to have separate service providers.
Who are the leading Payment Gateway service providers?
In this review, we'll focus on the leading service providers who offer an all-in-one payment gateway solution: PayPal, Stripe, Authorize.net, 2Checkout, and Amazon Payments.
1. PayPal Payments Standard
PayPal is a popular household name.
To many, it is synonymous with the popular online auction site Ebay. But in 2015 it became an independent company, valued at $46.6 billion.
PayPal is a great payment gateway to use because it is instantly recognizable and your customers immediately feel safe. In fact, PayPal probably gives more protection to customers than it does to vendors.
From a merchant perspective, you know where you stand. There are no start-up or on-going monthly fees. And the current rates are 2.9% + $0.30 per transaction.
Related: Top 8 Best PayPal Alternatives for eCommerce Stores
> You only pay when you get paid.
It's easy to setup PayPal Payments Standard. Simply add the PayPal button to your site. PayPal takes care of the rest including authorization and security.
The only potential downside is that customers are taken away from your site to the PayPal site to complete their checkout process. If that's an issue, then you should consider PayPal Payments Pro.
Features:
Easy to get started

No set-up or termination fees

Detailed transactions dashboard

Accept credit cards and PayPal on your website

Accept 26 currencies from over 200+ countries and markets
---
2. PayPal Payments Pro
Sticking with PayPal, let's move up a gear.
PayPal Payments Pro has the added advantage of keeping the buyer on your website. You can tailor the look and feel of the whole checkout experience to fit your branding and design.
The downside is that you have to pay a monthly fee of $30 on top of the transaction fees. (The current rates are the same as above: 2.9% + $0.30 per transaction.)
With PayPal Payments Pro you also get:
Virtual Terminal

– your customers can pay via the telephone too

PayPal Credit

(US only) – your customers can 'buy now' and 'pay later' with special financing, but you get paid immediately
Note: PayPal Pro is only available to merchants in the US, UK, and Canada.
Features:
Accept credit cards, PayPal Credit, and PayPal

Keep your buyer on your site through checkout

Fully customizable with easy cart integration and APIs

Phone-based credit card payments and online invoicing

Accept 26 currencies from over 200+ countries and markets



---
3. Stripe
While Stripe has not been around as long as PayPal, it is certainly one of the most popular online payment gateways.
And one of the main reasons for that is because it keeps the buyer on your site for free.
Yes, that's right. No monthly fee like PayPal Pro. Just your transactions fees which are currently the same as PayPal (2.9% + $0.30).
However, it's not quite as simple as PayPal to setup. Stripe requires more web development skills to implement, so unless you're tech savvy, then you may have to hire a developer.
The main idea behind Stripe is that they will handle everything. They collect the payments from your customers and send them directly to your bank. Initial payment transfers may take up to seven days, but after that, you can set them up on a two-day rolling basis or weekly or monthly if your prefer.
Note: Stripe is only available to merchants in the US, Canada, Australia, UK, and many European countries.
Features:
Transactions handled on-site

No setup costs or monthly fees

Customers can pay using any major credit card

Money received is transferred to your bank on a two-day rolling basis

Accept payments from around the world
---
4. Authorize.net
Unlike PayPal and Stripe, Authorize.net does charge an initial setup fee ($49) and an on-going monthly fee ($25), in addition to transaction fees (2.9% + $0.30).
So, what makes it an attractive alternative?
Well, you do get the on-site checkout process so your customers won't be routed to another site to complete their purchase. And Authorize.net accepts all major credit cards plus other digital payment solutions like Apple Pay and PayPal.
Also included in your fees are an Advanced Fraud Detection Suite, an award-winning online support team, and Sync for QuickBooks to automatically update your accounts.
Note: Authorize.net is only available to merchants in the United States, Canada, United Kingdom, Europe or Australia.
Features:
Transactions handled on-site

Excellent security and support

Accept payments from around the world

Customers can pay using any major credit card, PayPal, Apple Pay

Money received is transferred to your bank on a two-day rolling basis
---
5. Amazon Payments
Amazon, like PayPal, is one of the most trusted names on the web. And with Amazon Payments you get all the benefits of Amazon while your customers remain on your site.
There are no monthly fees, just the same transaction pricing that the other service providers have (2.9% + $0.30).
Amazon Payments focuses on giving customers the same checkout experience available on Amazon.com. At the checkout customers simply 'Login and Pay with Amazon', choose their delivery address, and payment method.
From a merchant perspective, you have the added credibility of the Amazon logo plus Amazon's proven fraud protection working in the background.
Amazon Payments provides a library of standardized payment buttons (and the HTML code snippets to go with them) that you can add to your website.
Note: Amazon Payments is only available to merchants in the United States, United Kingdom, Germany, Netherlands, Luxembourg, Sweden, Portugal, Hungary or Denmark.
Features:
No setup, termination, or monthly fees

Consistent brand experience with inline checkout

Protect your business with Amazon's proven fraud protection

Accept payments using any method supported by Amazon

Merchant website integration with standard Amazon buttons
---
6. 2Checkout
The final payment gateway provider in this review is 2Checkout.
There are a few similarities with PayPal Standard Payments:
>> Global reach – currently 2Checkout is available to merchants in over 211 countries. It offers 87 currencies and supports 15 languages for a great customer experience.
>> Fees – Guess what the transactions fees are? Yes, you've got it: 2.9% + $0.30…
2Checkout now offers a choice of checkouts:
Standard – this is the off-site processing option
Inline – this is the on-site option
Aside from these features 2Checkout is a very robust platform that uses over 300 fraud protection rules.
Features:
No setup, termination, or monthly fees

Advanced fraud protection

Accepts 87 currencies and 15 languages in over 211 countries

Accept major payment methods including credit cards, debit cards, and PayPal

Easy website integration and great support
---
Which payment gateway suits your business?
If you're still undecided about which payment gateway to choose, then remember that you don't have to restrict yourself to one service provider.
You can have more than one option at your checkout. Of course, this might incur additional costs.
On-site processing
It's hard to argue against using PayPal as it is well-established and trusted by many. However, unless you choose PayPal Payment Pro, you won't have on-site processing. Only 2Checkout, Stripe, and Amazon Payments offer a free on-site processing option. The others charge a monthly fee.
Location
Many of the service providers restrict merchant accounts to individual countries. If your business address is in the US or the UK, you have a good choice. For everyone else, then PayPal and 2Checkout has the widest coverage.
Fees
All the payment gateway service providers listed here have settled on charging 2.9% +$0.30 per transaction. You'll only have to pay monthly fees if you choose PayPal Pro or Authorize.net. And the only provider charging an initial setup fee is Authorize.net.
If you're running an enterprise-class business, then these fees won't be a problem. But if you're a small business just starting out then you need to be mindful of these additional costs.
So, which is the best payment gateway for you?
Let us know in the comments below.