8 Best Online Learning Platforms for Creating & Selling Online Courses in 2022
Creating and selling an online course is an excellent way to make extra income.
If you have a passion for teaching, and a valuable skill to share, you can accomplish almost anything with the right course creation tools. According to the latest studies, the online learning market will be worth more than $319 billion by 2025. That's a lot of opportunity for entrepreneurs.
Of course, just like building any kind of cash-generating strategy these days, it can be tough to create an online course without the right help.
Fortunately, there are plenty of excellent platforms out there to help you get started.
Today, we're going to round up some of the leading solutions for creating and selling online courses.
Let's get teaching.
Teachable is one of the most popular tools for creating online courses on the web. Offering an excellent visual builder for beginners, Teachable makes it quick and easy to build a course that speaks to your target audience.
Multi-language support is one of the biggest benefits of this platform, as it will help you to reach a wider audience. Integrated blogging also means that you can boost your SEO. Other features of Teachable range from discussion forums and quizzes, to marketing tools for email, coupons, and landing pages.
Teachable has a great range of features to explore for beginners, and a convenient back-end that's ideal for making your course look and feel amazing.
Features:
Great range of engagement options
Easy to use for beginners
Simple up-sell functionality
Easy free plan
Create as many workshops as you choose
Another market leader in the course creation environment, Thinkific. It is perfect for anyone who wants to get started fast without spending a fortune. You can create up to 3 courses without spending anything. Plus, those courses come with features like community forums, quizzes, and assignments.
There are a few things missing from Thinkific that would make it more appealing, like access to email marketing platforms and funnel builders. However, this tool is still an excellent choice. The course designer included means that you don't have to mess around with code. You can simply drag and drop elements of your course into place.
With a free version of the tool to you get started, there's no limit to what you can accomplish with Thinkific, no matter how low your budget is.
Features:
Excellent quiz and assignment options
Great compliance and privacy features
Option to create your own community pages
Powerful site and page builder
Flexible pricing options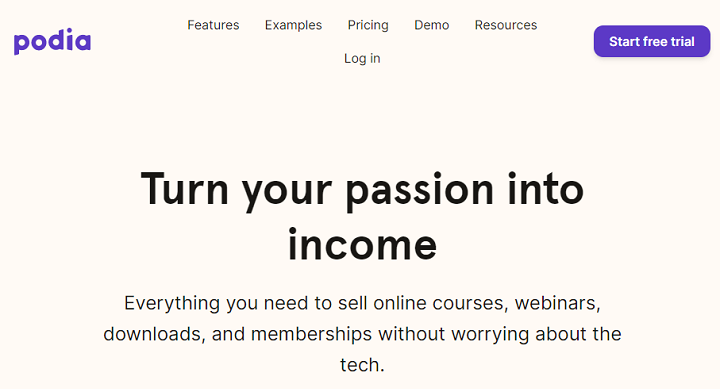 Podia isn't quite as feature-rich as some of the other builders for online courses on the market. However, it may be one of the top choices for beginners. There's support for multimedia lectures with audio and video embedding. You can also construct digital download courses, and memberships too.
Podia works best as a tool for online memberships. With this service, you can create powerful experiences for your audience and drip content over an extended period. There's also the option to build individual posts for one-off solutions.
The native live chat functionality in Podia is also a positive feature. It's a great way to ensure that you have all the extra support you need when you're getting started with online education.
Features:
Intuitive and easy-to-use course builder
Individual post options
Native live-chat functionality
Free Podia migration
Helpful customer support
Kajabi is one of the more convenient platforms for online courses that business leaders can use today. Although it's more expensive, with a price starting at around $119 per month, Kajabi is brimming with great functionality. This service can help with everything from course building to checkout pages.
Kajabi gives companies everything they need to attract and convert students. There's an email marketing solution built into the service. That means that you don't need to find other tools and use them separately. Another bonus is that even if you have an existing email marketing service, Kajabi makes it easy to transition email details over.
Kajabi has plenty of tools to make your brand stand out too. Things like in-built blogging and website functionality make it easier to develop a full brand.
Features:
All-in-one solution for marketing and building
Plenty of theme and customization options
Smartphone apps available
Blog and website functionality
Sales pipeline editor
Building and selling an online course on a budget is much easier with Teachery. This solution supports beginners, with zero transaction fees to worry about. You can also choose between paying monthly or yearly for your services.
One of the primary benefits of Teachery is how easy it is to use. You can make as many educational experiences as you like with the convenient course builder. Plus, there's access to other essential tools too, such as payment pages, landing pages, and more. For beginners who don't know where to get started, Teachery also has a variety of templates to help you out.
Teachery is a top choice for anyone who wants to make the most out of their courses, without spending a fortune.
Features:
Easy to use building platform
Convenient range of pricing options
Templates and landing pages included
Unlimited page creation
No transaction fees
Udemy is widely regarded as one of the best online teaching solutions for those who want to get started on a budget. You don't get a lot of freedom to make your brand stand out with Udemy, but you do get extra help making sure that you can find students.
Udemy takes a different approach to course building than most alternative platforms. The knowledgebase is packed full of helpful guidance for beginners. Additionally, there's no need to build your own website to get started. Instead, you use Udemy's existing platform full of happy students to make your first steps into teaching.
Udemy is a free tool for instructors, but you share whatever you earn with the platform 50/50, which makes it harder to earn a lot of cash.
Features:
Free for instructors
Help with marketing your courses
No website building needed
Easy to use
Lots of course engagement options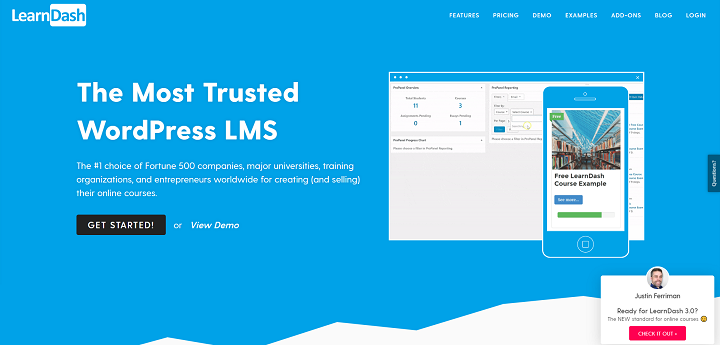 LearnDash is a brilliant tool for people who already have their own WordPress site. As a plugin for WordPress users, LearnDash is an all-in-one solution for course building. You pay for a yearly subscription to the service and get everything you need to share knowledge in return.
This powerful tool offers the option to drip out information according to your course schedule. You can reward learners with certificates and sell courses in a range of different formats. The whole solution works well on the backend of your WordPress site. There are integrations available with email marketing tools, and the platform is easy to use.
If you want to develop a course, but you don't want to start from scratch, LearnDash is the top choice.
👉 See our full LearnDash review
Features:
Range of yearly pricing options
WordPress plugin
Lots of integrations with other tools
Easy to use
Convenient customization options
LearnWorlds doesn't get as much attention as a course building platform as the other tools we've covered so far. However, this fantastic platform offers a wide selection of features for growing business owners. You can experiment with interactive videos, generate eBooks, and even design advanced quizzes.
LearnWorlds is a cloud-based course creation platform and comes with apps that allow you to edit your content wherever you go. Additionally, you can use LearnWorlds to engage with your students on a deeper level through community-building and forum tools. Other great features include everything from blogging to affiliate marketing services.
Unfortunately, the checkout experience with LearnWorlds isn't as great as it could be.
Features:
Interactive videos and course player
Support for advanced quizzes
Powerful community tools with forums
Blog creation feature
Affiliate marketing for extra profit
Finishing Thoughts on Platforms for Online Courses
Online learning is one of the most exciting new opportunities in the eCommerce environment. If you want to share your skills with the world around you, then there are tons of tools to help you do just that. Whether you opt for a plugin, a learning platform, or a website building tool, there's no limit to what you can do.
LearnDash stands out as one of the best choice for creating online courses, if you already have a WordPress site. You can read our full review here.
If you want to design a full course from scratch, Thinkific or Teachable are the best options.
Alternatively, Udemy offers a handy launching pad for beginners.