LearnDash Review: The Ultimate Way to Share Knowledge in 2023?
These days, there are plenty of different ways for people to make money online by creating their own digital business. You might decide to sell products through your own online store or monetize a blog through affiliate marketing.
One increasingly popular option for those with a passion for sharing their knowledge is online education. If you have a skill or proficiency that other people would want to learn, then you can use tools like LearnDash to convey that information in a structured way.
LearnDash is, by far, one of the most popular online course builder plugins designed specifically for WordPress. Fortune 500 companies, universities, and leading training organizations all around the globe rely on LearnDash.
With this handy plugin, you can publish training seminars, demonstrate your thought leadership, and even build a name for yourself in your industry.
So, is LearnDash the right online course builder for you?
Read on to find out.
An Introduction to LearnDash: Who is it For?
LearnDash is one of the best WordPress lms plugin for anyone who wants to create an online course using WordPress.
You can use this service to add educational resources, like quizzes and webinars to your existing WordPress website, or you can build an entire online eLearning platform.
One of the reasons that LearnDash is so appealing to today's would-be educators, is that it works as a plugin for WordPress. That means that if you already have the perfect WordPress hosting and web design, you don't have to start from scratch.
Once you've installed the plugin into your WP site, you can create lessons, courses, quizzes, and more to assess and teach your users. What's more, you can even design certificates to award to your students when they finish their courses.
LearnDash even gives you the tools that you need to monetize your online learning however you choose. There's a fantastic library full of third-party and official add-ons to choose from, and integration options that allow you to combine LearnDash with things like WooCommerce or Stripe.
If you're someone with a skill to teach, and you have a WordPress website, LearnDash is perfect for you.
LearnDash Review: Features to Expect
The LearnDash feature list is very impressive, considering it's a WordPress plugin and not a stand-alone platform. On the one hand, this means that you'll find a lot of ways to strengthen your brand online with LearnDash. On the other hand, the sheer scale of the functionality for this plugin means that you will need some time to learn how to use it.
Features include:
A dedicated branded eLearning portal
An industry-leading course builder
Advanced quizzes with custom question types
Drip-feeding for content delivered on a schedule
Flexible course perquisites
Forums for community engagement
Gradebooks and course points
Badges and certificates
One-time purchases and subscriptions
Shopping part integrations
Memberships and course bundles
Advanced user profiles
Email notifications
Detailed reporting
…The list goes on.
If you're still uncertain about what you can accomplish with a product like LearnDash, the company's "case studies" web page will introduce you to some of the other amazing things that companies like Keap, Yoast Academy, and other market leaders have done.
LearnDash Review: Pricing
Just like any premium add-on for your WordPress site, LearnDash comes with a price.
The amount you pay depends on the kind of functionality you want.
For instance, if you opt for the Basic package, then you'll be able to create unlimited courses for unlimited users, but you won't be able to produce learning experiences on multiple sites. Additionally, you don't get the ProPanel feature, which is essential if you want to learn how customers are using your courses. ProPanel is an advanced reporting add-on that shows you exactly how successful different parts of your learning experience are.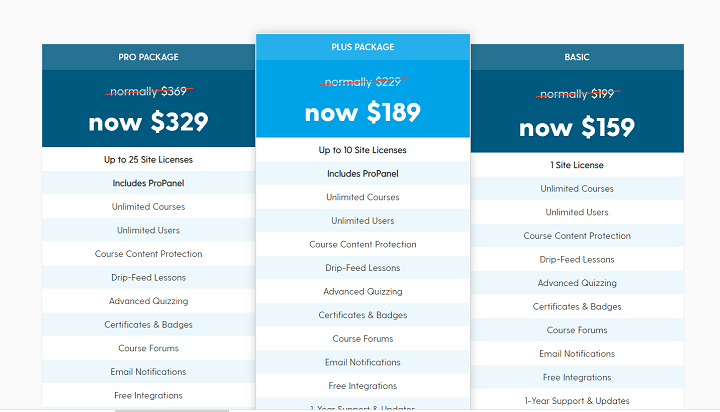 Let's take a look at your pricing options in closer detail:
Basic: The basic plan is generally available for $199, but there are often price-cuts available that help you to save money. If you get this plan, you get a one-site license, and all features except for ProPanel.
Plus: The Plus package is usually $229, and it provides up to 10 website licenses, and all the LearnDash features, including the extra reporting options with ProPanel.
Pro: The Pro package, usually $369 offers everything that you get in the Plus package, with support for up to 25 websites.
All of these packages also come with a year of customer support and automatic updates. That means that when the LearnDash experience improves, you'll get new features naturally.
LearnDash Review: Ease of Use
As mentioned above, LearnDash is an appealing option for selling online courses, because it integrates with your existing WordPress environment. If you know your way around WordPress already, then you're going to feel at least relatively comfortable adding LearnDash to the mix.
Installing LearnDash onto your website adds a new LMS section into your dashboard menu, underneath the Settings portion of your account. Here, you can see things like Courses, Lessons, Certificates, Assignments, and Reports.
To create a new course, you click on the Courses section, then Add New. It feels just the same as adding a new page or blog post to WordPress.

The clean WordPress interface should make you feel right at home. Once you click into the new course, you can choose the elements of your course, adding materials in the forms of documents, downloads, and videos, and even adjusting the price for your learning experience.
LearnDash also gives you a choice to toggle various features on or off, like:
Requiring course pre-requisites
Including an expiry date for access
Enabling course points
Disabling course progression
If you hover over the question marks next to each feature, you'll get a closer look at what everything does. As you scroll further down the page, you'll eventually come across the visual course builder from LearnDash. This is widely regarded as one of the best course builders on the market.
All you need to do is drag and drop the available topics, lessons, and quizzes from the left (where you have your list of choices) to the right. LearnDash also has a button in the drag-and-drop editor that allows you to open the edit screen and customize aspects of your lesson in a new tab.
Overall, creating a course is very quick and straightforward. Anyone with a basic understanding of how WordPress works will be able to handle this process with ease. Even those who haven't used WordPress before are unlikely to have much trouble.
LearnDash Review: Customizing Your Courses
Creating lessons and topics for your LearnDash course is simple enough. However, if you want to make a name for yourself in this industry, you need to learn how to customize your educational experiences to suit your audience.
When you edit a lesson in the main Lessons tab on your LMS, you'll be able to choose which course to associate that lesson with, as well as how you're going to deliver the lesson to different people. For instance, you could enable video progression, or drip-feed certain pieces of content.
Creating a new lesson is simple enough, and it provides you with a bunch of customization options to determine how your course is delivered.
The toughest part of this customization product is embedding your content onto the front-end of your WordPress website using short codes. Within the Courses section of the LMS, LearnDash provides a huge selection of short codes that you can use to create different kinds of content. For instance:
While it's great that you've got a lot of flexibility here, the sheer number of options that you'll have to choose from can make building your courses a little difficult if you're a beginner. You may need to take some time to read through all options and experiment with how different options work.
One thing that does make the process a bit simpler is the LearnDash Short codes button within the WordPress editor. You click on this to add specific courses to regular WordPress pages, like so:
Once you get used to the shortcode process, you'll find that adding courses and other pieces of educational content to your WordPress website with LearnDash is a lot easier than it seems.
LearnDash Review: Engagement Features
LearnDash stands out as a leading online learning plugin for its rich feature set and ease of use. One of the best things about this product, is that it gives you a number of great ways to connect with learners and build deeper relationships with your audience.
For instance, one of the most important things you'll do is create quizzes and assignments for your students. There are a vast number of options to choose from with LearnDash here. You can even place a time limit on how long your learner has to answer a question.
When it comes to the different types of questions you can create in a quiz, there are options like essay-style and open answers, multiple-choice, and even "free choice" to choose from. That means that you have a ton of ways to put your students' knowledge to the test.
Additionally, if you want to add assignments to the mix, then you can also set up systems that allow your audience members to submit assignments according to deadlines too.
To boost engagement, LearnDash has a forum community setting, where you can encourage conversation between students. You can also award official certificates to your users based on their performance in a course, or their results on an assignment. The certificates are fully customizable, and they can include dynamic data, such as a username, quiz name, and score number.
Another way that LearnDash helps you to connect with your audience is through user profiles. This means that your customers can sign up for your course, then actually track their progress.
LearnDash Review: Monetization and Growth
The sheer scope of LearnDash as a plugin for your website is so huge that it's difficult to cover the solutions full functionality in one article. This advanced service comes with everything you need to create an exciting and enriched online learning experience for your audience.
What's more, with LearnDash, it's easy to ensure that you're making a profit on your courses too. LearnDash makes selling online courses simple, with the option to set specific prices for each educational experience, take orders, and even set up one-time or recurring payments.
As an administrator, you'll have the power to organize your courses and your customers at the same time. You can group your students, run reports that give you details on enrolment, and even expire course access after a certain time.
The reporting features provided with LearnDash are particularly valuable because they ensure that you can get the best possible outcomes on every course.
ProPanel is the advanced reporting section offered by LearnDash, though it only comes with the higher-paid pricing tiers. With this service, you can see the real-time activity of your users as they progress through your courses, approve assignments and essays, and even review course progress.
Everything that you need to know about your students and the success of your courses is provided in an easy-to-understand format. Additionally, there's a quick-view panel where you can check things like total number of courses, real students, and essays pending in seconds.
With filters, you can decide on the specific information you want to review and use an activity stream to track your customer engagement. The whole process is incredibly intuitive.
LearnDash Pros and Cons
LearnDash is a powerful online learning plugin, ideal for people on WordPress who want to take their teaching and thought leadership strategy to the next level. With a visual course builder that makes laying your courses out simple, and countless customization options, you can get teaching in no time.
Of course, there are some negative sides to LearnDash too.
Pros:
Easy course builder: The visual course builder ensures that creating the perfect course experience is easy. You can make sure that everything connects well for your students.
Customization options: With things like drip-fed content and pre-requisites, it's easy to adjust the learning experience to suit your brand, and your customers.
Unique video progression: The video progression feature means that it's easy to embed externally or self—hosted videos into your lessons.
Addon options: LearnDash comes with a number of premium and free add-ons that can extend the functionality of your learning experience. For instance, there are extensions for WooCommerce, MailChimp (also see our post on best Mailchimp alternatives), Slack, and more.
Engagement triggers: The engagement triggers offered by LearnDash are great. They allow admins to automatically do something based on a learner's action. For instance, you could send a message when someone enrolls in a course or deliver a certificate when someone completes a quiz.
Great for multi-language brands: LearnDash allows you to translate your content easily without having to use a separate plugin.
Inexpensive: Compared to other online learning options, like Teachable and Kajabi, LearnDash is extremely affordable. For instance, Teachable's cheapest plan costs $39 per month. Plus there's an extra 5% transaction fee too.
Cons:
Learning curve: Because LearnDash is so full of great features, it's going to offer a little while to learn. You might need to take some time out of your busy schedule to get used to this plugin.
Requires some third-party plugins: You'll need to take advantage of LearnDash's third-party integrations for payment. Options like Stripe, WooCommerce, and Easy Digital Downloads are best.
It's not a standalone product: If you don't already have a WordPress website, then you'll need to build one. That's before you can begin using LearnDash. This could be a problem if you're not used to using WordPress, or you prefer a different site builder.
Should You Use LearnDash? The Verdict
If you've already learned how to make a website using WordPress, teaching an online course can be a great way to make cash. Online learning is immensely popular in the current marketplace. What's more demand for educational experiences continues to grow.
However, you're going to need a tool that helps you to deliver the best learning moments to make a real profit. That's where LearnDash comes in. As a convenient WordPress plugin, LearnDash is packed full of features. It helps to delight your students through every step of your learning journey.
You can integrate your service with various popular plugins and applications.
What's more, it's extremely easy to use. LearnDash is an excellent choice for anyone in the digital landscape that wants to share their skills with the world, without having to build a new site from scratch.
This affordable and easy-to-use plugin will give you the tools you need to engage your audience and boost your brand in no time.
Now go out there and start teaching!