4 Best Point of Sales (POS) Systems: Take Your Business to Your Customers
Online and offline marketplaces are not isolated islands anymore, and you may want to explore both opportunities simultaneously.
While serving customers both online and offline may sound lucrative, you may still have plenty of questions in your mind.
One of the burning topics is selecting a proper POS system.
There are many solutions to choose from, and selecting the best one may take time. But to help you with the selection, we've listed the top POS systems worth looking at.
What is POS? And What is a POS System?
Before we cover this topic any further, let me explain two key terms you need to understand.
POS
According to Wikipedia, a point of sale (POS) "is the time and place where a retail transaction is completed."
A point of sale can occur when you are in a physical store, walk to the register, and pay for the goods or services. The point of sale can also occur when you make a checkout in an online store.
POS System
A POS system combines the hardware and software into one device, although the hardware is not always needed (in the online environment).
Examples of POS systems are cash registers, tablets, touch screens, or smartphones.
While the primary purpose of a POS system is to accept payments from customers (wherever they are), it may provide many other helpful features that help run the business, including:
Inventory management in real-time.
Multiple payment capabilities.
Customer management and CRM.
Reporting functionality for critical business metrics like sales or profits.
Detailed receipts.
Now that you understand these two key terms, let's go through our list of best Point of Sales systems.
1. Square
Square provides many ways to connect you and your customer.
For instance, you can offer payment solutions like register, terminal, or reader for magstripe, to serve customers in various environments.
Square accepts major credit cards like Visa, MasterCard, or Amex. Customers can also pay with Apple Pay or Google Pay with Square Reader for contactless and chip.
The system includes a customer directory, where you can see the interaction with your business.
With Square, you also have inventory management, giving you low-stock alerts or downloadable reports. In addition, you can synchronize the system with third-party inventory management software.
Other notable features that Square includes are:
Fully featured eCommerce platform for attracting customers online.
Fraud protection for catching suspicious transactions.
Offline transactions for accepting payments without an Internet connection.
Customized receipts for adjusting their appearance.
Square dashboard for reporting and analytics.
The Square POS software is free, and it doesn't have setup or monthly fees.
The costs come from the payment processing, which is 2.6% + 10¢ (per tap, dip, or swipe). Square also provides custom pricing for businesses over $250K of card sales, with the average ticket size over 15 USD.
Square POS is best suited for businesses like restaurants, retail stores, or service-based businesses.
2. Shopify POS
Shopify is known for its popular eCommerce platform. The platform powers over 1.7 million businesses in more than 175 countries.
With Shopify POS, you can offer payment through various hardware solutions, including retail stands for iPad, card readers, and hardware accessories like barcode scanners or printers.
The pricing comes with two plans.
First, you have the Shopify POS Lite, which is included in all Shopify plans, ideal for on-the-go sales, like pop-ups or fairs. The pricing starts from 29 USD/month.
If you are operating in a brick-and-mortar environment, then the Shopify POS Pro is a better option. The pricing is based on your current Shopify plan plus 89 USD/month per location.
Shopify POS is equipped with many valuable features, helping you provide excellent customer experiences and smooth business workflows.
You can provide various payment options (via Shopify Payments) for your customers, including Visa, MasterCard, or American Express. Apple Pay and Google Pay are also supported. The cost of card payments starts from 2.4% + 0¢ USD.
You can also offer customers the ability to purchase their goods in an online store and let them pick them up in a regular store (available in Shopify POS Pro).
Inventory management is also built-in to Shopify POS (in the Shopify POS Pro plan). For example, you can run an inventory analysis to see which items need to be reordered or understand how different products perform in your store.
In addition, Shopify POS comes with these helpful features:
Marketing tools for attracting new customers to your stores.
Staff management for tracking customer performance.
Customer management for managing customer loyalty and giving excellent customer experiences.
Tools for seamless checkout workflow.
Analysis and reporting.
The Shopify POS system is best suited for businesses already using the Shopify eCommerce platform.
3. Lightspeed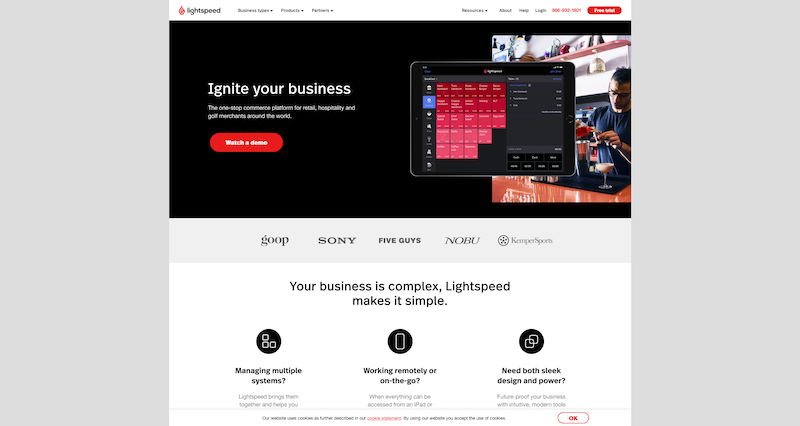 Lightspeed offers a cloud-based POS system for many types of businesses, including retail (health, apparel), restaurant (cafe, hotel), or golf (public, private). In this section, I talk specifically about the retail options.
The hardware selection is comprehensive for running the business in many different environments. For instance, you can choose from printers, scanners, drawers, or mobile tap, along with many other solutions.
The plan pricing starts from 69 USD/month. With this plan, you can run one register and get access to the cloud-based platform.
If you step up to the Standard plan (119 USD/month), you also get access to Lightspeed's eCommerce platform. With this solution, you can run your regular store while attracting customers online, too.
The Advanced plan costs 199 USD/month, and you get all the features in the previous plans plus omnichannel loyalty plans and analytics.
Finally, the Enterprise level offers things like a dedicated premium support team or personalized consultation services. To learn more about the pricing, you should ask for a quote.
The preferred payment method in this POS system is Lightspeed Payments. The cost of this method is 2.6%+ 10c per transaction.
Please note that Lightspeed Payments is only available in North America. If you operate outside of that area, Lightspeed provides integrated payment solutions for those regions.
Other notable features of Lightspeed POS are:
Integration to the accounting systems, including QuickBooks or Xero.
eCommerce solution for also selling online.
One-on-one onboarding services for getting started quickly.
Dedicated account manager for giving personalized support.
Inventory tracking regardless of your location.
If you operate your business in retail, restaurant, or golf businesses, you should give Lightspeed a closer look.
4. Vend
Are you looking for a system that is trusted by 20,000+ businesses worldwide? If so, you might give Vend a try.
Vend is a 100% cloud-based system, designed with user-friendliness in mind. All the data is synced into the cloud, and, therefore, it is accessible anywhere.
You can run Vend with iPads, Macs, or PCs. Alternatively, if the Internet connection goes down, you can continue working with the system's offline functionality.
Vend supports all the major credit cards, including Visa, MasterCard, or American Express. NFC and Apple Pay are also supported. What's different with Vend, though, is that they don't charge any transaction fees.
The POS system comes with Lite, Pro, and Enterprise plans, and the pricing depends on how many registers and locations you have. But you can easily calculate the total costs for your business on the pricing page.
The Lite plan costs 99 USD/month, which is perfect if you operate in one location, and your turnover is under USD 20k/month. With this price, you also get real-time inventory management and basic reporting and analytics.
With the Pro plan, you also get all the features in the Lite plus advanced reports, analytics, and gift cards.
Finally, if you upgrade to the Enterprise plan, you get a dedicated account manager and customized onboarding, helping you to get started quickly.
Since the Enterprise plan is for larger companies, you should call Vend to get a quote for your particular situation.
On top of all the mentioned features, you can also enjoy the following ones:
Integrations to accounting systems like QuickBooks or eCommerce platforms like BigCommerce, Shopify, or WooCommerce.
Apps for accounting, inventory management, and marketing.
Secure cloud backup for storing your valuable data.
Premium API access for tailoring the platform for your needs.
24/7 global support services, including email or chat, for helping with your requests.
Vend POS is best suited for small retail businesses like fashion boutiques, health & beauty, or electronics, operating in multiple locations.
Conclusion
As you can see, this wasn't an exhaustive list of POS solutions.
Instead, we decided to pick only a handful, yet the best solutions you should consider for your business. The one you eventually choose is naturally based on your business needs.
Our favorite on this list is Square. It offers great pricing while providing a great set of features. Square also has a strong eCommerce presence so that you can serve your customers both online and offline.
But now over to you: Is there a system you can recommend that wasn't listed in our post? If so, share it with us in the comments below.