Squarespace Review (2023): Even Jon Malkovich Is Using It!
Squarespace is one of the established players in the online web builder industry. Even Jon Malkovich uses it, and if you live in the US, you may remember him featured in the Superbowl ad advertising Squarespace.
Since there is something special about Squarespace, I wanted to find out what's the deal with them.
I'll go through what the service is all about, and the plan I tested for this review was Commerce Basic.
| | | | |
| --- | --- | --- | --- |
| Ease of Use: 4/5 | Features: 5/5 | Pricing: 4/5 | Support: 4/5 |
| | |
| --- | --- |
| The Pros | The Cons |
| 14-day free trial, no credit card required. | Domain fees are high after the free period. |
| Simple setup. | You can't change a template on the fly. |
| Helpful support. | No autosave when editing a page. |
| Selling on social media. | Only a few payment options to choose from. |
| Access to Unsplash image library. | POS integration is limited (available if you live in the US). |
| Mobile-optimized websites. | Limited number of extensions. |
| Security options. | |
The Verdict
Squarespace combines an online website builder and an eCommerce platform. It attracts both of these audiences by giving them plenty of exciting features.
The platform has invested much into the stylish layout, so it stands out. Its page templates are the most artistic regarding look and feel. But I'll let you be the judge.
From the eCommerce perspective, the website setup is straightforward. And if you ever run into questions, you can access various support channels.
I got quick answers via email and chat, although I prefer chat due to its real-time nature. However, the chat is not a true 24/7 operation, so sometimes getting a reply may take longer.
Squarespace offers a limited number of payment options, while some of its competitors provide more. The extensibility is also limited.
Still, Squarespace is an exciting option for someone who prefers a quick store setup. Especially if you are starting out, Squarespace is an exciting option.
Make sure to test the service before you subscribe to it. Squarespace offers a 14-day trial without a credit card.
Although you can't access every eCommerce feature during your trial, you can still get an excellent overview of what the platform is all about.
What is Squarespace?
Squarespace was born almost 20 years ago in Anthony Casalena's dorm at the University of Maryland.
The company is an established player in the online website builder industry. It has over 1,600 employees and has launched millions of websites using its platform.
Squarespace tries to cater to all the tools that the online business owner needs. And while they provide tools for building a successful online presence, they want things to be simple for their customers.
But now, it's time to look at what Squarespace offers and if it's worth your money.
Getting Started with Squarespace
Setting up a store with Squarespace is very easy.
First, you pick the plan you'd like to use and click the Start Free Trial button to start your trial:
You then land on the template page, where you can choose a layout for your online store:
Just hover your mouse over any template thumbnails and click the text Start with (+ the template's name). You can also preview the template before choosing it:
Once you have selected the look and feel for your site, it's time to register your account:
Once you have created your account, choose your preferred language:
Then figure out your site title:
The rest of the three views are just for informational purposes, showing you how to create, edit and style your site.
Once you have reached the final screen, click the Get Started button:
Your site will be ready as soon as you have done the previous step. Just remember that now your part begins – creating the content and configuring the online store based on your needs.
Overall, the setup process is simple and fast, and you'll have at least some kind of website up and running in minutes (literally!).
Ease of Use
User Interface and Usability
When you log in to your Squarespace account, you'll see your admin view by default:
The view is divided roughly into two parts.
First, you have the main navigation to access various parts of your website configuration. This menu stands out clearly on the left. When you click on the main menu, a sub-menu opens.
The menu is easy to navigate and gives a consistent and finished feeling. These points matter a lot since difficult navigation would turn people away.
The actual content area is on the right, and that's how your website looks. This part of the area is also the one you edit when you want to update your site's content.
Although the UI and usability are great for the most part, one thing annoyed me: Why make one believe that a particular feature is available on your plan, even if it's not?
For instance, if you go to Commerce > Cart & Checkout, you see a section, Abandoned Checkout Recovery. You may think you can access this feature, but as soon as you toggle the option on, you get this message:
It's a premium feature, so you need to upgrade your plan to access it.
From Squarespace's perspective, I fully understand their thinking: they give you a taste of something, so you'd want to upgrade your plan. But from the user's perspective, this is frustrating.
Editing and Building Content
At first, I was confused about how to edit the content.
As soon as I double-clicked the content area, a funny-looking grid popped up, and I wasn't sure what was going on.
I soon realized I was dealing with Fluid Engine, Squarespace's latest and finest way of building content. And after playing with it a bit, I got the hang of it.
Squarespace content is built using sections and blocks. You can activate the Fluid Engine inside most sections using the letter G on your keyboard. You can then add blocks inside the grid by pressing the Add Block button:
This button gives you a familiar list of blocks to add to the page.
In the editing area, you can also tweak a particular section by clicking on the Edit Section button:
The button brings out plenty of properties you can play with to fine-tune your design.
One thing to note is mobile-specific editing. It means your mobile view can look different compared to the desktop version. While this feature may add flexibility to your design efforts, it can still be a burden.
While you can create a mobile-independent view, some might prefer an automatic mobile view generation instead.
Layout Options
Templates are an essential part of a website. You choose one when you go through the site setup wizard (see the section Getting Started with Squarespace).
Choosing any visible template on the page ensures you use the 7.1 version of that template.
With that version, it's not possible to switch between templates in the middle of the site-building process. This functionality is the same as Wix.
With the earlier version of Squarespace, you could change the layout on the fly. So, if you still would like to change a template, you have two ways to go about this:
You can either start a new trial and pick a template, or
Choose a 7.0 template from the get-go.
To find the older templates, scroll to the bottom of the templates page and click the link:
If you choose a 7.0 template, you lose the Fluid Engine feature, as it's available from version 7.1.
Managing Your Store
You can find all the items regarding your online store under the Commerce menu.
Under Commerce, you can access inventory, orders, customers, or discounts. You can also create product reviews and set taxes or payment processors.
When you enter your store's admin view, you'll immediately see what steps you should take when you build your store.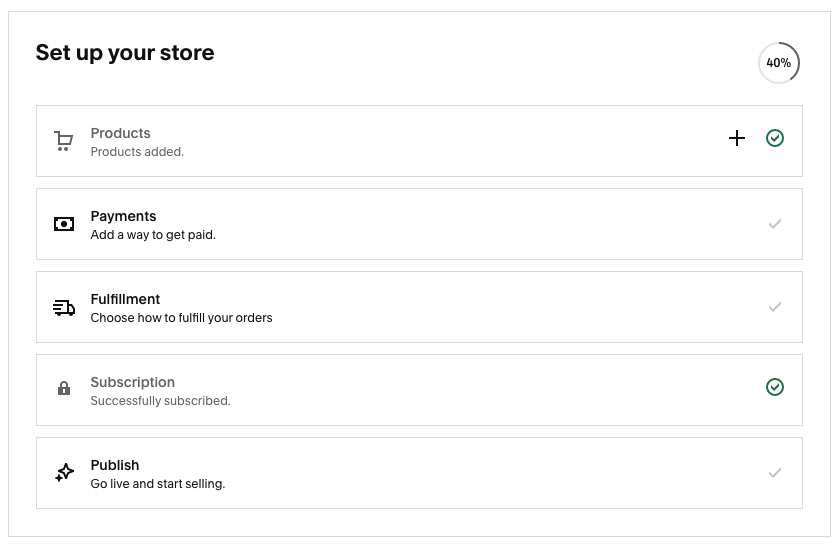 Adding products
Adding products is a multi-step process, but the learning curve is relatively flat.
At first, you can choose which types of products or services you want to sell in your store:
As you can see from the screenshot above, you can sell all kinds of items, not just physical products. For example, you can sell services, gift cards, or even digital products.
When you add products to your store, you'll enter all the necessary information on one page. This way, you can set all the required attributes at once, including product variants, categories, or subcategories.
Overall, adding products is very easy in Squarespace. The same unified experience follows with other types of selling, like services or digital downloads.
Alongside the products, you can also find orders and customers in their dedicated views.
Selling Products and Store Setup
You can use many ways to sell your products through the platform. So not just on your website but also on social media (Facebook and Instagram).
Also, the Point of Sale (POS) integration is available through Square so that you can sell your online store items in person. Unfortunately, this option is only available if you live in the US.
Finally, you can ask for product reviews, enable related products, or even sell custom merch with the help of Printful.
Although the platform follows a consistent menu structure, there is still a slight learning curve. For instance, it took me a little bit to figure out how to access my demo online store.
I couldn't find the store front-end under the Commerce menu as I would expect. Instead, I found my shop under Pages.
In general, setting up various aspects of your online store sometimes happens with a single click, and Squarespace has put a lot of effort into the simplicity of the UI. And with a consistent menu experience, you have less chance of getting lost on the platform.
You can connect your site with a few payment options like Apple Pay, Stripe, PayPal, Afterpay, and Square. These may seem little, considering Squarespace's competitors offer many more ways.
Squarespace Top-5 Features
1. All-in-one solution
In Squarespace, like any other online website platform, the overall feeling is effortless.
You don't have to worry about updating software, security, or performance. All this is taken care of for you.
You can focus on building your online store and filling it with products or creating the content you want your audience to see.
2. Marketing Tools
Creating a store is just a start. You'll also need to capture the interest of your current and potential customers so that people are aware of what you offer. And Squarespace gives you the tools for that.
As with any online marketing effort, email is crucial in attracting sales and growing engagement through your brand. Fortunately, Squarespace provides a solution to engage your audience with email.
All the plans include an unlimited number of email subscribers. But be aware that you'll have to pay extra for this feature.
On top of email marketing, you can also integrate your business with social media platforms like Instagram, Meta, or Pinterest.
And let's remember the good old blogging. You can create engaging content with blog posts that market your products or services to your target audience.
If you are wondering about the SEO aspects of Squarespace, yes, there are those options too.
For instance, you can set article meta descriptions, site titles, and SEO-friendly URLs. And if you need clarification on all the necessary aspects of SEO, you can always refer to their checklist.
3. Security
Squarespace provides plenty of tools for improving your site security.
For instance, they automatically provide free SSL (Secure Sockets Layer) certificates for all the correctly configured sites. That way, you don't have to purchase a certificate separately from a third party and set it up yourself.
The platform also offers these security measures:
Two-factor (2FA) authentication.
Denial of Service (DDoS) protection.
Password-protected pages.
Login Activity.
But the list doesn't stop here, as Squarespace constantly monitors security through the SOC (Security Operations Center). Also, the payment processors are PCI-DSS compliant.
4.Analytics
Squarespace gives you a comprehensive analytics feature that helps you better decide how to develop your store or website further.
You can access the tool by clicking on the Analytics link on the main menu on the left. From there, you can see your website data.
The tool can show you the following information:
Traffic: See the traffic in numbers by looking at visits, bounce rates, or unique visitors.
Geography: See where the traffic to your website is coming from.
If you want to see how your store is doing saleswise, you can find the following metrics inside the tool:
Sales: How your store is performing. You can even track the sales by product.
Purchase funnel: See the visual report on your store's sales funnel and how well it converts.
These features are just some of the ones you can find inside the analytics tool. You can also find information about abandoned carts (available in Commerce Advanced plan), content engagement, and form & button conversions.
5. Variety of Selling Items
You can sell all types of products and services through your online store. So not just physical products, but things like memberships, digital downloads, and gift cards.
The variety of products and services expands the potential of your online business many times, making it more attractive to wider audiences
Extensibility and Integrations
Squarespace websites are extendable in two ways. But before we explore these methods, let's first discuss the difference between them.
The differences culminate into two factors:
Support.
Who builds them.
Squarespace builds integrations alongside the associated service provider. In this case, you can get full support from Squarespace for the setup and configuration.
Third party developers build the extensions. They are not supported by Squarespace but rather by the developer itself. You can also install them through the dashboard of your website.
Extensions
The extensions are equivalent to what WordPress has with plugins or Shopify with their Shopify App Store. Their primary purpose is to expand the functionality of your website.
Squarespace's extensions page displays the list of apps you can integrate into your site. You can find apps in a few categories like Business Tools, Finance, or Sales and Marketing.
Adding extensions is easy. Sometimes, you can connect an app to your website with just a few clicks. However, you may also need to register an account with the third party developer to finish the installation.
While the number of extensions is a downer, you can also use Zapier with Squarespace. With this integration, you can connect the platform with thousands of apps.
Integrations
The second way to expand your online store is to use integrations. These integrations connect your website to an external service on the web.
You can find these integrations through the Squarespace integrations page on Squarespace.
If you want to take the integrations even further, you can use custom code to tweak the functionality on your website. However, these customizations fall outside the scope of Squarespace support.
Pricing
Plans
Squarespace comes with four plans, and three of them offer eCommerce features.
First, you have a Personal plan, which is a good fit for those wanting to build a website without eCommerce features. This plan gives you features like mobile-optimized websites or a free domain for the first year.
With annual pricing, the plan costs $16 per month ($23 with the monthly plan).
The next plan is the Business. It costs $23 per month with annual billing ($33 with the monthly plan). It gives you a limited set of eCommerce features on top of all the Personal plan features.
With this package, you get advanced analytics and the ability to sell unlimited products. Please note that this plan adds a 3% transaction fee on sales.
Choose the Commerce Basic plan to level up your eCommerce business.
This plan gives you all the business plan features like Point of Sale, customer accounts, or selling on Facebook and Instagram.
The Commerce Basic plan costs $27 per month with annual billing ($36 with the monthly plan).
Although the price is higher in Commerce Basic than in the Business plan, you don't have any transaction fees to worry about.
The most feature-rich eCommerce plan that Squarespace offers is Commerce Advanced.
On top of getting everything feature of the Commerce Basic, you also get to sell subscriptions, abandoned cart recovery, or access to Commerce APIs. The transaction fee is also 0%.
The Commerce Advanced plan costs $49 per month with annual billing ($65 with the monthly plan).
While the pricing information is well laid-out, I hope to see specific improvements in the future.
First, if I choose the annual subscription plan, I would like to know how much money to pay up-front. I couldn't find this information quickly, so I opened a ticket to customer support about it.
I learned that a way to do this is to choose the Pay Yearly option on the pricing page, take the monthly price, and multiply it by 12.
Second, the price you see on the pricing page is not necessarily the one you end up paying for.
For instance, some countries collect VAT. Since I live in the EU area, the VAT comes on top of the price:
It would be helpful if they mentioned the VAT on the pricing page so you could be more prepared for it.
Extensions
You can extend your eCommerce website with Squarespace apps. While some apps are free, you have to pay for most of them.
Although the Squarespace Extensions page gives you a certain pricing estimate, the latest information is always available on the developer's website.
Domains
A domain name is an essential part of any eCommerce website. Fortunately, Squarespace offers you one for free when you register a new annual plan.
While the first year is on them, the domain renews with a regular list price ($20/18€) in the following years. This price also includes a domain privacy option.
With an external registrar, the renewing prices are more affordable.
For example, a .com domain through NameCheap renews $14.58/13.85€ (+ $0.18/0.17€ ICANN fee). While the initial registration costs more with NameCheap, the following years level out the game.
Emails
Email is one of the essential components of any online store. Squarespace doesn't offer this service out of the box; instead, they recommend Google Workspace for the job.
Suggesting an external service provider for this functionality is understandable since operating an email service is a complex task.
What's great for Squarespace customers – and if you have chosen Business or Commerce plans – is that you get a free Google Workspace (Starter Plan) subscription for one year.
After your free year has passed, the plan renews at its regular price ($6/5.20€ per month).
Transaction fees
If you have chosen a Business plan, you end up paying more for transaction fees than on the eCommerce plans.
In the Business plan, the transaction fee on sales is 3%. However, the cost is 0% if you switch to Commerce Basic or Commerce Advanced.
Remember that the payment processor fee also comes on top of the transaction fee. So PayPal, Stripe, or Square charge their prices, too.
The cost depends on certain factors, like location or how the payment is made. For example, Stripe charges 2.9% + 30¢ per transaction.
Canceling the Subscription
Some services make it difficult to cancel their subscription but not Squarespace.
To cancel your subscription, go to Settings and then to Billing. From there, you can find your subscription and cancel it.
Customer Service
Support is an essential part of any platform since they help you overcome questions, and you don't have to stay stuck on the issues that come up.
Squarespace offers many ways to get answers to your questions, and a starting hub is their Help Center:
From there, you can access places for 24×7 support, like:
Help videos
Support forum
Webinars
Twitter
Knowledge base
If you need more personal support, you have two options: sending them an email or using the live chat.
I sent them several emails asking specific questions about the platform, and most of the time, I got quick responses from them. However, I sometimes got an answer that didn't match my question. In those cases, I had to send them the same question again.
What's great is that Squarespace provides their customers with chat support (live chat/FB Messenger). This type of service speeds up the support process.
When I chatted with them, I got answers to my questions promptly. And even when the customer agent couldn't answer my question, they escalated the case to the person who did.
Although the chat option is great, you should know two things.
First, the service is not available every day. So, if you want to reach out to them during weekends, you are out of luck. 
Second, at first, the chat tries to answer your questions using a robot. If you want to talk to a real human being, type "I want a customer agent" or something similar, and they connect you to a natural person.
There are many ways to get support from Squarespace. However, one way is missing: they don't offer phone support. So, if you ever wanted to talk to someone on the phone, you can't.
FAQ
Is Squarespace better than WordPress?
To find an answer to this question, let's look at the audience Squarespace is trying to reach.

Self-hosted WordPress is ideal for DIY audiences. You'll have to handle things like securing the site, installing the themes, installing the plugins, and keeping everything up to date.

With WordPress, you'll also have to reach out to different  places to get support. For example, theme and plugin developers have their support channels, which you must contact if you want help.
With Squarespace, many things are automated or require as little technical expertise as possible. All website updates occur automatically, and if you ever encounter problems, you can contact their customer support.

The overall experience is more manageable than with WordPress. And this matters a lot to those folks who are less technical.

Squarespace and WordPress have pros and cons, and the answer to this question will vary depending on the person.
Can I Manage Multiple Websites on Single Squarespace Account?
Yes, you can manage more than 20 websites through one Squarespace account. Remember, however, that every website requires a separate subscription.
Does Squarespace Support Multilingual Websites?
Yes, it does, through a Weglot integration. Weglot creates a drop-down menu on the UI, which you can use to select your desired language.

– If you decide to implement Weglot on your website, make sure you understand two things:
Weglot requires a separate subscription from their website. The pricing is dependent on how many words you want to translate.
– You can't translate everything, including email campaigns, customer email notifications, or member area login screens.
Is There an App for Squarespace?
Yes, there is, and it's called Squarespace. 

With the app, you can update pages, write and edit blog posts, or view site analytics. You can also manage your store's inventory and orders.

The app is available in the Apple App Store and Google Play.
The Conclusion: Is Squarespace the eCommerce Platform for You?
Squarespace offers many features under one package with a compelling interface.
It has limitations, though.
For instance, the lack of payment options compared to its competitors can be a con for some. Also, the extendibility is limited compared to other platforms like Shopify.
But why not try Squarespace and see if it's a great fit for you? They offer a 14-day free trial (without a credit card), so you can evaluate the platform first.
But now, over to you:
Have you used Squarespace, and what do you think about it? Share your thoughts in the comments section below.