8 Best WooCommerce Alternatives for 2024
Looking for WooCommerce alternatives for your online business? You're in the right place.
WooCommerce might be the most popular eCommerce platform on the market, but that doesn't mean it's the right choice for you. The truth is, there's no one-size-fits-all solution when it comes to eCommerce platforms. Different businesses, different needs.
And while WooCommerce is undoubtedly a great eCommerce plugin, there are a lot of great WooCommerce alternatives out there that might make more sense in certain circumstances.
With that in mind, we will share some of the best WooCommerce alternatives on the market in this post. We'll review each in detail to help you find the best platform for your needs.
Let's get started!
The drawbacks of WooCommerce
First, let's talk about when WooCommerce might not make sense for your business. Here are some reasons you might be better off with an alternative eCommerce solution.
Limited functionality without add-ons
The basic WooCommerce plugin is very limited. You'll need to install a bunch of add-ons to unlock more advanced customizations and features, which can make things feel a little messy.
Costly extensions
Most of the free WooCommerce add-ons provide 'just enough' functionality. If you want a powerful, comprehensive eCommerce solution, you'll probably need to purchase paid add-ons. The cost of all these extensions adds up quickly.
Lots of configuration is required
WooCommerce isn't an out-of-the-box solution like other eCommerce solutions. You'll need to spend time setting everything up and configuring it. The front end typically also requires a lot of customization to make your storefront look how you want it to.
Requires WordPress
WooCommerce's biggest strength is also its biggest weakness. It's a WordPress plugin, which is great if you have an existing WordPress website but not so great if you're trying to build an eCommerce store from scratch and want to keep things simple.
Broad feature set
While WooCommerce is a very flexible eCommerce solution, it doesn't really 'zero in' on any area. Some other eCommerce solutions are purpose-built with much more targeted, advanced feature sets designed for specific use cases, like selling digital goods, subscriptions, or drop shipping.
WordPress plugins vs. all-in-one eCommerce platforms
Before we jump into this list, it's important to understand the difference between WordPress eCommerce plugins like WooCommerce, and all-in-one eCommerce platforms.
WordPress are add-ons that can be installed onto your existing WordPress website. They expand your website's functionality and convert it into an eCommerce store. They allow you to add a shopping cart and sell directly through your WordPress website.
WooCommerce tools allow you to build and host your eCommerce website from scratch. They include everything you need to run and manage your online store in one neat package. They're much easier to build than WordPress websites (which can be very technical), so we recommend going down this route if you don't already have an existing website.
We've included both in our list of WooCommerce alternatives below. We'll start with the plugins and then move on to some all-in-one solutions.
WooCommerce Alternatives: WordPress Plugins
Here are four of our favorite WordPress plugins like WooCommerce.
Best for businesses that exclusively sell digital downloads.
If you're only selling eBooks, MP3s, online courses, photographs, or videos through your website, consider Easy Digital Downloads. It's a fantastic WordPress plugin that makes it easy to turn your WordPress site into a digital eCommerce store.
The standard plug-in is free and will allow you to create your store, add a shopping cart, and start taking payments. Paid add-ons will enable you to add software licensing, front-end submissions, and more.
Easy Digital Downloads vs. WooCommerce
If you sell primarily physical products, then WooCommerce is your choice. While Easy Digital Downloads now supports selling physical products, it was built initially for digital products, so it's better with those items.
Easy Digital Downloads also includes some advanced features for free, like Product Bundles, which are only available through paid add-ons in WooCommerce.
WooCommerce has a massive number of extensions you can use to expand your store. Easy Digital Downloads has fewer extensions, but they are available only when you purchase a paid plan.
👉 You can learn more in our full Easy Digital Downloads review.
---
Best for subscription-based businesses.
If you plan on selling subscription memberships through your online store, check out MemberPress.
It's one of the best WordPress membership plugins geared toward subscription-based businesses. It has many useful membership features like drip content, subscription management, and powerful access rules.
You can use it to build your community forums, generate dynamic pricing pages for different membership products, set up affiliate programs, and much more.
MemberPress vs. WooCommerce
Unlike WooCommerce, MemberPress isn't a free tool. The basic plan currently starts at $359/year.
However, it's still a more economical choice if you're trying to set up a membership operation, as WooCommerce requires a bunch of extra paid extensions to set up everything needed to run a subscription service.
👉 To learn more about MemberPress, read Linday's full MemberPress review.
---
Best for beginners and small businesses
Ecwid is another excellent WordPress plugin that makes adding an eCommerce portal to your existing website easy. Using simple, customizable design tools, you can use Ecwid to build a brand-new eCommerce website from scratch in minutes.
It offers a rich, robust feature set with multi-channel integration, responsive design, strong security, and more.
If you're already using WooCommerce and want to switch platforms, it's easy. Ecwid makes exporting all your products from WooCommerce to Ecwid quick and painless.
Ecwid vs. WooCommerce
WooCommerce is all about adaptability, whereas Ecwid is all about simplicity. WooCommerce is an open-source toolkit, but Ecwid is a closed-source SaaS solution. As such, it's much less flexible, but it's also much more straightforward to use.
Ecwid also offers a more traditional pricing structure, with a highly limited freemium option and several paid pricing tiers.
👉 You can learn more in our full Ecwid review.
---
Best for those looking to sell various types of products.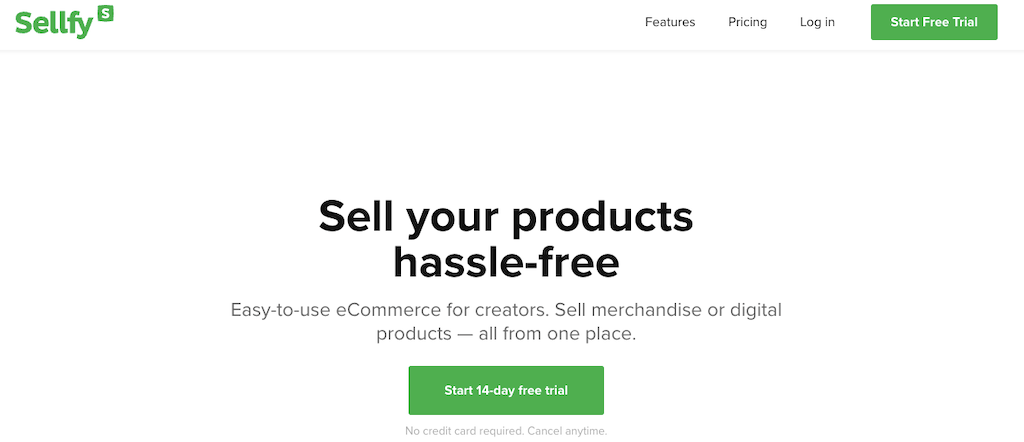 Sellfy is meant for creators selling physical products or digital downloads. It also supports custom merch, print-on-demand, and subscription products.
Sellfy provides flexible ways of selling your goods. You can integrate a Sellfy checkout into your website (WordPress, Wix, Squarespace…) or create a Sellfy-powered store with website-building tools.
The monthly plan pricing starts from $29/month, and you can sell digital or subscription products. And the more money you are willing to spend, the more features you get (remove the branding, cart abandonment, and priority support to name a few).
Sellfy vs. WooCommerce
While WooCommerce is free to download, Sellfy is a premium product with various pricing plans. On the other hand, WooCommerce is a free download, but you may end up paying for its extensions to get a particular functionality.
Also, WooCommerce is limited to WordPress, while Sellfy supports many more platforms (including WordPress).
---
WooCommerce Alternatives: All-in-one Solutions
Alright, let's move on to some all-in-one eCommerce solutions. Here are our top four favorites.
Overall best fully-hosted eCommerce platform.
Shopify is probably WooCommerce's biggest competitor. It's the number one most popular all-in-one eCommerce solution on the market and sits alongside WooCommerce as one of the market leaders. According to BuiltWith, over 4 million websites are currently powered by Shopify – and that figure is growing every day.
There's a reason so many brands trust Shopify. It's a super-powerful tool that makes creating great-looking, fully functional stores easily.
It offers a good balance of adaptability and simplicity and supports physical and digital products. It also offers complete inventory management, powerful integrations, and lots of payment and shipping options.
It's suitable for beginners and larger businesses with a range of paid pricing plans to suit every budget.
Shopify vs. WooCommerce
Shopify takes a simpler approach to eCommerce than WooCommerce.
Unlike WooCommerce, Shopify isn't built into WordPress. Instead, it's a complete, fully hosted eCommerce builder that provides all the tools you need to build your store in one dashboard. It takes care of your hosting, updates, or security, making it a better choice for beginners and small businesses.
The downside is that it's less flexible and scalable than WooCommerce, as you don't have complete website control. It isn't free like WooCommerce, but several affordable pricing plans are available.
Overall, it's definitely one of the best WooCommerce alternatives if you're looking for a fully hosted, all-in-one solution.
👉 You can learn more in our full Shopify review and our article on WooCommerce vs. Shopify if you want a more detailed comparison.
---
Best fully hosted platform with WordPress integration.
BigCommerce is somewhere between WooCommerce and Shopify. Like Shopify, it's an open SaaS tool that allows you to build and host your eCommerce platform. It also offers a WordPress plugin that integrates into your existing WordPress website.
It combines the best of WordPress and eCommerce in one place. You can continue to use your carefully crafted WordPress website on the front end while using BigCommerce to free up server resources and take care of payments, logistics, and catalog management on the back end.
It supports multiple WordPress sites and lets you manage all of them in a single control panel, so it's a great choice if you're running a large-scale eCommerce operation with multiple online stores.
BigCommerce vs. WooCommerce
The BigCommerce website builder is far easier to use than WooCommerce as it provides you with a base to build on and better technical support. All plans include access to 24/7 support via email, phone, or chat.
WooCommerce still wins regarding scalability and flexibility, as it's an open-source toolkit that gives you complete control.
👉 You can learn more in our full BigCommerce review.
---
Best for medium to large stores and enterprises.
Adobe Commerce (formerly known as Magento) is one of the best eCommerce platforms for larger businesses and enterprises. They offer two different eCommerce solutions for customers: Adobe Commerce and Magento Open Source.
Magento Open Source is a flexible software solution that gives you access to all the features you need to build your online store from scratch. You can install any number of extensions from the Magento Marketplace to extend your store's capabilities.
Adobe's all-in-one cloud solution, Adobe Commerce, is easy to deploy and powerful. It's built for scalability with a more advanced feature set than many other platforms and is tailored more towards large businesses and experienced web developers than complete beginners.
Adobe Commerce is a better choice for businesses that want an all-in-one solution right out of the box. It comes bundled with all the essentials to build and run your store, including professional reporting and visualizations, order management, an intuitive drag-and-drop page builder, cloud-based hosting, customer support, and more.
It also allows you to segment your customers to display them more personalized content and promotions.
Adobe Commerce/Magento Open Source vs. WooCommerce
Magento Open Source is comparable to WooCommerce in that they're both highly adaptable, open-source solutions that can scale up with your business. Like WooCommerce, Magento Open Source has a ton of plugins to choose from, but many paid-for plugins are more expensive.
The all-in-one solution, Adobe Commerce, is a premium-level product you must pay for. Contact their sales team to get the latest pricing information to get the exact estimate of how much it will cost.
---
Best for multi-vendor stores and marketplaces
Running a regular eCommerce store is one thing, but running an online marketplace is a different ball game. Things get much more logistically complex when multiple vendors operate in one place.
That's where Arcadier comes in. It's probably the best eCommerce platform for building a multi-vendor marketplace from scratch. It's a fully hosted tool, allowing you to set up a multi-vendor store in any niche, complete with chat boxes, ratings and reviews, negotiation tools, and social logins.
You can choose your template based on the type of marketplace you're operating. For example, there are different templates for marketplaces where users can buy and sell goods and for marketplaces that rent spaces or items.
Arcadier vs. WooCommerce
The basic WooCommerce plugin doesn't support multi-vendor stores. You can install some WooCommerce marketplace extensions, but finding one that matches your needs requires effort.
Arcadier, on the other hand, has a rich feature set designed specifically for multi-vendor marketplaces. It's a platform entirely dedicated to multi-vendor selling.
---
Which Platform is Right for Me?
We have introduced 8 WooCommerce alternatives that you can try in your business. However, the final decision depends on your business needs. Nevertheless, here are our recommendations:
Best all-around solution: Shopify
Shopify is our selection as an all-around hosted solution for an eCommerce platform. In one neat, hosted package, it offers all the features you could ask for from your online store.
Selling digital goods: Easy Digital Downloads
Are you selling digital products? If so, give Easy Digital Downloads a try. While you can also sell physical goods, the strength of this platform is running a digital downloads business.
Selling subscriptions: MemberPress
If the membership business model is at the core of your trade, MemberPress is your choice. It has features like drip content or membership management, which are essential for running this type of online business.
Running a marketplace: Arcadier
Running a marketplace requires specialized solutions, and fortunately, there is Arcadier. It provides a fully hosted solution, allowing you to set up a multi-vendor store in any niche.
Final Thoughts
That concludes our guide to the top 8 WooCommerce alternatives in 2023. Hopefully, you'll have found something suitable for your business in the list above.
If you have tried any of the platforms mentioned above, please let us know your experiences and what's your favorite in the comment section.