12 WooCommerce Themes You Don't Want to Miss
With hundreds of WooCommerce themes to choose from, it's hard to know which ones are worth using.
The WooCommerce theme works in tandem with WordPress' Woocommerce plugin. Its notable features make it one of the most popular themes for eCommerce sites.
5 Features to Look For in a WooCommerce Theme
You might be wondering what features a WooCommerce theme should have.
Just like an in-person store, an online store should be set up to please the customer. You want to make sure your visitors can navigate through your site using these 5 features:
1. Speed
Online shopping was created to avoid long lines and busy stores. It's meant for convenience. With that being said, visitors expect to search and buy the product they're looking for sooner than later.
2. Customization
You want visitors to connect your site with your brand. This can be done by customizing theme colors, using different templates, and layouts.
Pro tip: Look for themes that offer different sidebar layouts. A sidebar is the best spot to place featured items, social media, and deals.
3. Social Media Integration
An important part of social media is gaining trust from your audience. If something goes wrong, a customer is more likely to reach out to your business via social media than over the phone and email.
Make sure your WooCommerce theme displays your social media accounts. That way your customers can connect with you if they have a question or want to promote your products.
4. Responsiveness
Now that more than half of internet-users shop on their phones, it's critical to use a WooCommerce theme that tailors to mobile-sites.
A responsive theme helps you attract mobile-users and boost your SEO.
5. Customer-friendliness
In the end, it's all about the customer. One of the main goals of building your site is to focus on the user's experience. This means finding a theme that allows you to customize accordingly.
It's easier to attract customers if your site is built for them.
12 Premium and Free WooCommerce Themes
Now that you know the top features to look for in a WooCommerce theme, which one should you go for?
We've compiled a list of the best WooCommerce themes for your business.
Do you have other questions about WooCommerce themes? Head over to our FAQ.
Premium WooCommerce Themes
If your business is established and ready to take things to the next level, a premium theme will help you reach your goals with unlimited support and updates.
This theme gives space for clear images to showcase your items. There are 12 different homepage layouts to choose from as well as 6 product page layouts.
Neto offers templates made for a clothing store such as a size guide, out of stock and store locator page. You can place products right on the homepage so visitors can begin shopping immediately.
Features to Highlight
Neto is optimized for speed and mobile-sites. Social media icons are placed throughout the website and many customizable options are available.
If you are a clothing store in the making, Neto is for you.
Price: $49
This theme brings attention to your products and your brand with aesthetic photos.
Flevr uses a simple layout with a sidebar to add important information such as social media and open hours. You can create other content using their portfolio, slideshow, and testimonial features.
Features to Highlight
This theme is built for speed and pays attention to social media integration. The homepage is easy to customize using its drag and drop feature, and it's responsive.
Flevr is a great choice for small businesses.
Price: $49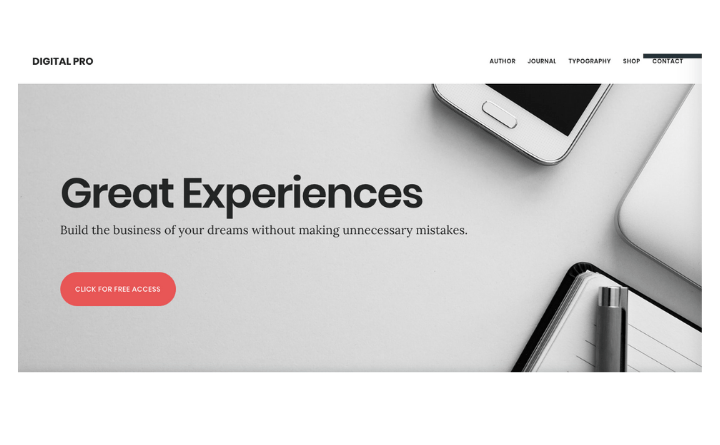 If you love the Genesis child theme, Digital Pro is for you. This theme is minimalistic and shows customers your important info on the homepage. 3 different layouts are offered as well as typography styles.
The minimalistic theme follows through on the product page where it displays items using a clean, grid layout.
Related: 12 Genesis Child Themes Made for Your Business
Features to Highlight
Genesis child themes are notable for their responsiveness and speed. You can customize your site with different theme colors and layouts. Social media is integrated into the footer as well.
Digital Pro would make a great eCommerce site for those in Tech.
Price: $99.95
Pro Tip: You should be able to get access to Digital Pro theme for free, if you already have an account on WPEngine (our review) or Flywheel (we use use it for hosting eCommerceBooth).
Shoptimizer is built for high conversion rates. The homepage starts off with a call-to-action and leads into its product page. If you have a lot of inventory, you can utilize their mega-menu feature.
This theme sets itself apart with a checkout page designed for conversions, which includes features such as a sticky toolbar and trust badges.
Features to Highlight
Along with being optimized for conversion rates, Shoptimizer focuses on speed and mobile-sites. It's easy to customize using its compatibility with popular page builders such as Elementor and Beaver Builder, and social media is shown at the footer.
Shoptimizer is great for stores with a large inventory.
Price: $99
This theme created 5 demos that tailor to 4 different businesses: the restaurant, music, finance, and lifestyle businesses. A default demo is available as well.
The homepage focuses on noteworthy information about your store, and the shop page displays products using a simple, grid format.
Features to Highlight
Sydney Pro offers 7 different templates to customize your site, as well as your choice of header. It's mobile-friendly and integrates social media at the top and bottom footer. This theme can also translate to any language, making your store available worldwide.
Pssst… You can check out the free version of Sydney Pro here.
Price: $59
The homepage starts off with a large photo carousel and leads straight to the store items.
You can personalize your site using the 10+ layouts offered and display your items using 4 different templates. Feature items are included in the menu which directs customers to buy your products.
Features to Highlight
Shoppe is meant for customization. Along with the different layout options, you can change the look of your website using different theme skins.
The ajax search tool boosts its customer-friendliness and a share button is added next to products for social media.
If you're looking for a multi-purpose eCommerce site, Shoppe is for you.
Price: $59
Free WooCommerce Themes
Free themes are great if you are just starting your business and are unsure of the direction you'd like to take. Keep in mind that some free themes don't give the support most premium themes offer.
On that note, take note of the themes below that offer unlimited support.
This is a one-page theme with 11 different sections to add content. Some of these sections include a built-in video, testimonials, and services page.
Your customers will get all the information they need on one page, and it's compatible with the WooCommerce plugin.
Features to Highlight
One-page themes use minimal code which increases its speed and makes it easy to customize. You can integrate social media using one of the 11 different sections offered on the homepage.
Do you want guided support? Meridian One has your back.
This site is useful for startups who hope to increase their brand visibility and sell items along the way.
The homepage of Sporta was designed to convert. It starts off with a clear image and call-to-action, leading to featured products and news.
There are 5 standard WooCommerce pages offered as well as a number of shortcodes to personalize your pages.
Features to Highlight
Sporta is a responsive framework and offers shortcodes to customize your site. Social media icons are placed at the top of the page, and you have the option of setting up your theme just like the demo.
As for the support, this theme offers tutorials and continuous, free updates.
The name speaks for itself; Sporta is created for sporting stores, but you can use this site for other businesses as well.
If you have a large inventory, this theme is for you. The homepage steers the customer straight to its featured items and showcases other products and promotions throughout the page.
The use of whitespace throughout this theme sets up an enjoyable experience for users. The shop page uses a grid layout to display multiple items and there is a blog page included.
Features to Highlight
VW Ecommerce Store is responsive, integrates social media at the header on every page, and offers different layouts for customization. In addition, its codes are optimized for speed.
This theme works well for businesses with a large inventory.
The homepage builds trust with customers by providing its return policies and store information at the top. It puts a spotlight on your products using a number of categories.
Online Shop's menu is built for a store with a variety of products , and a blog page is available.
Features to Highlight
There are a number of ways to customize your theme colors, header, and layout. You can place your Social media at the header and footer.
This theme is responsive, and you can boost customer-friendliness by enabling breadcrumbs throughout your site.
Along with VW Ecommerce Store, Online Shop works well for businesses with large inventories.
Store Villa is meant to show off your unique brand. The homepage allows you to personalize each section to showcase products and you can incorporate categories using their compatible menu.
4 different shop page templates are offered, and a wishlist page is available for returning customers.
Features to Highlight
This WooCommerce theme has a fast loading speed, is customizable, and translates to any language. A responsive, pro version is also available.
Store Villa is for fashion, jewelry, and cosmetic online stores.
This WooCommerce theme is a beautiful one-pager that displays crystal clear photos and other informative sections that show customers your products, team, and testimonials.
Do you want to showcase your items using a lightbox? Hestia can make it happen. Moreover, the shop page is clean and focused on your most important assets – your products.
Features to Highlight
A notable feature is the ability to show your Instagram and Twitter feed at the footer. Hestia is a responsive design and meant for speed. In addition, you can customize your site using by changing the background and colors.
Downloading this theme gives you access to over 200 tutorials, support via email and a community.
Hestia works best for small businesses that sell digital products.
FAQ
1. Is WooCommerce Only Offered Through WordPress?
Yes. Your website must be built using WordPress to use WooCommerce. However, the WooCommerce plugin is compatible with all WordPress themes.
As a result, you are free to use themes other than WooCommerce if you'd like.
2. Do I Need to Use a WooCommerce Theme to Build an eCommerce Site?
As long as you're using the WooCommerce plugin, you don't have to use a WooCommerce theme.
Something to keep in mind: WooCommerce themes are designed for the WooCommerce plugin. If your main focus is to sell products online, a WooCommerce theme best to use.
3. How Does WooCommerce Compare to Shopify?
With Shopify being one of the most popular eCommerce platforms out there, you may be wondering which one you should use.  
Unlike WooCommerce, Shopify is a hosting provider specifically made for eCommerce sites. This means you don't have to use a separate hosting platform from your website theme, it's all put together into one.
Some enjoy Shopify because it offers everything you need to build a website. They do a good job of supporting eCommerce users.
On that note…
Although WooCommerce is a plugin, it allows you the flexibility of choosing a variety of WordPress themes, including WooCommerce themes that are built for eCommerce.
Another thing to consider: WordPress runs 35% of the internet. This means that there is a large selection of themes to use and most offer a community and guided support. 
With that being said, WooCommerce lets you show off your brand using a number of compatible themes, plugins, and custom code.
In the end, Shopify will guide you in building an eCommerce site within its own limitations while WooCommerce gives you more options.
Take these differences into consideration when choosing between WooCommerce and Shopify.
Where to Go From Here
Now that you've checked out the top WooCommerce themes, it's time to build to reach your eCommerce goals. See our guide on how to create an online store with WooCommerce.
Take into consideration what you need and don't need from a WooCommerce theme, and choose the one that will work best for your business and audience.
Begin your eCommerce site with WooCommerce and watch your store grow.